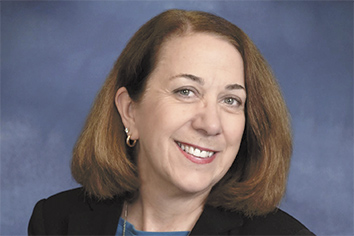 Sheila Corcoran is a dedicated attorney and judicial officer who goes above and beyond to mentor young attorneys and encourage others to get involved in professional and community organizations. And she walks the talk: Sheila volunteers with numerous organizations including Vanderburgh County CASA Inc. and Legal Aid Society of Evansville Inc., and she is the current co-chair of the Volunteer Lawyer Program of Southwest Indiana Inc. Sheila also is very active in the Indiana State Bar and Evansville Bar associations, and served two terms on the State Board of Law Examiners. The former EBA president is a past recipient of the bar association's James Bethel Gresham Freedom award, the highest honor bestowed by the organization.
Your nomination mentions that you were the first female law partner in Evansville. How do you think the legal profession has changed for women?
When I arrived in Evansville there were approximately a dozen women lawyers that practiced in a fairly narrow area of the law. Now we have around 115 women in the bar and they practice in every area that men practice. We still have few women on the bench.
You are very active in the Evansville Bar Association. Why is it important for lawyers to belong to their local bar association?
The EBA has plenty of sections, committees and activities that provide both professional growth and social interaction for our members. I like working on our CLE committee developing programs locally. I have always enjoyed the Women's Section and other social gatherings to get to know the attorneys who practice in Evansville.
Why did you become a lawyer?
Good question without a good answer. My family are/were in the medical field; not one lawyer before me. I wanted a career that would allow me to help people.
What's something you've learned over the years that you wish you could go back in time and tell your younger self?
That each case and each day is different. Just do your best. Enjoy the successes and learn from the mistakes.
We hear a lot about civility. Have you noticed a change in how attorneys treat each other since you began practicing?
Our bar has always been viewed as extremely civil. Even though we have grown tremendously over the last three decades, we still treat one another professionally and with courtesy. It is one of the best reasons to practice law in Evansville. This goes back to the importance of your local bar association: It allows you to know the attorneys with whom you practice.
What's been the biggest change in the overall practice of law you've seen since you began?
Technology. I could not imagine in my earliest divorces introducing copies of Facebook entries and cell phone texts.
What's something about you not many people know?
That I have dual citizenship and acquired an Irish passport in 2011.
What was the most memorable job you had prior to becoming an attorney?
Working for the American Medical Association in Chicago for three years. Great work experience and a great town to be young, single and have a little spending money!
If you couldn't be a lawyer, what would you do for a living?
Teach literature, hopefully at the college level, and write one more book about Jane Austen.
Is there a moment in your career you wish you could do over?
Not really. There are things that I wished I had done differently but nothing significant.
Please enable JavaScript to view this content.