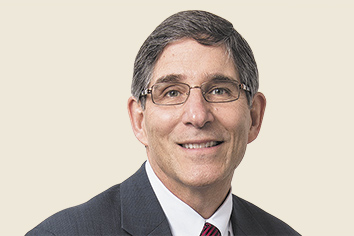 Frank Deveau has developed a passion for assisting local government with the redevelopment of abandoned industrial properties. He finds teaching local governments about the tools available to reinvent Brownfields a rewarding endeavor, and the redevelopment of these sites has become an important element of his work. Closely related have been his efforts to obtain insurance funds to pay for the remediation of contaminated sites and the defense of claims involving environmental issues.Co-chair of Taft's Environmental Practice Group, Frank has been involved in a number of complex Superfund/CERCLA cases in several states and served as common counsel in cases involving multiple potentially responsible parties. He is the author of The Indiana Guide to Underground Storage Tanks, which has been utilized by the Department of Environmental Management and private practitioners. Frank is president of the Homeless Family Foundation, which assists single-parent families with housing and educational needs.
What drew you to environmental law?
Dumb luck. Most of the major environmental laws were enacted and/or became effective in 1980, the year I graduated from law school. Shortly thereafter I was fortunate enough to represent a big player in one of the state's largest Superfund sites. That single case led to relationships with environmental practitioners around the country.
Is there a moment in your career you wish you could do over?
In the late '80s I was going to speak at a hearing in federal court in Fort Wayne on behalf of a (potentially responsible party) group. The case involved an old landfill, and the owner was suing the generators of waste to recover costs of closing the landfill. There were lawyers from all over the country in attendance. I hadn't done a lot of preparation and tried to rehearse on the drive from Indianapolis to Fort Wayne. In a pre-meeting, a lawyer in our group showed me a document indicating that the owner paid $160 million for the landfill. I glanced briefly at the document and went to the hearing. In trying to make the point that the owner acquired a valuable asset and shouldn't be financing his business on the backs of our clients, I said that he had paid "$160,000 million" for the landfill. I was mortified. I kept talking but can't remember what came out of my mouth. My argument had no impact on the case, but it sure taught me a lesson: Never, ever, go into a hearing without being ultra-prepared.
How has environmental law changed since you started practicing?
When I started in 1980, new Superfund sites were popping up around the Midwest rust belt like mushrooms. At the same time, courts were interpreting the Superfund statute almost daily. It was an exciting and fast-paced time to practice law. Today, most of the ugliest sites have been addressed and the pace has slowed significantly. However, the practice has remained vibrant in large part because of the favorable insurance coveragedecisions issued by Indiana's courts.
Is there a case in your career that stands out?
It's hard to pick one because I've been involved in many really interesting cases. One favorite, though, was where we sued an environmental consulting firm for performing a faulty environmental site assessment, and by the end of the case (a) my client and the defendant had become good friends and (b) the defendant hired our firm to do all its legal work.
What's something you've learned over the years that you wish you could go back in time and tell your younger self?
You can zealously represent your client and do a stellar job without being difficult or obnoxious. I had some early role models who took a scorched earth approach to every case. I quickly found it was a miserable way to practice law.
Why did you become a lawyer?
I graduated with a double major in mathematics and psychology in 1976. I had no idea what I wanted to do. I applied to grad school for math and psychology and also law school. I was accepted to law school first … that's why I became a lawyer.
What civic cause is the most important to you?
I'm involved with several projects to help inner city youth, especially those coming from single-parent families. Our firm has created an after-school program at (Indianapolis Public School) 58 that I support along with many other Taft lawyers. I'm also involved with a ministry that teaches construction skills to inner-city youth and another that encourages kids to do well in school.
What's been the biggest change in the overall practice of law you've seen since you began?
Technology. Cell phones, email and the Internet. I can remember when our firm got its first fax machine …it was ultra high-tech!
Mentoring younger attorneys is beneficial for them, but what do you learn about yourself or the practice of law when you take on a mentoring role?
Mostly I learn that we have immensely talented individuals joining our profession.
 
Please enable JavaScript to view this content.