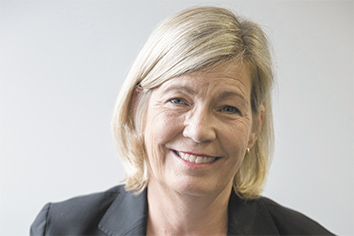 Personal injury attorney Betsy Greene's jury trial experience is significant – she has more than 100 jury trials under her belt. Betsy began her legal career in the Morgan County Prosecutor's Office and then went into private practice before eventually forming her law firm in 2005. She teaches trial advocacy courses throughout the country and is a former president of the Indiana Trial Lawyers Association as well as the Monroe County Bar Association.Betsy took up endurance running a decade ago and has since completed 22 half-marathons and four marathons. She has served on the Indiana Supreme Court's Committee on Character and Fitness since 1993. Betsy believes in the power of lawyers working together, both for the betterment of the profession and the human condition.
Do you feel like attorneys don't have as many opportunities these days to hone their trial skills?
I don't think attorneys have as many opportunities to hone trial skills. I have now tried over 100 jury trials. I am not sure younger lawyers will have that opportunity. Trial skills are all about effective communication with everyone involved in a trial, be it witnesses, opposing counsel, the judge and the jury. Effective communication skills will improve any lawyer's level of practice. 
Why did you take up endurance running? 
I had just left my long-time job to start my own law office. I started running for stress management. I am still running for stress management. All the other health benefits are just gravy.
What was the most memorable job you had prior to becoming an attorney?
I had my first job at 14. I waited tables and carried cocktails through undergraduate and law school. Many of those experiences were memorable. I worked at a Chinese restaurant during law school and still plan to write a book someday. Overall, though, being in the service industry was the best training I could have to be a trial lawyer. After all, as I am fond of saying, a jury is just a party of six. A good trial lawyer, like a good server, must figure out what the party needs and deliver.  
What are some tips for achieving a work/life balance?
Make time to take care of yourself. You will be happier and that will improve your relationships with the people you care about, including your clients. 
Is there a moment in your career you wish you could do over?
I would strike juror No. 4 three trials ago.
We hear a lot about civility. Have you noticed a change in how attorneys treat each other since you began practicing?
Yes. I had the great fortune to begin my career as a deputy prosecutor in a smaller county. I learned what it is to be a member of the bar. I also learned that manners are a good thing. I am old-school in this regard.
Why did you become a lawyer?
I decided I wanted to be a lawyer when I was 9 years old. I never wanted to do anything else. I wanted to fight the injustice in the world.
Why do you think people often have negative stereotypes about lawyers?
Sometimes we deserve it. Seriously, people don't usually come to lawyers because everything is awesome. We are hired to resolve tough problems by advocating for our clients. Frequently there are residual bad feelings, especially if your side lost.
Clients often expect lawyers to be accessible 24/7. How has this affected the practice of law?
It is almost impossible to rest your brain.  
If you couldn't be a lawyer, what would you do for a living?
This is the first time I have considered this question. I would be a teacher. 
Please enable JavaScript to view this content.