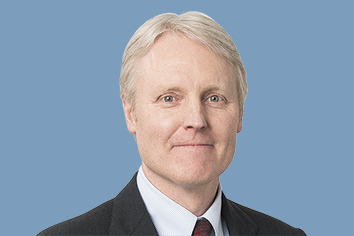 Curt DeVoe has been instrumental in shaping Indiana's environmental laws since the early days of his career. He's helped craft legislation and rules concerning environmental liability of banks and other lenders, and he played a role in the creation of the Indiana Voluntary Remediation Program and the Indiana Brownfield Program. Curt views himself as a teacher, whether it's as an adjunct professor, mentoring new associates or educating clients about legal requirements and procedures. Clients are best able to make good business decisions, says the law firm managing partner, when they really understand the laws that affect their businesses.Curt volunteers with the United Way of Central Indiana, the Indiana Central Land Trust Inc. and the Upper White River Watershed Alliance. When he's not in the office, you may find him playing tennis, rowing or hiking at Eagle Creek, or on a race track as a Porsche driving instructor.
Your nomination mentions that you are called "Dr. DeVoe" in the office. Why do you think colleagues come to you for help with personal and work-related issues? 
I'm a people person. I like people, and most people feel very comfortable talking to me. I also have a comfortable couch in my office.
You're the chief driving instructor for the Central Indiana Region of the Porsche Club of America. What attracted you to fast cars and racing?
What got me started was a lifelong fascination with race cars, racing and speed (sledding, skiing, racing bicycles). What got me hooked and keeps me going is the fact that driving on a track is the most relaxing thing I do. Driving fast and safely takes total focus – no cell phones, no emails, no thinking about work or anything other than the task at hand.
Mentoring younger attorneys is beneficial for them, but what do you learn about yourself when you take on a mentoring role?
Mentoring keeps me sharp by reminding me to try to lead by example. It also gives me regular refreshers on ethical issues and best practices.
What's something you've learned over the years that you wish you could go back in time and tell your younger self?
Don't get upset if opposing counsel tries to bully you or does not cooperate. Trust the system to expose that eventually.
What are some tips for achieving a work/life balance?
Insist on the life side of that balance, and accept the consequences that come with that in terms of advancement or income. Treasure and zealously defend the times with family, and always put family first.
Clients often expect lawyers to be accessible 24/7. How has this affected the practice of law?
More than anything, it has all but eliminated communication by anything other than email. It also has made it essential to be organized so as not to lose track of emails or priorities.
If you couldn't be a lawyer, what would you do for a living?
Something in education, probably in administration, maybe even try to become president of a small college.
How has environmental law changed since you started practicing?
Not much, actually. My own focus has changed a bit, with more and more water work, but the underlying law has progressed fairly organically, not particularly abruptly or dramatically.
We hear a lot about civility. Have you noticed a change in how attorneys treat each other since you began practicing?
I have not noticed much, if any, change over time. I do very much notice differences between attorneys in Indianapolis, who almost without exception are civil and professional, and attorneys in other cities, but those differences were just as apparent early in my career as more recently.
Why do you think people often have negative stereotypes about lawyers?
Lawyers are expensive, and people who need a lawyer's services often are not in a good situation – they are seeking legal advice because they have a problem they would prefer not to have. The basic principle of advocacy, of making the best argument available given the facts or of representing a client who has done something wrong just as zealously as one who has done nothing wrong, may also make the attorney engaging in that advocacy seem disingenuous to a non-lawyer.
 
Please enable JavaScript to view this content.