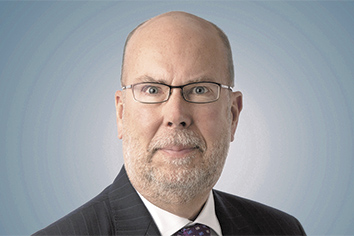 Rich Hill is one of the state's most distinguishedpublic finance lawyers.His work drafting the 1981 legislation to authorize tax increment financing in Indiana has enabled the redevelopment of blighted neighborhoods and economic development of numerous regions. Rich has counseled on some of the most significant public finance and public-private partnership transactions in the state, including the Gary/Chicago International Airport Authority redevelopment deal and the 2011 sale and transfer of water and wastewater utilities from the city of Indianapolis to Citizens Energy Group. Rich leads FBD's public finance practice and the South Bend office, and he is a valued mentor to lawyers in the firm's South Bend, Indianapolis and Minneapolis offices. His demeanor is described as unassuming and humble, while his accomplishments are momentous.
Why did you choose to practice in public finance law?
My initial exposure to public finance was during my tenure as corporation counsel for the city of South Bend. During that time (1980-1987), I had the opportunity to be involved in a number of innovative public financing initiatives and economic development projects including the first tax increment financing in the state in 1985.
Has tax increment financing had the impact you thought it would in communities when you drafted legislation in 1981?
I and others who worked both on the TIF legislation and the first TIF financing believed that it could be a very helpful economic development tool for communities, but we never imagined that it would have the tremendous impact in communities around the state that it has had. Without this tool, the infrastructure of so many communities would look vastly different than it does today and a multitude of successful economic development projects would not have occurred.
You often work on public/private partnership deals. Have you seen more of those over the years?
Public/private partnerships of all varieties are increasing in Indiana, nationally and globally. The increase is driven by the difficulty of financing public infrastructure in the traditional ways. No one wants to pay more taxes. Bringing private financing to the table opens up the door to innovation and efficiencies that are difficult to achieve when a public entity takes on a project alone.
Mentoring younger attorneys is beneficial for them, but what do you learn about yourself when you take on a mentoring role?
Working with talented younger lawyers is one of the best and most energizing parts of practicing law. In mentoring younger lawyers, I always felt that I was learning more from them than they were learning from me. There is real value in being able to see other perspectives and different approaches to solving client problems.
Clients often expect lawyers to be accessible 24/7. How has this affected the practice of law?
The expectation of full-time accessibility has caused the practice of law to be much more intense and immediate than it previously was. It's very easy to get into a reactive mode that is not as thoughtful and deliberate as client needs require. Work on projects can literally go on around the clock and it is often important to step away, take a break and reflect before proceeding.
How has public finance law changed since you started practicing?
I've been fortunate to witness the evolution of the practice. Public finance law has changed dramatically. When I started in the practice, public finance was primarily about public infrastructure and not as connected to economic development and redevelopment projects as is the case today. Now, public funds are inserted into private development projects in innovative ways not contemplated years ago. I've been fortunate to be involved in these changes.
Why did you become a lawyer?
I graduated from college in 1969 and decided to go to law school at a politically volatile time in the country. Most of my college friends took one of two paths: becoming a lawyer or pursuing a Ph.D. with a goal of teaching. I didn't have a refined idea of what I wanted to do with the law degree, but I felt there were more activist opportunities in the practice of law than in teaching.
If you couldn't be a lawyer, what would you do for a living?
I would probably be a teacher. I've had the opportunity to teach both at Indiana University/South Bend and in the Notre Dame graduate school of business. I really enjoyed those experiences. It's always invigorating to be around bright young people.
What are some tips for achieving a work/life balance?
Early in my career, I really didn't do a very good job of achieving a balance. In my mind, there always seemed to be a competition between work and spending time away from work with family and other interests. I eventually came to the realization that you are able to be a better lawyer for your clients when you are deliberate in stepping away from the practice to spend some time with family and hobbies. It makes you a more complete person. I am a strong advocate of hobbies that take you out of the lawyer role and create opportunities to refresh and renew.
Is there a moment in your career you wish you could do over?
Surprisingly, there is not. I've had the good fortune to have unique and distinct practice opportunities in my career. I began practicing law as a legal services lawyer and then became corporation counsel for the city of South Bend. I left that position to start my private practice with a small law firm that was acquired by what was then Baker & Daniels and now have the opportunity to practice in an international law firm at Faegre Baker Daniels.
 

Please enable JavaScript to view this content.