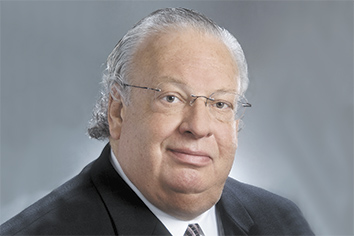 Elliott Levin has been involved in virtually all of the major reorganizationproceedings filed in both the Southern and Northern Districts of Indiana for nearly 40 years. Through his efforts, various areas ofbankruptcy law have been defined by decisions of the local courts, and he has distinguished himself as a leader in the field of creditors' rights. Elliott, a U.S. Army veteran, practices with politeness and grace. He is known for having a high level of competency and freely imparts knowledge to others throughteaching and mentoring. Elliott served on the Sigmund J. Beck Bankruptcy Roundtable, which conducts a yearly forum on bankruptcy, and was a member of the task force for the Bankruptcy and Creditors' Rights Section of the Indiana State Bar Association. He currently serves on the panel of U.S. Trustees in Chapter 7 proceedings and recently lent his expertise to help amend the Local Bankruptcy Rules for the Southern District of Indiana.
Why do you practice in the area of law that you do?
Because bankruptcy practice relates to and encompasses all areas of the law from contracts to property law, the knowledge of various state and federal laws, and the intricacies of bankruptcy law itself. It is not just one area of law, but many.
How has the law in creditors' rights changed since you started practicing?
I believe the practice has become more litigious and various results more certain with the amendment of both state and federal statutes, and with those amendments come more regulation and oversight.
Is there a case that stands out over your years of practice?
That is what is phenomenal about the practice. All the cases are important and stand out because you help control the future of individuals and corporations. They are all important and stand out whether individual or corporate, large or small.
What's something about you not many people know?
I am not as mean as I look.
Is there a moment in your career you wish you could do over?
It has been a great career. I have been very fortunate to have been able to practice in the bankruptcy arena. The bankruptcy bar and bench have been wonderful, professional lawyers that I have had the great pleasure to associate with – great practitioners such as Sig Beck and Steve Ancel. To have made the wonderful friends I have in the practice has been the height of my career. I wouldn't have changed it for anything.
Why did you become a lawyer?
I wanted to be a professional and did not want to be a doctor.
What's been the biggest change in the overall practice of law you've seen since you began?
The specialization in the practice, and the effects of computerization and the Internet.
What's something you've learned over the years that you wish you could go back in time and tell your younger self?
Be patient and prepare, prepare and prepare.
We hear a lot about civility. Have you noticed a change in how attorneys treat each other since you began practicing?
I believe there is more attention paid to civility today than there was years ago. There is more emphasis on ethics and civility at seminars and general education of the bar.
Mentoring younger attorneys is beneficial for them, but what do you learn about yourself or the practice of law when you take on a mentoring role?
I seem to learn more about the subject matter and how to approach and analyze the facts of a case to better enable me to apply the law.
Please enable JavaScript to view this content.