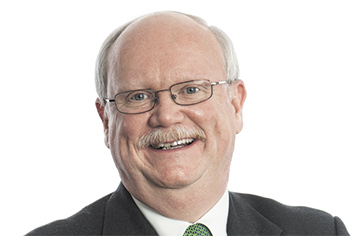 Brian Williams brings a key understanding of people and organizations to his legal practice of more than 30 years. He is an effective advocate for clients in the courtroom or at the mediation table, as well as for new businesses seeking to relocate in the southwest Indiana region.Brian is active in local, state and national bar associations and is a recipient of the Evansville Bar Association's James Bethel Gresham Freedom Award. He has made a nearly life-long commitment to Scouting. An Eagle Scout himself, Brian has held a variety of leadership positions in the Boy Scouts of America organization. Professionally, he takes seriously his commitment to mentoring, demonstrating to young lawyers that "do as I say" and "do as I do" should lead to the same result.
You served as a U.S. magistrate judge for two years. Did that give you any insight that you utilize in your practice today?
The view from the bench gave me many insights. It taught me the importance of being confident and genuine. That view also taught me that humor, at appropriate times, has its place in the courtroom.
Why did you become a lawyer?
Advocating on behalf of others has been a passion of mine since grade school. Legal training taught me a form of advocacy which I have used throughout my career on behalf of clients as well as advocating on behalf of various charitable and civic causes.
What civic cause is the most important to you?
Scouting, whether it is the Boy Scouts or Girl Scouts, provides leadership and citizenship skills to many youth. I have served as Cub Master for both our Eagle Scout sons. I currently serve as Central Region president for the Boy Scouts of America, which covers 13 states geographically and approximately 70 Boy Scout Councils within those states. A well-executed Scouting program provides skills to young men and young women which they will utilize for a lifetime.
If you couldn't be a lawyer, what would you do for a living?
I am an avid traveler and would greatly enjoy writing my own series of travel guides in print and online. As an example, who has written a guide to the 50 United States (state) capitals? It would be fun to rank the top 10 and the worst 10 state capitals to visit.
What's something about you not many people know?
I traveled for 3 weeks in Japan at the age of 15. There are many memorable moments from that trip, but one of the best is two trips to an appropriate Japanese bath house in Kyoto. I have never been able to duplicate that experience! The entire adventure assisted me as I became an attorney securing Japanese clients in southwestern Indiana. As a result of spending time with some Australians on this trip, I began my appreciation for learning the strengths and weaknesses of my own culture which naturally develop through world travel.
What's been the biggest change in the overall practice of law you've seen?
The personal computer has changed everything from legal research to filing documents with the court. I started legal research with Decennial Digests and typed papers with a typewriter. At the time, we thought an IBM Selectric typewriter was a major technological breakthrough.
Is there a case that stands out over your years in practice?
Helping make new statewide law in church property cases introduced me to some of the finest groups of people one can meet. Presbytery of Ohio Valley, Inc. and Synod of Lincoln Trails of the Presbyterian Church (U.S.A.), Inc. v. Olivet Presbyterian Church, et al., 973 N.E.2d 1099, 2012 Ind. LEXIS 638 (Ind. 2012); cert. denied, 133 S. Ct. 2022 (U.S. 2013); and Church of the Brethren v. Roann Church of the Brethren, Inc., 20 N.E.3d 906 (Ind. Ct. App. 2014); 2014 WL 6388421; 2014 Ind. App. LEXIS 562.
On the non-litigation side of the practice, representing clients who bring new jobs to the community is extremely fulfilling. I have been fortunate to represent businesses who have become significant corporate citizens in southwestern Indiana.
Clients often expect lawyers to be accessible 24/7. How has this affected the practice of law?
Before practicing law, I never really understood the philosophic statement that "the law is a jealous mistress, and requires a long and constant courtship." The manners of communication have changed but the time required to service the needs of clients remains intense. It is best when an attorney finds a spouse and family who accept the time element necessary to practice law effectively.
Mentoring younger attorneys is beneficial for them, but what do you learn about yourself or the practice of law when you take on a mentoring role?
The teacher always learns more about the topic on which they are mentoring than they fully appreciated before. There is no greater joy than seeing young attorneys take the skills to which they are exposed early in their careers and put them into practice to become effective counselors and rainmakers of their own.
We hear a lot about civility. Have you noticed a change in how attorneys treat each other since you began practicing?
While there are more attorneys practicing in our community than when I began, I do not believe there has been a significant change in civility. The Evansville Bar Association has had a Code of Professional Courtesy since at least 1990. With few exceptions, attorneys govern themselves according to that code. The Evansville Bar Association retakes the Oath of Attorneys at its annual Law Day Banquet. Over the years that oath has been administered by Chief Justice Randall Shepherd and many of our fine local judges.
Please enable JavaScript to view this content.