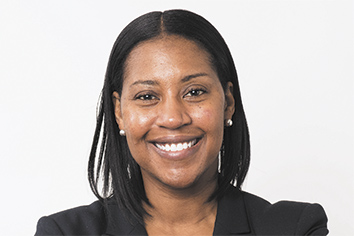 Adding her J.D. to an existing MBA, Tiffany Presley successfully transitioned from a career in accounting to developing a sophisticated practice in tax law. Tiffany is one of a handful of associates in the state whose practice is dedicated to domestic and foreign taxation. She is frequently sought out for her expertise in supporting client business needs and providing innovative tax solutions. She is called a "rarity among lawyers," still relishing any opportunity she has to "do the math." Tiffany recently conceptualized and co-hosted the firm's Building Bridges Diversity Reception, an open forum to promote diversity and no-pressure networking. She also dedicates time to Just The Beginning – A Pipeline Organization which provides educational experiences for young people aimed at increasing diversity in the legal profession.
Why did you switch to a career in the law?
The downturn in the economy presented an opportunity for me to pursue the practice of law. I do not consider the move from public accounting to law to really be a career change, however. I advised clients in the areas of domestic and international tax while working in public accounting, and I continue to advise clients in the areas of domestic and international tax in my role as a legal practitioner.
Several of our honorees this year have been involved in a leadership development program through a bar association. What was the most important lesson you learned?
I learned that a leader's success can only truly be determined by the success of those under his or her leadership.
If you couldn't be a lawyer, what would you do for a living?
I would like to be an interior designer or to own my own clothing store.
What was the most memorable job you had prior to becoming an attorney?
I would say my most memorable job was my very first job as an ice cream server. Everyone who I served had smiles on their faces. That's the power of ice cream!
What is the most important lesson you learned from your mentor?
Sometimes you have to create your own opportunities, particularly in the practice of law.  
Where do you see yourself in 20 years?
This is a difficult question to answer because I have so many aspirations. There are many things that I would like to do at some point during my life, including owning my own business, managing a nonprofit organization and maybe holding a public office.
What civic cause is the most important to you?
The education of underprivileged youth is most important to me because with education, the otherwise impossible becomes possible for these kids.
What's your guilty pleasure?
Reality TV.
What three words best describe you?
I would say that I am compassionate, resourceful and honest.
Please enable JavaScript to view this content.