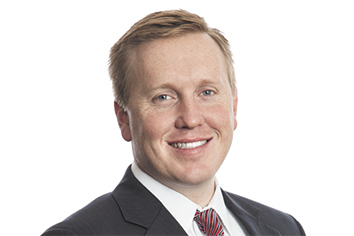 Ryan Schulz may be "up and coming" now, but those who work with him believe it won't be long until he is a bona fide "mover and shaker." He seems as excited about being able to practice law today as he did the first day he entered Kahn Dees Donovan & Kahn. Ryan has helped clients through complicated business and construction transactions, and his clients enjoy working with him and appreciate his responsiveness. Ryan is described as "the type of young professional every community craves" – serving on local committees and boards involved in furthering community and economic development efforts.
What's your guilty pleasure?
My grandmother Nancy Hayden's chocolate pie. Her chocolate pies are fantastic.
What are some tips for achieving a work/life balance?
My wife, Christy, and I recently welcomed a third child to our family, so my work/life balance is important to me. Fortunately, I work at a firm that understands the importance of family. At our firm, we provide the best client service possible while balancing the importance of family time.
You studied abroad as an undergrad and in law school. What did you gain from those experiences?
I think every student should study abroad at some point in their collegiate studies. If a person will immerse themselves in a country's culture, they will gain a much broader life perspective and learn more about themselves than they ever thought possible. In addition to learning about the Irish and Chinese cultures, I gained a number of valuable friendships. In Beijing, China, for example, my wife and I became great friends with two individuals who we ended up setting up on a date. A few years later, we were the officiants in their wedding. The friendships developed in Beijing and Dublin are extremely valuable to me.
Why practice in the area of law that you do?
I grew up working with my father on real estate and construction projects, so real estate and construction law were natural fits. Advanced manufacturing law became an area of interest in college and law school, particularly during my studies in Ireland and China.
Why did you return to Evansville after graduating from law school? Was that always the plan?
My wife, Christy, and I returned to Evansville after I graduated from law school to be closer to our families. We both had opportunities in Indianapolis and loved Indianapolis, but being close to our family was very important to us. We wanted our kids to be close with their grandparents and cousins. I was blessed to have an opportunity to go to work at KDDK and Christy at Saint John School in Newburgh, Indiana, which made our decision easy.  
What civic cause is the most important to you?
I am involved in numerous civic causes, but the two most important to me are Youth First Inc. and Point Man, a veteran's organization. Kids and veterans tug at my heartstrings. I am involved in Youth First because I believe Youth First is transforming lives and strengthening young people and their families, resulting in more positive, productive citizens and a stronger, healthier community. Point Man was introduced to me by a great friend of mine, Mike Burkdoll, a veteran of the Vietnam War. Point Man is dedicated to giving all veterans a place where they can express themselves openly and heal spiritually as well as emotionally. Both of these organizations continue doing great things and are making a positive difference in the lives of people in southern Indiana.
Where do you see yourself in 20 years?
In 20 years, I see myself as a managing partner at Kahn Dees Donovan & Kahn.
What is the most important lesson you learned from your mentor?
The highest type of leader is one of whose existence people are barely aware. "The sage is self-effacing and scanty of words. When his task is accomplished and things have been completed, people say, 'We ourselves have achieved it!'" Servant leaders put the needs of clients, employees and communities first.
Is there a moment in your career you wish you could do over?
None. I have learned every experience – good and bad. Onward and upward!
If you couldn't be a lawyer, what would you do for a living?
If I were not a lawyer, I would have started my own business. I would have enjoyed going into business with my father, Mike Schulz, and working in the real estate/construction field.  
Please enable JavaScript to view this content.