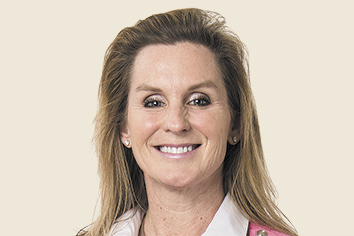 Chris Hickey began her career at Rubin & Levin 25 years ago as a paralegal, attending law school at night, and is now the firm's managing partner. Described as a "self-made woman and lawyer," she is no stranger to breaking barriers and taking the lead – Chris is an anomaly in the male-dominated area of creditors' rights.Chris is extremely active with the Indianapolis Bar Association, having served as president in 2009. During her term, the IndyBar reached an all-time high in membership numbers, despite a struggling economy. Chris is now in line to be president of the National Association of Bar Presidents, an organization under the American Bar Association umbrella. Her boundless energy extends to serving the Indianapolis community, where she created the Blessings in a Backpack program which fills backpacks with food for elementary school children whose families don't have the resources to properly feed their children during weekends.
When you went to law school at night, did you expect you'd remain at Rubin & Levin and imagine you'd become managing partner?
I don't know that I had a plan when I answered the paralegal ad fresh out of college. I worked hard, found great lawyers and loyalty at Rubin & Levin, and the rest just fell into place. 
 Your nomination mentions that you make volunteering fun. How so?
I don't take myself too seriously. If you bring passion and laughter, you can have great fun while doing great things.
What civic cause is the most important to you?
All things children. 
What are some tips for achieving a work/life balance?
Let the little things go. Be OK with store-bought cookies and wrapping gifts in the car. Make sure the time you spend with your family is quality, and thank those who help keep it all together. Thank you, Dan. 
How has the law involving creditors' rights changed since you started practicing?
I would say that the biggest change hasn't been the law, but rather the practice of law. Pink pads and "snail mail" gave way to VoIP and PDFs and now everything is ASAP. 
Mentoring younger attorneys is beneficial for them, but what do you learn about yourself when you take on a mentoring role?
I am reminded that, regardless of age or experience, we all want and need a little help along the way.
Why is it important for attorneys to be involved in their local bar association?
We are part of an amazing legal community here in Indianapolis. Our Indianapolis Bar Association connects you to that community, to great lawyers who become friends, diversity in thought and practice, leadership opportunities, stewardship, professionalism, personal growth, and so much more. You just can't do that on your own.
Is there a moment in your career you wish you could do over?
Oh, there are plenty of times I would have liked a do-over. None of the big decisions though. I wouldn't change those. Good or bad, they've made me who I am.
Why do you think people often have negative stereotypes about lawyers?
Few court proceedings leave all parties happy, and "Liar Liar" seems to stick. The reality is that lawyers silently do great things and those stories don't get told.  
If you couldn't be a lawyer, what would you do for a living?
More volunteer work. I'd find a way to make a difference.
Please enable JavaScript to view this content.