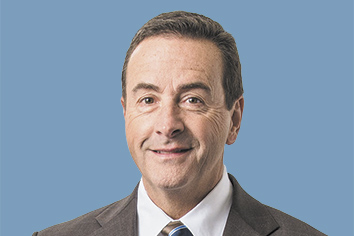 Greg Laker's preeminence in drug and medical device litigation has led to his election and involvement on national steering committees for industry-wide product litigation. He helped launch Cohen & Malad's drug and medical device product-liability practice in the early 2000s when the firm began representing women who sued manufacturers of hormone replacement therapy. Since then, he's led many national campaigns against large pharmaceutical and medical device manufacturers. Greg's clients, as well as fellow attorneys, appreciate his compassion, understanding and willingness to make himself available, regardless of his workload, as a counselor, mentor and friend.Greg volunteers his time for many legal groups and organizations and is an avid supporter of Riley Children's Hospital. The parent of a former Riley Kid, he and his now-teenage daughter, a 2015 Riley Champion, are active advocates for the Indianapolis children's hospital.
Your firm's drug and medical device practice group actually litigates the cases it pursues instead of referring them to be litigated by a national firm. Why?
Our firm started doing drug and device cases in 2004, and we tried our first hormone therapy case in 2010. We cut our teeth in that litigation, but it taught us we could handle these cases as well as the national firms. Our next national litigation involved intra-articular pain pumps. Our firm took many of the liability depositions that ultimately led to a successful resolution of the PP litigation. Drug and device cases are incredibly expensive, and often, as science evolves, the risk associated with each case changes during the course of the litigation. By handling these cases ourselves, we can best manage those considerable risks.
Is there a case that stands out over your years in practice?
The case that stands out to me is the pain pump litigation. Almost all of our clients were young and athletic and had their shoulder cartilage destroyed by an intra-articular pain pump. Many of these young clients needed shoulder replacement surgery, but doctors were hesitant to do so in 20- and 30-year-old patients. I remember meeting my first client, a 17-year-old swimmer and cheerleader from Zionsville, who flinched when I went to shake her hand. At that moment, I realized that our clients' lives had been forever changed by this devastating injury.
Your nomination mentions that you can often be found pulling long hours side-by-side with your associates. Why do this when some people who have been in practice more than 30 years may choose to leave at 6 p.m.?
I learned long ago that there is no substitute for preparation. Early in my practice, I won cases that I probably shouldn't have simply because I was the most prepared lawyer in the courtroom. I've always tried to lead by example, and that's why I still put in long hours working side-by-side with my associate(s) as we prepare for hearings and/or trial. It helps having really good associates.
Why did you become a lawyer?
Simply put, to help people. We recently settled a case for a young couple who lost their first child at an unlicensed daycare. We were able to settle that case, notwithstanding a business exclusion in the defendant's homeowners policy. The hugs and thank yous from this young couple once we resolved their case were worth far more than our fee.  
We hear a lot about civility. Have you noticed a change in how attorneys treat each other since you began practicing?
I think we are very lucky to practice in Indiana because the civility among the lawyers in our bar is generally very good. When you deal with lawyers from the East and West coasts all day, you quickly learn what "lack of civility" looks like.
What was the most memorable job you had prior to becoming an attorney?
For two summers before I became a lawyer, I was on the dead animal patrol for the Indiana State Highway Dept. Disposing of dead deer and raccoons all day long was all the motivation I needed to go to law school.
Mentoring younger attorneys is beneficial for them, but what do you learn about yourself or the practice of law when you take on a mentoring role?
I recently helped a young lawyer take her first deposition, and it reminded me of just how little I knew when I first started practicing. The other thing I learned is that these young attorneys are so technologically superior to me; their learning curve is going to be light-years ahead of mine.
What's been the biggest change in the overall practice of law you've seen since you began?
Technological changes have been both a blessing and a curse. Technology makes us so much more efficient in what we are able to get done, while at the same time, the practice of law has become a 24/7 job. If a client emails you at 10 p.m., they expect your response by 10:30, and they don't want to wait until 8 the next morning.
What's something you've learned over the years that you wish you could go back in time and tell your younger self?
Don't take yourself too seriously. What we all do is incredibly stressful, and a little self-deprecating humor can go a long way.  
Why do you think people often have negative stereotypes about lawyers?
The insurance industry has done a masterful job of convincing people that our courts are full of nothing but a bunch of frivolous lawsuits. But, when we tell people what we do, they quickly realize that the type of cases we do are not at all frivolous and generally involve an accident or injury that has changed a person's life forever.
 
Please enable JavaScript to view this content.