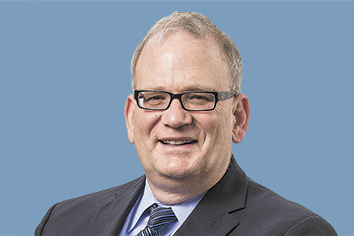 Sam Laurin is respected among his peers for his outstanding litigation work coupled with the civility and professionalism that are constants in his legal practice. Young lawyers at his firm know Sam as an exceptional attorney who is approachable and always willing to provide assistance. Chair of both the litigation and construction law groups at Bose, he handles construction, commercial and real estate disputes and has obtained successful outcomes for his clients in several notable published cases.Sam brings passion to the community organizations he serves, including Best Buddies of Indiana, a group that builds friendships and opportunities for people with intellectual and developmental disabilities, and Music For All, an organization dedicated to ensuring that every child has an opportunity to engage in scholastic music-making. The beneficiaries of his service observe that he wraps his head, heart and hands around the organizations to which he commits his energy, and his involvement can be life-changing.
You've been described in your nomination as a "lawyer's lawyer." What do you think that means?
As it relates to a litigator, I would like to think it means a few things. You only make arguments that have a chance of prevailing. You only do things in a case if it truly advances your client's position. You are always practical. You act professionally with your opponent. I would hope that the vast majority of lawyers with whom I've had cases believe I practiced this way.
Your uncle was William Rehnquist. Did he influence you to enter the law?
My uncle did many kind things for me and my family. He had a great sense of humor and had absolutely no airs about him. I didn't go to law school because of him, but because I was miserable in my first job out of college.
Why do you practice in the area of law that you do?
I love getting a case in and working it up and planning long-term strategy, etc. Nothing beats winning (and nothing is worse than losing). I also do a fair amount of construction litigation and it is somewhat comforting to practice in an area where I think I have some idea what is going on.
What civic cause is the most important to you?
I could write a 10-page essay on this. Everyone needs to promote our city; it has issues but is a wonderful place to live. Support the arts and particularly music education in schools. I played football through college and believe strongly in the value of athletics, but it is absurd how little attention is paid to arts versus sports. Stop bashing public schools. Support the rights of the developmentally disabled; the word "retard" needs to be eliminated from everyone's vocabulary.
Clients often expect lawyers to be accessible 24/7. How has this affected the practice of law?
It clearly makes it more stressful as everyone expects quick turnaround. I remember when John Trimble wrote an article many years ago lamenting how faxes were overused and should be saved only for critical items. Oh for those days. I have become a big believer that unless you are otherwise working, do not check emails at night.
What's something about you not many people know?
I love almost all kinds of music, particularly indie and alternative music. I go to a lot of concerts and probably bring the average age up just a bit at almost every concert I attend.
What are some tips for achieving a work/life balance?
You need to understand that if you expect to do everything that interests you or makes you happy, you will never have a work/life balance. After family, pick the things that interest you the most outside the office and pour your energy into them.
Is there a moment in your career you wish you could do over?
I am fairly mild-mannered but I have lost my temper a few times. Other than one time, I wish I hadn't done so.
If you couldn't be a lawyer, what would you do for a living?
I would work in the admissions office of either Dartmouth College (my alma mater) or Kenyon College (my daughter's alma matter). Both are very, very special and unique places.
Why do you think people often have negative stereotypes about lawyers?
The vast majority of stories about lawyers in the media are negative. If I thought most lawyers were like Nancy Grace, I would have a negative perception, too. "Ask a Lawyer" or the good works of the Indianapolis Bar Foundation aren't the lead story on the news or in the paper. I also think it is partly due to the larger phenomenon of the demonization of your opponent no matter what the issue is.  
 
Please enable JavaScript to view this content.