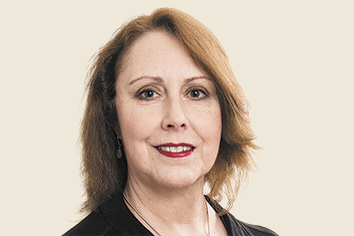 Melissa May has contributed much to the legal community, and not just through her work on the bench. She is integrally involved in legal and judicial education, pro bono efforts and bar associations. Melissa served on and chaired the Indiana Pro Bono Commission, and during her tenure she instituted a program to train lawyers and mediators to help those facing foreclosure. Melissa teaches a trial advocacy course at IU McKinney School of Law and is a frequent speaker on legal topics to attorneys, judges, schools and other organizations and professions. The Evansville native was appointed to the Indiana Court of Appeals in 1998 after practicing insurance defense and personal injury litigation for 14 years.
Why is it important for lawyers to perform pro bono work?
One of the greatest rewards of being a lawyer is being able to help a client solve a problem. The unmet needs of the poor in the U.S. is a huge problem. Many people go without representation not because they don't want it, but because they can't afford it. I think it is a lawyer's duty to provide pro bono services to those individuals, not just to help them solve their problems, but to pay homage to our profession. We are blessed as lawyers to have learned problem-solving skills in law school and in practice, and we need to pay that forward by giving to those less fortunate.
Did anything surprise you about being a judge when you first took the bench?
Before I was appointed, I had a very busy law practice and my phone constantly rang off the hook. When I arrived at the court, my phone rang the first week, mostly with congratulations, but then it just stopped. At one point I actually picked it up to see if it still worked! The isolation from other members of the bar was something I didn't expect. Lawyers don't want to bother us, but my contact with other members of the bar was one of the parts of practice that I enjoyed the most.
Why is the Appeals on Wheels program important? Is there a comment from the general public you seem to hear each time you visit a new location?
Our traveling oral arguments are important because they allow the public to really see what we do. Many people's experience with the legal system comes from TV shows that depict lawyers in trial courts, and I think it is important that they see how appellate review works. Probably the major comment is that people are grateful to have us come into their community to show them what we do and to answer their questions.
Why did you become a lawyer?
I started college as a music major. When it became obvious that I wasn't going to make a living as a concert pianist, I started looking at other professions. I took a criminal law class taught by Judge Norman Kopec, a judge in South Bend. After the first test, he took me aside and asked me what I was going to do when I graduated. I said I wasn't sure, and he encouraged me to think about going to law school. That stuck with me, and after I graduated and worked as a secretary for a year, I decided I really wanted to go to law school. So I took the LSAT and, after a short time in law school, I knew I wanted to be a litigator.
What civic cause is the most important to you?
I love dogs, and I support the German Shepherd Rescue Indy. German Shepherds are wonderful dogs and sometimes are misunderstood by people. We call our German Shepherd a "Velcro dog" – wherever I go, there he is!
What's something about you not many people know?
I'm crazy for blueberries. When I lived in Evansville there was a berry farm just north of there. Every year I'd go pick my own blueberries and eat so many I would almost make myself sick.
Is there a moment in your career you wish you could do over?
Are there situations I wished I had handled differently? Yes. But everything in my career led up to where I am now, and I wouldn't change that at all.
If you couldn't be a lawyer, what would you do for a living?
I would love to be a food critic.
We hear a lot about civility. Have you noticed a change in how attorneys treat each other since you began practicing?
Yes. As wonderful as modern technology is, I think it has resulted in more incivility because much of the face-to-face and telephone contact we used to have has been replaced by email. Everyone wants instant gratification. We used to say "mail that to me" and you'd get a few days to think about it. Now, everything is instantly communicated, and people expect an instant response. That cuts down on a lawyer's ability to "rethink" a response and results in much more misunderstanding.
What's something you've learned over the years that you wish you could go back in time and tell your younger self?
Spend more quality time with friends.
 
Please enable JavaScript to view this content.