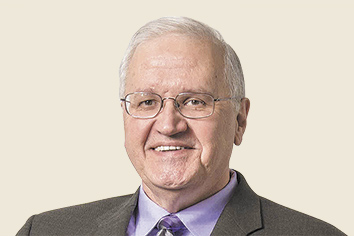 Steve Terrell wears many hats: attorney, author and radio host, to name a few. He practiced for more than 25 years with large and small firms in Indianapolis before starting his own litigation firm. Nearly 15 years ago, Steve helped found the Indiana State Bar Association's Solo and Small Firm Conference, which is the second-largest gathering for the state bar each year. The conference provides educational events and boot camps, and it brings in leading state and national speakers. When he's not practicing law, you may find Steve penning his next book (he's written two so far), on the airwaves with his Internet radio program "Just us," or riding his motorcycle.
What prompted you to create the state bar's Solo and Small Firm Conference? How has it changed over the years?
When I transitioned to small firm practice, I noticed how the needs of solo and small firm lawyers differed from those in big firms, and how those needs were not addressed by existing conferences and CLE. After attending a small firm conference in Wisconsin, I got together with Fort Wayne lawyer Jim Springer and we approached the ISBA Board of Governors, which was very receptive. Fifteen years later, planning is done by a planning committee with more than 40 committed lawyers working with the ISBA staff on a year-round basis. But the core of the conference remains the same – top-level speakers presenting quality CLE geared for solo and small firm lawyers in a fun atmosphere where lawyers can both learn and build relationships, all at the lowest possible price.
Why did you become a lawyer?
Watching "Perry Mason" as a child created the interest. Atticus Finch created the inspiration. After college, I was working for a newspaper and considering law school. When a close friend was brutally kidnapped, raped and murdered, I saw the legal system close up. I attended the trial and made the decision to take the LSAT.
Is there a case that stands out over your years of practice?
Chang v. Michiana Telecasting, et al. It was a defamation case in federal court in which I represented a television station. Discovery was combined with a related case involving claimed international theft of trade secrets. The case had everything: a confidential source, secret phone calls, family discord, hints of international intrigue, discovery fights and cutting-edge legal issues – and even a planning session dinner with co-counsel where the entertainment ended up being an impressive drag queen show. Depositions went on forever, including one nine-day deposition, prompting an academic study of the case focusing on the chilling effect of discovery in First Amendment cases. Ultimately, the 7th Circuit affirmed summary judgment for my client.
What's been the biggest change in the overall practice of law you've seen since you began?
The lack of time to "ruminate." Everyone – clients, other lawyers, even judges – want answers now. We can no longer take time to mull things over, consider the problem from different angles, roll around with it for a while.
What civic cause is the most important to you?
George T. Goodwin Community Center. The center is located in Decatur Township and does so much good work for those who are struggling, including a senior center, a food bank, a community center and youth programs. It's an honor to serve on its board.
Clients often expect lawyers to be accessible 24/7. How has this affected the practice of law?
When my office is closed, the phone is forwarded to my cell phone. Would I prefer to simply leave the office behind at the end of the day? Sure. But access on a near 24/7 basis is now simply part of the practice. We can regret it, but it won't change.
 
What's something you've learned over the years that you wish you could go back in time and tell your younger self?
Be patient. Do not be overtaken by anger. Take care of yourself and appreciate others. Enjoy the moments as they happen because they fly by all too quickly and never return.
Why do you think people often have negative stereotypes about lawyers?
Some reasons are self-inflicted, but mostly it is because lawyer jokes are so easy, and others (politicians, insurance companies, business organizations) have used the profession as an effortless and effective target. We, as lawyers and as a profession, have done an incredibly poor job of promoting all the good work we do – pro bono work, volunteer service to our communities, helping people through the most difficult times in their lives, and acting as guardians of our rights and liberties. We must do better at this.
 
If you couldn't be a lawyer, what would you do for a living?
Writer, no question. I have written two novels (one self-published, the second now with a New York agent), but the list would be far longer if I was not practicing law.
Please enable JavaScript to view this content.