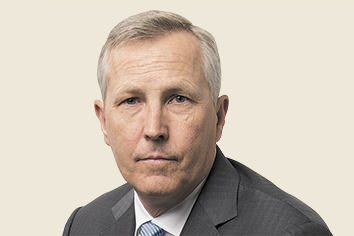 Ken Yerkes has spent more than 30 years successfully fighting for his clients' business objectives at the bargaining table. He chairs the firm's strategic planning committee and is a member of the Barnes & Thornburg management committee. With the benefit of his guidance, during the past 10 years B&T has tripled in size and added six new offices. The 85-member national Labor and Employment Department, which Ken chairs, was first among the firm's departments to achieve National Tier 1 status.The labor and employment attorney has bargained with and run union-avoidance campaigns against virtually every union in the country. His client list is national in scope, including Roche Diagnostics, The Finish Line, and Herff Jones. Ken has presented the "Remaining Union Free" program to the Indiana Chamber of Commerce since 1992.
How has labor & employment law changed since you started?
When I started, the practice essentially was Title VII defense and NLRA work (traditional labor) and few female attorneys were interested. The scope of work has expanded exponentially, requiring far more specialization and attention to daily developments; more controlling law is being created administratively – you cannot just read a statute or Supreme Court opinion. As our discipline became more diverse, many more female attorneys entered the field. Good thing, too: I met my wife at an employment lawyer function.
Is there a moment in your career you wish you could do over?
I left Indianapolis in 1987 to practice with a firm in Philadelphia, thinking the law and lifestyle would be more cosmopolitan. Waste of a year. Very grateful B&T had a need and I had the sense to return to Indianapolis. This is a great residential city that you under-appreciate until you leave.
Clients often expect lawyers to be accessible 24/7. How has this affected the practice of law?
It has made lawyers part of the "real" world of service providers. We play by the same rules as our business partners. You can't hide behind books and a clever legal assistant. There are no early retirements. If you want to succeed you have to make yourself readily accessible to clients every day. If you don't like the service aspect of the profession, you should leave it. You'll be happier and so will your clients – if you still have any.
What was the most memorable job you had prior to becoming an attorney?
Working as a summer intern for the Council on Foundations Inc. in Washington, D.C., learning how private philanthropy impacted so many lives in a positive way. There is so much untold generosity in this country.
What's something about you not many people know?
I took guitar lessons for two years during lunch time in my early years at Barnes & Thornburg. It was great fun, and I was competent at making noise. Then life got busy, and I left the licks behind.
What's something you've learned over the years that you wish you could go back in time and tell your younger self?
It's important to plan, but recognize that the best things that happen for you in life most frequently occur in the most unintended, unexpected manner. Happiness cannot be planned; you have to be open to the possibility and adapt.
What civic cause is the most important to you?
Tough question. I've served on boards that range from sports to theatre, and been privileged to be president of several. Since you're making me choose, I'll say public/private partnerships that focus on job creation and training. I really enjoyed the work we did on the Private Industry Council. Life can be improved enormously by exposure to culture, sport, art, etc., but it cannot be lived without the basic opportunity to earn a wage.
We hear a lot about civility. Have you noticed a change in how attorneys treat each other since you began practicing?
Yes, I'd say so. Things always have been pretty civil in Indiana. I notice it more on the road, which is where I spend 70 percent of my time these days. This extends both to union advocates in traditional labor law and opposing counsel in litigation.
Why did you become a lawyer?
It was the logical extension of my liberal arts education. I did not know any lawyers at the time I graduated, and my major was not pre-law, but after discussion with several college advisers it seemed like a logical extension of the analytical challenges I enjoyed in college. And it created many, varied career options upon completion – a great career "hedge" in that sense.
If you couldn't be a lawyer, what would you do for a living?
The honest answer is "no idea." It's all I've known and I've never encountered a job I thought would be better than the one I have. There are "reaches" (color commentator for live sporting events), but realistically I'd need to be in a role where I don't have a boss and am in the company of creative and entrepreneurial professionals. A strategic contributor in business or civic affairs is as specific as I can get.
Please enable JavaScript to view this content.