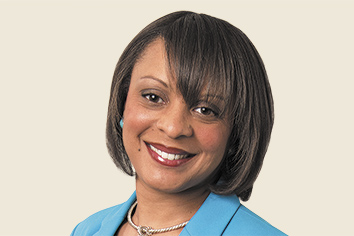 After spending nearly 15 years as a molecular biologist, Angela Freeman went from the lab to a law firm. Angela is one of a small number of African-American lawyers in the United States who both practices in the field of intellectual property law and is a registered patent attorney. Considered a rising star in the B&T Life Sciences Practice Group, her leadership skills and positive attitude contribute to a cohesive and enjoyable professional environment. Angela is a trusted adviser to and vigorous advocate for her clients, and is highly involved in recruiting IP business to the firm. She remains passionate about working with young people and inspiring them to pursue a career in the fields of science, technology, engineering and math, as well as promoting diversity within the legal profession.
Why make the switch from the lab to the law?
Rather than a switch, it has felt more like a transition from focusing on one aspect of scientific innovation – the research and development of an invention – to focusing on an equally important aspect of innovation – the protection of legal rights and commercial revenue derived from that invention. I appreciate the opportunity to use both my technical and legal expertise to ultimately benefit my clients.
You're an advocate for diversity and inclusion within the firm's workplace. What can firms do to better attract and retain a diverse group of lawyers?
For firms to attract and retain top diverse legal talent, I think they must develop and maintain a culture and legal environment in which a diverse attorney can thrive. More specifically, a culture and political environment where a diverse attorney may be authentic, can add value or have impact, and has real opportunities to build, grow and advance a legal practice.
What are some tips for achieving a work/life balance?
Quite frankly, my work/life balance often seems more like a "work in progress." However, in striving to achieve some type of balance or "work/life integrity," I would suggest one to be flexible, prioritize and ask for help. Use your time wisely. Do things that add value or are personal, otherwise, outsource as needed. Don't sweat the small stuff, work hard to play hard, and every chance you get, play even harder.
What's something about you not many people know?
I like old things, like classic cars. In fact, I own a classic car. I love vintage clothes; thrift stores and consignment shops are my favorite. I collect antique furniture, including a Victrola that still plays records and a wood ice chest refrigerator.
What is the most important lesson you learned from your mentor?
My most beloved mentor is my mother who has told me throughout my life that I can be anything I want to be and do anything I want to do, if (and only if), I was willing to work hard! I thank her for instilling the confidence in me to know that the recipe for success is a lot of hard work with even more humility.
What was the most memorable job you had prior to becoming an attorney?
Before being an attorney, I have only had four jobs. I was a financial aid work-study student, a youth camp counselor during college summers, and a lab technician in graduate school. After grad school, I came to Indiana to work at Lilly where I worked for almost 12 years. Lilly was definitely my most memorable job.
Why practice in the area of law that you do?
I love being a patent attorney. It is the perfect marriage of the sciences and the law. I deeply enjoy my practice, my clients, my colleagues and my firm. I also appreciate the unique opportunity to master one of the most specialized and rapidly evolving areas of U.S. jurisprudence, such as intellectual property law.
Where do you see yourself in 20 years?
In 20 years, I hope that I have developed deep and lasting client and community relationships as an established IP attorney known for quality and excellence. I also hope to have made tangible or quantifiable impact on increasing the career and leadership opportunities that are available to diverse and female attorneys, scientists and engineers in the Indianapolis area and even nationally.
What's your guilty pleasure?
Boating, sailing, water sports and aquatic activities are my pleasure. Going to the Caribbean is my ultimate pleasure, but I don't feel very guilty about it!
What civic cause is the most important to you?
I am very passionate about increasing diversity, particularly women and people of color, in the fields of science, technology, engineering and math (STEM) and certainly, the law. I believe that many others who look like me can also benefit from pursuing a career in STEM whether or not it leads to the law.
Please enable JavaScript to view this content.