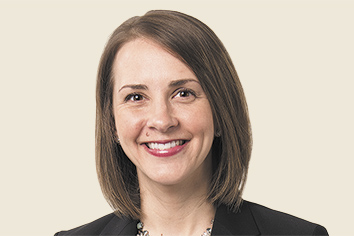 Kate Erdel is a talented, proactive lawyer who has earned a reputation as a leader among her peers. She recently took the initiative to establish a forum for firm associates to learn about marketing opportunities, development needs and mentoring; and she dedicates countless hours to developing initiatives to recruit and maintain diversity within the firm. Kate's leadership style is inclusive and develops the talents of her colleagues as well as her own. The labor and employment attorney is active in the Indianapolis Bar Association and lends her time to several community organizations, including Dress for Success.
You spent time as a teacher before becoming an attorney. When did you decide to make the switch to the law as a profession?
I was accepted to UC Law School as a senior in college but deferred my enrollment when I decided to join Teach for America right after graduating. I think I always thought I would go into law (my dad is an attorney and someone I always wanted to be like), but it was about halfway through my first year of teaching that I knew for sure. I loved teaching kids and the act of being a teacher; I did not love the rest of what being a classroom teacher requires.
You're very involved in your firm's diversity efforts. What do you think is necessary for firms to attract and retain a diverse group of attorneys?
A serious commitment, from the top down, to walk the walk and truly support and encourage diversity. But before that kind of commitment can be made, firm management must understand and appreciate that diversity comes in many forms (not just race, gender and ethnicity) and that it can actually be profitable to the bottom line.
What are some tips for achieving a work/life balance?
Make active choices to achieve the balance that makes you happy. Growing up, I was always told that I could have it all if I worked hard enough. With that mantra though, I had no balance; I spent all my time and energy working hard. Since having a family, I've changed my mindset and believe that the goal should be to work hard so that we can then make choices that help us achieve whatever balance of life and work makes us happy.
What is the most important lesson you learned from your mentor?
That it is possible to practice law effectively and be a solid advocate for my clients without compromising my integrity, personality or femininity.
Why practice in the area of law that you do?
I practice management-side employment law and it's a perfect combination of advocacy and day-to-day problem-solving. There's a good opportunity to develop meaningful professional relationships with clients that aren't dispute driven, but we still have opportunities to litigate. Bonus is that the fact patterns can be pretty interesting.
What's something about you not many people know?
Oh gosh. I don't really keep secrets very well. I do a pretty accurate guinea pig imitation, and my favorite food combination is, and always has been, vanilla ice cream with a scoop of peanut butter and a glass of orange juice on the side. And, in a former life (or maybe with a different life altogether), I might have been a tennis pro.
What was the most memorable job you had prior to becoming an attorney?
Definitely my time as a junior high English teacher in the St. Louis public school system. Teaching is not for the faint of heart, and that experience challenged me day in and day out. I was young and naïve and called my mom crying every morning on the way to work. I now have a greater respect for educators, for my teachers, and for the education I was privileged to have. I also have a deeper appreciation for a workplace that does not involve a pre-teen throwing a chair at my head.
Where do you see yourself in 20 years?
My mom passed away when I was in law school, with some of her dreams still ahead of her. Since then, I've not spent a lot of time thinking about the distant future because it's not a given. Generally, I hope to still be healthy, celebrating my kids' achievements with my husband, working in a meaningful capacity, and contributing to our community.
Why do you think people often have negative stereotypes about lawyers?
Mostly I think it's because we are misunderstood. The general population's ideas about lawyers come from the media and fiction, not real interactions with us. Most people have no idea how challenging it is to know the law, advocate for clients, and interact with other lawyers day in and day out. Some of the absolute best people I know are lawyers; none of the worst people I know are.
What three words best describe you?
Conscientious, organized, anti-procrastination.
Please enable JavaScript to view this content.