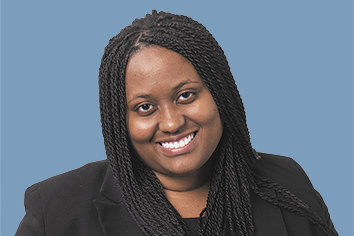 Roxana Bell has quickly established herself locally and nationally as a young leader in the legal profession. She was selected to participate in the American Bar Association's Labor & Employment Young Lawyers Division Fellowship Program and serves on the National Bar Association's Young Lawyers board. Locally, she serves as president-elect of the Marion County Bar Association. The former science teacher and federal and state court law clerk is described as brilliant but humble and is a respected advocate and engaged member of the legal community. Roxana is a founding member of Kids Interested in Technology, Engineering, and Science Inc. (KITES).
You, like several of our current and past honorees, were a teacher before becoming an attorney. Why did you make the switch to the law?
I spent my time as a teacher encouraging my students to pursue higher degrees and become lifelong learners. Attending law school was my way of taking my own advice.
You're very involved with various bar associations. Why is it important for attorneys to join their local bar association?
It's a great way to form lasting relationships with other attorneys, and a successful legal career is built on relationships.
What is the most important lesson you learned from your mentor?
I learned from Judge (Jane) Magnus-Stinson that the surest way to succeed (both in and out of the courtroom) is to work hard and arrive prepared.
Why practice in the area of law that you do?
I'm a first-generation American of Jamaican descent, so ensuring equal opportunities to everyone regardless of sex, race or national origin is a personal issue for me. I couldn't think of a better way to spend my career than upholding the laws that make stories like mine possible.
What's something about you not many people know?
In my spare time, I narrate children's audiobooks.
Where do you see yourself in 20 years?
I will still be practicing law, but I also hope to be teaching again in some capacity, be it teaching law students or other attorneys.
Is there a moment in your career you wish you could do over?
No, there isn't. Hindsight is 20/20, and it's clear to me now that even what I may have considered a misstep at the time still led me to where I am now.
What three words best describe you?
Loyal, logical, resilient.
What civic cause is the most important to you?
Equal access to quality education.
Please enable JavaScript to view this content.