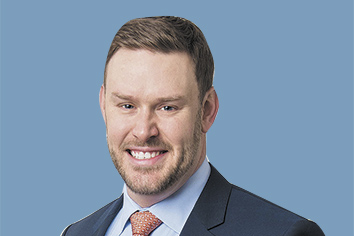 Daniel M. Lechleiter is a talented, creative and committed professional with both law and engineering degrees – and a patent – to his credit. The intellectual property attorney has litigated cases involving disputes ranging from computer software and digital encryption to maternity and children's products in federal courts throughout the United States. Shortly after a merger created Faegre Baker Daniels, Dan served on the firm's integration committee and its associate career model steering committee. He's active in the community, working with his high school alma mater Brebeuf Jesuit, the Penrod Society, and the United Way of Central Indiana.
Why did you make the switch to a career in the law?
For as long as I can remember, I always really wanted to be an engineer "when I grew up." As a kid, I loved to design, build and, best of all, disassemble pretty much anything I could get my hands on. But as I matured and began to evaluate my career options midway through college, I was wary of being pigeonholed as an engineer who only does this or only does that. I looked into patent law at the recommendation of a family friend and never looked back; to me, patent law offered a perfect way both to stay close to the technologies that fascinated me and have an open-ended career path.
What was the most memorable job you had prior to becoming an attorney?
I had two pretty memorable jobs prior to becoming an attorney. When I was 14, I began working during the summers at Eastwood Animal Clinic as an "assistant" to the veterinarians. In my lofty role, I mainly ran heartworm tests on fecal samples, walked dogs, and cleaned dog and cat cages. I was living the high life at $4.25/hour. When I was 15 or so, I began working at Some Guy's Pizza as the "dough boy" – I made all the pizza dough and Roma bread. I got all the pizza I could eat and pop I could drink. I still love their pizza.
Why do you think people often have negative stereotypes about lawyers?
The negative stereotypes about lawyers are pretty much just that. But I think if there's any kernel of truth underlying the stereotypes, lawyers probably largely bring it on themselves. Some lawyers just don't know when to – or, for whatever reason, just can't – "turn it off" in everyday life. I think people, especially non-lawyers, can resent that, and it may fuel the stereotypes.
What's something about you not many people know? 
I'm a huge history buff, and I collect U.S. and British propaganda posters from WWI and WWII. To me, they are the perfect combination of history and art.
Why practice in the area of law that you do?
From the time I first became familiar with patent law in around 2000, it has undergone a series of almost constant changes. It is an incredibly interesting area of the law because it is so dynamic. Patent cases uniquely have their own court of appeals – the U.S. Court of Appeals for the Federal Circuit – which ostensibly was established to maintain consistency in the patent law. The great irony is that we've had anything but consistency over the last 15 years.
Where do you see yourself in 20 years?
Twenty years is a really long way off – my 2-year-old son will then be a few months from graduating college (hopefully!). By that time I hope to be, or have been, a leader in my practice group and firm. But I recognize that a lot can happen in 20 years, so more fundamentally I see myself serving as a leader wherever my career path may take me.
What's your guilty pleasure?
I like to think of myself as not really being a big TV watcher, but over time my wife and I have adopted a set of shows that we watch together, including "Homeland," "Game of Thrones," "Downton Abbey," "The Voice," and, yes, even "The Bachelor." Guilty indeed.
What civic cause is the most important to you?
Education is the most important civic cause to me. I currently serve on the board of trustees for Brebeuf Jesuit, and although my kids are very young, I have already been fortunate to obtain significant exposure to the issues affecting our schools at all levels. Access to high-quality education in central Indiana is an issue that is not going away, and it will take a lot of continued thoughtful leadership and innovation to address it.
What is the most important lesson you learned from your mentor?
I've been very lucky to have several great mentors over the years, but universally all have conveyed to me the importance of being a good person, treating others with respect and maintaining integrity, no matter the circumstance.
What three words best describe you?
Driven. Proactive. Thorough.  
 
Please enable JavaScript to view this content.