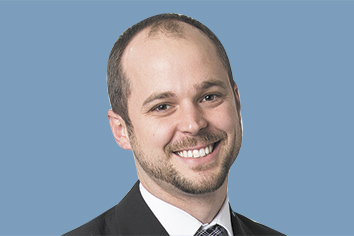 Jonathan Hughes stands out among his peers for his ability to consistently balance the demands of being a successful attorney, community volunteer and a family man. He handles a high volume of diverse matters in his municipal and utilities practice, from regulatory issues to annexation proceedings. Jon's sense of humor and humble disposition attract colleagues and clients alike. He and his wife volunteer for Safe Families for Children, providing a temporary home for children in crisis seeking stability in their lives.
You got your undergraduate degree in Wyoming. How did you end up at IU McKinney for law school?
I am a Hoosier, born and raised. After 18 years, all of them in Noblesville, my high school friend and I decided it was time for an adventure. We sought wise counsel and were informed of the gem of the west, Laramie, Wyoming. After a visit on campus, we fell in love with everything about Wyoming and decided to take on a four-year adventure. Early in that adventure I met the love of my life, and when we were deciding where to settle, we wanted to be close to family. My dad is a graduate of IU McKinney, and based on his counsel and location of family, we decided to settle back in the Hoosier state.
If you couldn't be a lawyer, what would you do for a living?
I would install home audio/visual equipment. It may sound a bit odd, but it is a low-stress job where you get to meet clients from various walks of life and get to work with fun equipment all while delivering an experience to the client.
Why practice in the area of law that you do?
My practice affords me the opportunity to practice in a diverse area while focused on a specific set of clients. In my five years in the practice I have litigated cases, participated in regulatory rule-making procedures, fought over constitutional due-process issues, attended countless local board meetings, negotiated real estate transactions, negotiated contracts, drafted appellate briefs, and assisted in lobbying legislative change. In addition, my clients deliver important and necessary services, and it is exciting to partner with them to provide those services.
What are some tips for achieving a work/life balance?
I have learned that you can't keep work and life in balance at all times and be successful at both. I try to remember that there are seasons as a lawyer where I can devote more time to family, and other seasons where I have to devote more time to my profession. In the end, I try to remember that the law will go on without me, but I do not want to go on without my wife and three kids.
Is there a moment in your career you wish you could do over?
The moments of my career are what have shaped me. Those that were less successful, I plan not to repeat.
What is the most important lesson you learned from your mentor?
To seize the moments, not necessarily the days. In my practice, it is the obscure research that I began five years ago which seems to regenerate work for me. By seizing the moment to take on an unusual issue, I have begun to build a lasting practice. In life, moments are far too fleeting to not enjoy, seek after and remember. Moments will pass us, but if we can grab on to as many as possible, who knows where God will take us. If you ignore the moments, you won't go anywhere.
What was the most memorable job you had prior to becoming an attorney?
Two roles come to mind. First, serving as president of the Associated Students of the University of Wyoming. Followed closely by the unpaid position of chair for the concerts and convocations committee where I had the distinct pleasure of one-on-one conversations with B.B. King, Chris LeDoux, Wyclef Jean, Darrell Hammond, Frank Caliendo, Mike Birbiglia, and the Wailers.
What civic cause is the most important to you?
The cycle of poverty. A number of great organizations are working toward assisting with breaking that cycle, and closest to my heart is the amazing work that Safe Families for Children of Indianapolis is doing. Krista Davis and her staff are providing care for children of all ages so that moms and dads who find themselves in the middle of a crisis can seek temporary relief in the form of having their children cared for by a volunteer family. My wife and I have been blessed to be a safe family for 14 children over the past several years. During that time we have made amazing relationships with the kids, their parents and with Safe Families, and hopefully have provided a bit of respite for a family in need.
Where do you see yourself in 20 years?
Probably in the mirror or in a picture, although with the speed of advances, who knows how or where we will see ourselves in the future. As for long-range planning, I hope I am making a meaningful difference in the lives of people.
What three words best describe you?
Witty, perceptive and diligent.
 
Please enable JavaScript to view this content.