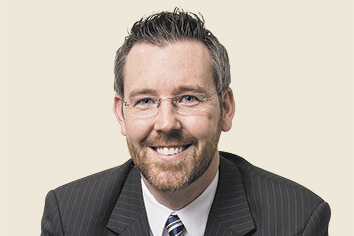 Since early in his career when he assisted as special transaction counsel for the first multi-state affiliation of behavioral health providers in the nation, Brian Heaton has helped a wide variety of clients navigate the changing health care landscape. The transactional lawyer works with startups to publicly traded companies in different industries and is described as a dynamic leader with an unfailing sense of humor and humility. Brian is active in state and local bar associations and professional organizations, and has worked on several community projects and outreach programs through his church.
How has your practicechanged since the Affordable Care Act took effect?
Health law attorneys and our clients are used to dealing with new and constantly changing laws and regulations, and the ACA is no different. It has helped our provider clients in some ways (including an increase in the number of patients with insurance), but it has also presented some challenges and has caused our clients to reevaluate their strategic relationships and services across the continuum of care.
What are some tips for achieving a work/life balance?
 My grandfather once told me that, no matter how busy he was, he always made it home for dinner unless he had a meeting. That resonated with me, and I enjoy making that time a priority and the quality time that we get to spend together as a family.
Where do you see yourself in 20 years?
With even more gray hair than I have now. I'd like to be able to say at that point that I have helped my clients meet their goals, worked on interesting projects, taken the time to enjoy my family and give back to my community, and still have the fire to continue those efforts for the rest of my career.
What is the most important lesson you learned from your mentor?
Always support your client. Lawyers are generally wired to have strong opinions and get their way, but it is more important to listen to, understand and respect your client's concerns while providing a comprehensive understanding of risks and options. With that approach, over time, you can develop a client's trust and the opportunity to voice your support or concern.
Why practice in the area of law that you do?
I was a finance major in college and an MBA/JD student, so I always knew that my practice would be more transactional than litigation-focused. My father has been a health care consultant and accountant for most of his career, which certainly gave me exposure to the subject matter. Also, because of my joint MBA/JD curriculum, I was able to intern at our firm for two summers, and I found that I really enjoyed working with the people and clients in both our health care and corporate practice areas, which are real strengths of our firm.
If you couldn't be a lawyer, what would you do for a living?
I'm a planner, and being a lawyer has always been part of my plan. However, I do find real estate development to be fascinating and would enjoy working on those types of projects in some capacity.
What was the most memorable job you had prior to becoming an attorney?
I worked at a local park district in high school and college as a camp counselor and youth sports coach. I worked much longer hours at that job than I do now as an attorney. However, it was rewarding and a lot of fun to be around children and work alongside good friends and my now-wife, Holly.
 
What civic cause is the most important to you?
Because of my two sons and my previous experience working with kids, children's causes resonate the most with me. Specifically, even though I think that a focus on classroom education standards and testing is necessary, I think it is equally important for children to have access to music education and develop good fitness habits through health and physical education.
Is there a moment in your career you wish you could do over?
There isn't one particular moment I wish I could do over, but I wish I had appreciated my opportunity to learn from my various mentors when I started working rather than focusing more on the task immediately at hand.
 
Why do you think people often have negative stereotypes about lawyers?
I actually find most lawyers in Indiana to be collegial, hard-working and well-intentioned, which is different than most stereotypes you hear. It does not help that the law is inherently adversarial and that bad-acting lawyers make for interesting news, jokes and novels.
Please enable JavaScript to view this content.