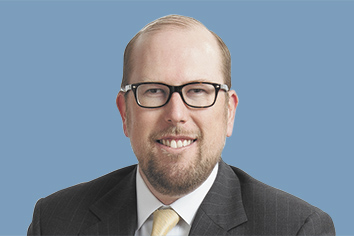 Since graduating law school, Ned Mulligan has sought out and taken on leadership roles both at Cohen & Malad and in the community. He has become an integral part of the firm's personal injury mass tort group. His cases include a lawsuit on behalf of people injured by pain pumps and a class action against British Petroleum for selling contaminated fuel that damaged vehicle fuel systems. He's active in the Indianapolis Bar Association, serving as co-chair of the Ask-A-Lawyer Program. And quite fitting for the former golf professional, Ned chaired the Indianapolis Bar Foundation's Lawyer Links Golf Classic, one of the IBF's primary annual fundraising events.
With "Mulligan" as a last name, how many jokes have you heard about it since you also are a golfer?
Pretty often, but I enjoy it. It's a great icebreaker, especially when I'm paired up with someone new on the course. It could be worse; my last name could be "Bogey."
Why practice in the area of law that you do?
Because I get to help people who really need it. Each day presents an opportunity to make a difference for clients whose lives have been devastated by injury or death. Plus, it's interesting and exciting. Products liability adds a complexity that ensures I will never be bored; in one case I may have to become an expert in dialysis and in another the cardiovascular system. There's also a David versus Goliath component that I really enjoy.
Is there a moment in your career you wish you could do over?
I'm fortunate that I have not had any major blunders so far. That said, the first major brief I wrote had 140 exhibits. Instead of preparing the exhibits and cover pages electronically, my paralegal (he was also new) and I printed the exhibits and cover pages, organized them by hand, and then scanned them. It took about four hours longer than it should have and we were in the office until 3 a.m. I've since learned that Adobe is my friend. I'll never make that mistake again.
Several Leadership in Law honorees have been involved in leadership development programs through a bar association. What is the most important lesson you learned?
The most important lesson I learned as part of the IndyBar's Bar Leader Series is that lawyers not only have an obligation to their clients but also to their community. It's amazing how much of Indianapolis' history has been influenced by the lawyers in our community.
What is the most important lesson you learned from your mentor?
To be the most prepared lawyer in the courtroom. This is particularly important for a plaintiff's lawyer as we have to build our cases from the ground up to overcome the burden of proof.
What's your guilty pleasure?
Fantasy baseball. I've been playing with a group of friends for over a decade now. It takes some dedication but provides a nice 5-10 minute mental break during a hectic work day. It also satisfies my inner sports nerd.
Where do you see yourself in 20 years?
Hopefully doing what I'm doing today: representing people who have been injured by medical devices or prescription drugs. I'd also like to continue my involvement in the local bar associations as I find it professionally and personally fulfilling.
Why do you think people often have negative stereotypes about lawyers?
Corporate America has spent a lot of time and money convincing the public that, more often than not, personal injury lawsuits are frivolous and plaintiffs are simply looking to get rich. These misperceptions naturally spill onto plaintiff's lawyers. Fortunately, they are easily corrected when we explain to people what we do and why.  
What civic cause is the most important to you?
After serving as co-chair of the IndyBar's Ask-A-Lawyer program the past two years, I feel strongly that, as lawyers, we need to ensure that legal services are accessible to those in the community who could otherwise not afford them. To this end, I think it's important that attorneys find ways to donate their time and take on pro bono work when possible.
What was the most memorable job you had prior to becoming an attorney?
After college, I took a three-year "break" from school and worked as a golf professional at two country clubs. It was challenging, fun and helped me to prepare mentally for the challenges of law school and the practice of law.
Please enable JavaScript to view this content.