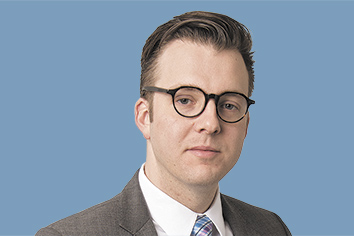 Matthew Neumann has proven himself as an effective litigator in his early years of practice, obtaining multiple favorable summary judgment rulings for his clients. Matt will jump feet first into a case when his talents can add value, always focused on obtaining an efficient result for his client. He is engaged and active in the Indiana State Bar and Indianapolis Bar associations in several roles, including serving as chair of the IndyBar's Young Lawyers Division.
Why is it important for young lawyers to get involved with their local bar association?
For me, involvement with local bar associations is a no-brainer. Being active with bar associations and getting to know other attorneys, both contemporaries and more experienced attorneys, is a necessary and foundational component of any legal career.
Do you think the opportunities to sharpen litigation skills are declining for lawyers?
Statistics don't lie. Fewer and fewer cases go to trial, and accordingly, younger attorneys have fewer and fewer opportunities to try cases. Any young attorney would be wise to seize any opportunity to try cases. It can only improve your marketability.
If you couldn't be a lawyer, what would you do for a living?
If I wasn't a lawyer, I would be a musician. I would love to be a professional songwriter.
What's your guilty pleasure?
Pop music is definitely my guilty pleasure. I'm a recovering indie music snob, and I am embarrassed to admit that I now like a lot of the trashy pop music you hear on the radio. Also, IPAs. I definitely have the craft beer bug and India Pale Ale is my preference.
What was the most memorable job you had prior to becoming an attorney?
My most memorable job was working on a construction crew during summers while in college. It was an enlightening and rewarding experience. I learned the importance of hard work from many sources, but working construction was definitely one such source.
What is the most important lesson you learned from your mentor?
The most important lesson I've learned is that there is no substitute for hard work.
Is there a moment in your career you wish you could do over?
As with anything in life, there are of course moments I wish I could do over. That comes with the territory of having a Type-A personality.
Where do you see yourself in 20 years?
In 20 years, I hope to be happy, healthy, surrounded by friends and family, with an interesting and rewarding career. That vision is vague and imprecise by design.
Why do you think people often have negative stereotypes about lawyers?
I have heard it said that litigation is people acting at their worst. Lawyers facilitate legal processes and thus are at the center of "people acting at their worst." I believe the general public misdirects at attorneys complaints that are more broadly about our legal system and legal processes.
What are some tips for achieving a work/life balance?
Cultivating a love and respect for the work that you do is an important component of work/life balance. Attorneys, especially young attorneys, are required to put in long hours, that is just part of it. When you enjoy and value the work that you are doing, it makes everything better.
 
Please enable JavaScript to view this content.