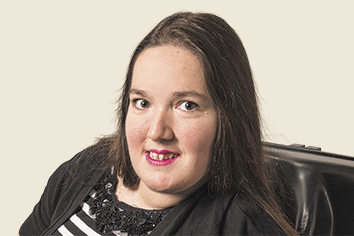 Emily Munson has capitalized on her unique position as an attorney with a disability to advocate on behalf of others similarly situated, which includes serving on the leadership committee of the Indiana Governor's Council for People with Disabilities. Her incredible work ethic was on display when she agreed to work for Indiana Family and Social Services without pay when she was having trouble finding a legal job after graduation. Her supervisors were so impressed with her work they created a paid position.
It took a while for you to find a legal job after graduation. What advice would you give to someone in the same boat?
I quickly learned not to take each rejection personally. Each opening often has very specific practice requirements; even an applicant with stellar credentials will be turned away if they cannot meet the firm's specific need. I would also encourage people looking for employment to network with the same vigor they applied to the bar exam.
When firms talk about the importance of diversity, do you think they are including those with disabilities?
Last fall, the (Indiana State Bar Association) offered a fantastic CLE on the importance of incorporating disability into diversity considerations. I hope more firms will realize that people with disabilities are often skilled in ways that may not be reflected in a resume. Many are quick thinkers, adaptable to change, compelled to overachieve; some have managed teams of caregivers since reaching adulthood, etc.
Why practice in the area of law that you do?
I enjoy health law because it's dynamic and often high-stakes. I began on the regulatory side. Currently, I'm practicing on the civil rights side to get more experience working with individual clients and to develop my litigation skills.
How did being Ms. Wheelchair Indiana 2009 help prepare you for a career in the law?
The experience helped me get comfortable speaking with anyone. From addressing a sold-out crowd at Victory Field to accidentally finding myself in a sheltered workshop, I developed both public speaking and improvisational skills that have proven useful in the practice of law.
What civic cause is the most important to you?
Helping Indianapolis become a more "livable community" is high on my agenda. People might be familiar with the concept of universal design as it pertains to architectural barriers, but ameliorating more systematic barriers – by implementing a light-rail system, visibility ordinance, etc. – would enable more citizens to contribute to the city I love.
Where do you see yourself in 20 years?
Drinking a bottle of Lindemans Framboise and eating brat and kraut balls next to the Mephistopheles statue at the Rathskeller, celebrating my appointment as secretary of Health and Human Services!
 
What is the most important lesson you learned from your mentor?
Like many women, I have a natural inclination to obsess over every mistake and faux pas. I learned that dwelling on these errors is beneficial to no one. Acknowledging a mistake and then moving on is definitely the way to go.
What was the most memorable job you had prior to becoming an attorney?
Each job has been memorable, but the most bizarre project I worked on was during my externship with the Fairbanks Center for Medical Ethics. I investigated how other states approach the legal and ethical conundrum that is posthumous semen retrieval.
If you couldn't be a lawyer, what would you do for a living?
My parents encouraged me to become a novelist rather than a lawyer. I'd definitely be writing, but perhaps as a political blogger.
What are some tips for achieving a work/life balance?
Work for the government? I'm fortunate to have a 37.5 hour workweek. I think setting aside time to volunteer is also helpful – it's not work, but it has a discrete purpose that makes time spent meaningful.
 
Please enable JavaScript to view this content.