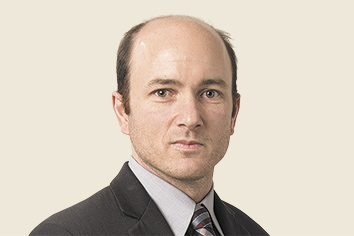 Gavin Rose went to work for the American Civil Liberties Union of Indiana immediately out of law school and has been involved in many of the ACLU's recent successes. He has taken on cases addressing Marion Superior judicial elections, same-sex marriage, and the confinement of seriously mentally ill prisoners in the Department of Correction. Gavin has served as lead counsel on cases before Indiana's appellate courts and the 7th Circuit Court of Appeals, as well as co-counsel on a case that made its way to the Supreme Court of the United States.Gavin is a board member of Disability Legal Services of Indiana, a nonprofit that offers free and low-cost legal services to individuals with disabilities. He contributes frequently to ACLU of Indiana CLE presentations.
What attracted you to working for a public interest organization?
I have always viewed bar admission as a powerful gift that enables us to help those less fortunate and to leave the world a slightly better place than we found it. Working day in and day out at the ACLU provides purpose and a sense of self-fulfillment that I would have a difficult time finding if I did not work in public interest law. It has also taught me that, wherever we fall on the political spectrum, far too often we take the Bill of Rights for granted … but just because it is there does not mean that it is self-executing.
What is the most important lesson you learned from your mentor?
It is both possible and desirable to possess a fundamental respect for the law while at the same time working to change it.
If you couldn't be a lawyer, what would you do for a living?
I would be following my childhood dream of playing second base for the San Francisco Giants. The scrappy middle-infielder with limited physical prowess who somehow always seems to be in the right place at the right time. It is a tough day in every man's life when he finally realizes that he will never play professional baseball, or so I'm told. That day has not yet arrived for me.
Where do you see yourself in 20 years?
You mean if I manage to avoid the fatal – but somehow comic – accident that most people who know me believe to be inevitable? I will still be with the ACLU. Granted, I will have graduated directly from "promising young talent" to "washed out has-been," but I am a lifer.
Is there any case you've worked on that stands out?
After I had been practicing for slightly over a year, I had the honor of being on a case before the U.S. Supreme Court in our office's lawsuit challenging the constitutionality of Indiana's voter ID requirement (Crawford v. Marion County Election Board). The week I returned from Washington, however, I successfully represented several homeless persons in county environmental court who had been ticketed for the egregious offense of sleeping on the sidewalk.
I have been extremely privileged to work on a wide variety of high-profile, precedent-setting cases. But the most memorable ones are oftentimes at the other end of the spectrum: They are the cases where weeks, months or even years are spent representing clients who simply have nowhere else to turn.
What was the most memorable job you had prior to becoming an attorney?
Well, let's see … I was something of a professional nomad before arriving at the ACLU. There were the years I spent working at Surf City Squeeze – horrible pay but all the free smoothies I could stomach. Or perhaps the graveyard shift at the office supply store. Working the front desk at the real estate company, a summer of removing non-native plants for the Marin Conservation Corps, the mindless tedium of doing data entry for a mortgage company, or the better part of a year spent manufacturing cheap (but enjoyable) kites. All terrible, terrible gigs, but each one memorable in its own right.
What's something about you not many people know?
When I was younger, I had a deathly fear of putting my fingers in the holes of a bowling ball. It was not related to hygiene. Rather, I was legitimately terrified that they would never come out.
Why do you think people often have negative stereotypes about lawyers?
There are, of course, bad seeds in every profession, although those in the legal profession might be louder than those in most others. The fact of the matter is that we work in a profession that is, by its nature, adversarial … and being adversarial without creating adversaries is an art form that not everyone has mastered.
What three words best describe you?
Yellow falafel surfboard.
Please enable JavaScript to view this content.