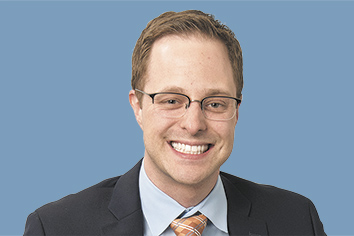 David Pryzbylski has accumulated significant experience and success in labor and employment matters. "Relentless" and "passionate" are words used to describe his work. David's victories include implementing and managing a six-month lockout for an international manufacturer based in Pennsylvania during collective bargaining negotiations and obtaining summary judgment for Roche Diagnostics Corp. in an age discrimination matter. He even successfully obtained e-discovery costs for the first time in the U.S. District Court for the Eastern District of New York. David also uses his skill set to provide pro bono assistance to the Boy Scouts of Indianapolis.
In your nomination, a client mentioned how prompt you are to his inquiries. Do you think the 24/7 access clients have to their attorneys is good or bad?
I think it is a great thing. One aspect of our profession that really called to me was being in the role of a "counselor" – that is, someone my clients can count on for anything at any time. Technology helps enhance my ability to fulfill that role.
Why practice in the area of law that you do?
Growing up, my dad was on the management side of a steel company and his twin brother was a union steward at U.S. Steel for more than 40 years. Seeing lively debates over labor relations issues at every family gathering piqued my interest and set me on the path to being where I am today.
What's something about you not many people know?
I'm a huge fan of the Grateful Dead. I have over 500 live shows on tape (yes, cassette tapes).
Where do you see yourself in 20 years?
Hopefully a partner at Barnes & Thornburg LLP with a leadership role within the labor & employment department. It's an amazing place to work, and I am very fortunate to work with, and learn from, countless top-tier attorneys on a daily basis.
If you couldn't be a lawyer, what would you do for a living?
I've wanted to have a job involving labor relations since high school, so that's a tough question. It would have to be another profession where I would be in a position to help people solve complex problems, as that is what I enjoy most about being a labor lawyer. Of course, my ultimate "dream job" would be the general manager of the Chicago White Sox.
Is there a moment in your career you wish you could do over?
Thankfully, no. Everyone has good days and bad days, good cases and bad cases. Some of the best advice I got early on in my career is that it's called a "practice" for a reason. You can't ever get better if you don't learn from bumps in the road.
What was the most memorable job you had prior to becoming an attorney?
I worked as a cashier and "jack of all trades" at a Great Harvest Bread Company franchise for several years in high school. It was a small business, and I worked directly with the owner on various issues. That experience gave me a basic understanding of managing a business, which has served me well in developing the business side of my law practice.
What are some tips for achieving a work/life balance?
My primary tip is to adjust your schedule to fit your life. Before being married with kids, I used to arrive at work around 7:30 or 8 a.m. and stay as late as needed. With early bed times at my house now, though, I try to be at work by 5:30 a.m. so I can leave early enough most days to spend time with my family at night. My workload is the same, but by changing my schedule I am able to get in valuable time at home.
What is the most important lesson you learned from your mentor?
Be responsive. Clients rarely call me with "good news," and it is my responsibility to be accessible to them to help resolve any problems (big or small) that may emerge. I have tried to go above and beyond in this area, and it has benefited me in terms of developing client relationships.
Why do you think people often have negative stereotypes about lawyers?
To be honest, I think it's just one of those things that has been said over and over for so long that no one really knows why they are saying it anymore.
 
Please enable JavaScript to view this content.