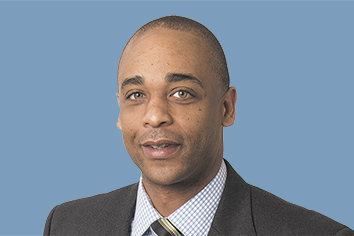 Edward Thomas Sr.'s diverse background and life experience have helped him recognize how people's personal experiences shape and impact their views. He prides himself on the rapport he has developed with clients in his business litigation and commercial transaction work. Before becoming an attorney, Edward served as an active duty soldier, where he was a paralegal with the U.S. Army Judge Advocate General Corp. He volunteers with many local groups, including serving on the board of managers for the YMCA Urban Mission Center. He has mentored dozens of law students and routinely speaks to youth organizations in Indianapolis and Gary, his hometown.
What skills did you learn while in the military that have helped you in your practice?
My military experience helped to reinforce the importance of being disciplined, reliable and dedicated while consistently displaying a can-do attitude under all circumstances.
What made you want to become a lawyer?
 I've always enjoyed being a problem-solver and debating issues with family and friends. In addition to the intellectual challenge the practice of law provides, it also helps to feed my entrepreneurial side.
What was the most memorable job you had prior to becoming an attorney?
Being a soldier in the U.S. Army, hands down. From basic training to deploying for months at a time to places like Bosnia, Thailand and Afghanistan, my service in the military was invaluable. I definitely owe my ability and willingness to adapt to stressful situations to my military experience.
Why do you think people often have negative stereotypes about lawyers?
I suspect the rising costs of litigation and perception that many lawyers are motivated by greed are part of it. The adversarial nature of the practice of law is likely a contributing factor as well. Nevertheless, despite these negative stereotypes, I believe that most people recognize the value and importance of attorneys in our society.
What is the most important lesson you learned from your mentor?
Robert F. Wagner has always impressed upon me to take the time to think through a problem before jumping in. The extra time spent on the front end will result in time and money saved on the back end.
What are some tips for achieving a work/life balance?
I've been married to my beautiful wife for 15 years, and we have three young children that keep us busy. I love spending time with my family and fortunately I also enjoy my profession. So, work/life balance is not an issue for me. While my family always comes first, they understand when duty calls, I have to handle business.
 
Why practice in the area of law that you do?
I'm always intrigued by the "business side" of an issue and genuinely enjoy handling complex litigation matters involving business disputes. In addition to the legal issues involved, I am equally interested in understanding the client's industry so as to help advance the client's interests.   
 
Is there a moment in your career you wish you could do over?
I'm a big believer that we derive wisdom from our failures much more than our successes. While I have certainly had my share of failures, I appreciate the lessons learned and wouldn't change a thing.   
Where do you see yourself in 20 years?
I expect to be a well-respected leader in the Indianapolis business and legal communities in addition to serving as a foundation and resource for family and friends.  
 
What civic cause is the most important to you?
Meaningful access to justice.  
 
Please enable JavaScript to view this content.