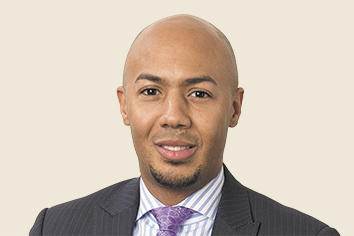 Ahmed Young made the transition from teacher to lawyer after realizing a legal career could help him in his quest for equality and making the community a better place. He spent time working with repeat juvenile offenders in the Marion County Prosecutor's Office before joining the firm, where he also serves as second vice president at Bose Public Affairs Group. Ahmed's clients include those with professional licensing issues and in the K-12 and university systems in multiple areas of the law. He serves as a commissioner on the Indiana Civil Rights Commission and is active in several community organizations.
You started as an educator and then switched to the law. Why?
I loved the time I spent in classrooms here in Indianapolis and New York City, where I was able to connect with students in a meaningful way and challenge their thinking. While I invested countless hours to the art of teaching, I yearned for a different type of intellectual stimulation. I left teaching knowing that education would be a part of my life in some capacity. Things have come full circle because I am now practicing in an area where I can work with schools in addressing their legal needs.
Why work as both an attorney and with Bose Public Affairs Group?
Ultimately, I am able to serve clients and assist colleagues in a very unique and comprehensive manner. Being able to do both has made me a better attorney and advocate for my public affairs clients. What makes such a venture possible are the BME and BPAG teams that give me the support and latitude needed to excel.
What are some tips for achieving a work/life balance?
The key is accepting that achieving a work/life balance is not a zero-sum game.
What is the most important lesson you learned from your mentor?
Never stop developing your book of business.
What was the most memorable job you had prior to becoming an attorney?
I've had my share of random jobs prior to teaching and practicing law. From delivering the Washington Post as a kid to being a sandwich artist at Subway, each job paled in comparison to a gig I had during the summer of 2003. I was the resident director for Upward Bound, a pre-college initiative that helps to bridge the gap between high school and college. It just so happened that I met my wife during that summer, and it completely changed the trajectory of my life.
Why practice in the area of law that you do?
New challenges are always lurking.
What's your guilty pleasure?
Coffee and a few shots of espresso.
Why do you think people often have negative stereotypes about lawyers?
Just like in the classroom, the bad students typically garner the most attention.
What civic cause is the most important to you?
Education.
Where do you see yourself in 20 years?
I will be continuing the search for intellectual challenges.
Please enable JavaScript to view this content.