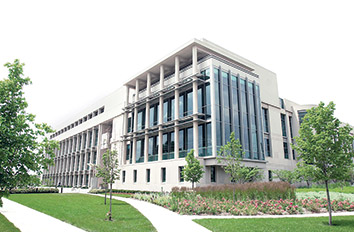 Indiana University Robert H. McKinney School of Law has a new tool to encourage certain students to enroll in its J.D. program – they can skip taking the LSAT.
The Indianapolis law school is dropping the required Law School Admission Test for select students who are currently attending Indiana University-Purdue University Indianapolis, the law school's home institution. A limited number of slots will be open in the new direct admissions program, and only undergraduates with excellent academic records will be eligible to apply.
IU McKinney developed the program after the American Bar Association made a change in its admission rules allowing law schools to accept some applicants who have not sat for the exam.
Andrew Klein, dean of IU McKinney, said the direct admissions program will be good for the law school.
"It gives IU McKinney the chance to reward top students on our home campus for excellent academic achievement and give them the opportunity to stay in Indianapolis," Klein said, adding the program will be an incentive to attract highly successful people to the law school.
According to the ABA, it adopted the modification to its Standard 503 on the admission test because in recent years a number of law schools had been granted variances that enabled them to excuse top-performing students from taking the LSAT.
The ABA Section of Legal Education and Admission to the Bar submitted a report in June 2014 recommending the change. It noted 15 ABA-approved law schools had received variances and these direct admission programs had enrolled students who performed as well or better than regularly admitted students in graduating on time and passing the bar.
Since changing the rule, schools such as Brigham Young University Law School, University of San Diego School of Law, and the University of Iowa College of Law have started direct admissions programs. Others, like University of Alabama School of Law and University of St. Thomas School of Law, had obtained variances and already had in place no-LSAT policies.
Jerry Organ, professor at St. Thomas in Minnesota, expects more law schools will implement direct admissions programs but noted not many students will qualify because the ABA set a high standard. Even under the variance, which was less restrictive than the new standard, St. Thomas was directly admitting only about 10 students each year.
Under the new ABA requirements:
• no more than 10 percent of the entering class may be admitted without requiring the LSAT;
• students must come from the same university or college as the law school;
• students must have scored in the 85th percentile on another standard test like the ACT, SAT or GRE; and
• students must be ranked in the top 10 percent of their undergraduate class or have a grade point average of 3.5 or above through six semesters.
Indiana University Robert H. McKinney School of Law enrolled 199 full-time students in the fall of 2014. The average GPA for that incoming class was 3.35 and the median LSAT score was 152. (IL file photo)
Organ compared the change to the ABA opening the door by 3 inches when maybe it should have kept going to 6 or 9 inches. He proposed allowing students in the top 25 percent of their class and who scored in the 60th or 75th percentile on a standardized test.
"I think it made sense to adopt a general rule but my only view is this is too restrictive," Organ said.
Although they do not have to have an LSAT score, students applying for direct admission to IU McKinney will still have to meet other criteria. Klein emphasized the program does not guarantee automatic acceptance and these students will receive the same holistic review as the LSAT-taking applicants.
"(The LSAT) is one data point among many in determining whether somebody is going to be successful in law school," Klein said, but it does not indicate if that person will ultimately be a good lawyer.
He anticipates the number of direct-admit students will be very small with IU McKinney likely not hitting the 10-percent ceiling. The program, Klein said, removes the barrier the LSAT puts in front of applicants by requiring them to spend time and money to prepare for and take the test.
Being able to skip the LSAT, Klein added, will not cause people to spontaneously decide to go to law school. Students who qualify for this program will have given good thought to their futures. They have many opportunities and direct admission just provides an incentive.
"I don't think removing the requirement to take the LSAT for a very small, select group of students is going to turn law school into an impulse buy," Klein said.
Currently, IU McKinney is in the heart of its recruiting season for the fall 2015 semester, talking to potential students and offering scholarships. Klein said direct-admit students could be part of the entering class. He would not be surprised if other law schools welcome their first direct-admit students this fall.
"I predict that a lot of schools will do this," Klein said. "They'll have the same incentives we have to try and recruit strong students on their campuses."•
 
Please enable JavaScript to view this content.