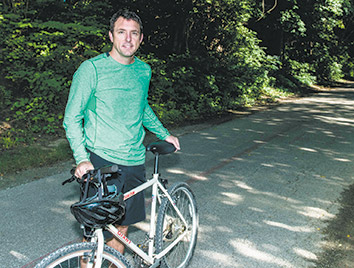 Indiana Lawyer spoke to a handful of first-year law students at Indiana University Robert H. McKinney School of Law in August 1991 about why they were going to law school and what they hoped to do as attorneys.
IL recently caught up with Tim Caress, Brian Williams, Camilyn Kuhns Leone and Tom Ward, who have followed career paths that took unexpected turns and landed them in unforeseen places.
The 'other' court
Every lunch hour, every single weekday, regardless of whatever else filled his calendar, Tim Caress was on the basketball court during his law school career. The daily activity not only allowed Caress to indulge in his favorite sport but also enabled him to meet attorneys and get his foot in the door at some law firms.
When he arrived at IU McKinney, Caress was not sure what he wanted to do as a lawyer. He discovered late in his undergraduate studies at Indiana University that his degree in broadcast journalism was not going to immediately land him a network sports anchor position, so he opted to enroll in law school in hopes of getting a better career.
Caress graduated at the top of his class and while he had an offer to join a firm in Chicago, he chose to stay in Indianapolis. He became a personal injury lawyer where he could be paid by contingency or, as he described it, bill by the result instead of being wedded to the clock.
Today, he has his own practice, Caress Law Group, in Indianapolis. He offers legal assistance and a sympathetic ear to individuals or families whose lives have been turned upside down by injury or death. Capitalizing on his love of athletics, he has developed a niche practice helping injured bicyclists.
Caress likes the work, and he likes being able to adjust his schedule to be with his family.
Sometimes when he provides a little color commentary while watching sports on television, his four children will say he should have stuck with broadcasting. Caress agrees covering sports would be fun, but it would also be awful because he would never be home to see his family.
"I don't have any misgivings (about choosing the law)," Caress said, "because I would have given up something much more valuable."
Going to the bench
Brian Williams ran what he called a generalist practice. He handled the legal problems of whoever walked into his Martinsville office and built a fairly significant bankruptcy practice.
Williams
Working a short distance from the county courthouse and a 12-minute drive from home is not what Williams pictured when he started classes at IU McKinney. Williams, a native of Morgan County, went to law school as a way to become an FBI agent. But in 1993, he soured on the idea of working for the federal government as he watched the tragic siege of the Branch Davidians in Waco, Texas.
Williams enjoyed his small-town practice immensely, getting to know his clients and working with other members of the bar. Then, the "highlight" of his legal career happened when he was appointed to the Morgan County bench. Williams was tapped in 2007 to fill the position vacated when Morgan Circuit Judge Matthew Hanson was called to active duty in Iraq.
Two years later, Williams became a magistrate for the Circuit and Superior courts. Then, in 2014, he made an unsuccessful bid for Superior Court judge.
Being a judge appealed to his tinkerer, fix-it personality, he said. Much of his time on the bench was spent presiding over family and juvenile cases where he could engage in the problem-solving aspect of his job.
Williams is now chief counsel for regions 13 and 18 of the Indiana Department of Child Services. The work with CHINS and child support cases correlates directly to his time on the bench.
Reflecting on his run for a seat on the court, he swayed between saying he would have second thoughts about mounting another campaign to saying he would probably run again. He is more certain about his decision to go to law school.
"If I wasn't an attorney, I probably would have been an electrician," he said. "However, I enjoy my career choice. I've enjoyed the opportunities I've had to do work that I feel has helped people. It's been a great profession."
An Indiana lawyer in Virginia
A handful of states and couple of decades removed from her legal studies and early career as a lawyer in Indiana, Camilyn Kuhns Leone remains proud of her Hoosier roots.
Camilyn Kuhns Leone, a professor at the University of Virginia School of Law, raises sheep on her family farm. (Photo submitted)
Leone teaches the nonprofit clinic at the University of Virginia School of Law in Charlottesville and, in her spare time, she joins her husband and two children in raising Navajo-Churro sheep on their family farm.
Although she lives in Virginia, Leone still considers herself an Indiana lawyer. She was able to study and work with people who, she said, displayed the Hoosier values of integrity, honesty and humility.
"I feel by going to IU McKinney," Leone said, "I was around people with those values which made us successful."
An art history and French major in college, Leone went to IU McKinney with the intention of becoming a lawyer and working with artists, art dealers, museums and collectors. In law school, she took a job as an auditor at the Indiana Department of Revenue and, after graduating, she became an attorney at the agency.
Then she followed the advice of retired Indianapolis attorney Gordon Wishard who pointed her to the emerging field of planned giving. Her work took her to the Indianapolis Children's Museum and the Indiana University Foundation. She and her husband next took jobs in Pennsylvania before eventually settling in Virginia.
Leone is now a teacher and loves it, guiding her clinic students as they work with nonprofits. She enjoys seeing her students develop confidence and recognize that not knowing the answer is just as important as knowing the answer.
"If I had to do it again," Leone said, thinking back on her decision to go to law school, "I would."
A higher calling
Recalling his days in IU McKinney's part-time program, Tom Ward described himself as a perennial freshman – he went to the wrong class, had the wrong assignment and did not know where the bathroom was.
Ward
"It was wonderful, I loved it," he said.
He enrolled not intending to take the bar and become a practicing attorney. At age 50, he had built a career as a certified financial planner and thought getting a legal education would be beneficial.
The classes were invigorating, his fellow students were very smart and, to his delight, the 100-year-old cases they studied were still relevant. Outside of class, he continued in financial services and watched his practice grow every year.
Although he had his J.D. in hand and his financial planning business was doing well, Ward decided to make a career change after the terrorist attacks on Sept. 11, 2001. At a Kiwanis meeting that morning, someone announced a plane had flown into one of the World Trade Center buildings and from there, Ward remembered, the day just got worse.
"I needed to do something," he said. "This money business was wonderful but there was a higher calling out there." So he turned to his religion and made the choice to become a Catholic deacon.
Ward was a member of the first class of deacons in the Archdiocese of Indianapolis. He completed the five-year program, noting, "Seminary is a lot harder than law school." He was ordained in June 2008 at the age of 68. Now at St. Lawrence Parish in Indianapolis, he baptizes infants, presides over weddings and funerals, visits the sick and teaches.
Knowing what he knows now and looking back at how his life changed, Ward did not hesitate in answering the question would he go to law school again.
"Yes," he said, "in a heartbeat."•
Please enable JavaScript to view this content.