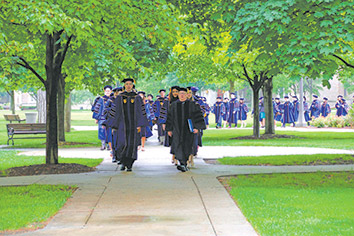 A rite of passage for every generation is being compared to the previous generations and getting criticized for not being as strong, as smart and as hardworking.
Millennials, the group of tech-toting, flip-flop sandal-loving adults born after 1980, have been the subject of eye-rolling. They have been stereotyped as expecting rewards just for participating and believing that spending long hours at the office is overrated.
However, legal professionals say that depiction as applied to their younger colleagues is wrong. They may work differently, taking full advantage of technology, but they are smart and productive.
Indeed, Victor Indiano of Indiano Law Group LLC described millennials as being "ultimately smarter" than the people of his generation. In addition, he said, they are well attuned to culture and racial differences, being careful to not offend others, and they are intelligent about maintaining a good work-life balance.
New economic reality
A 2014 study by the Pew Research Center found millennials are the first generation in the modern era to have higher rates of poverty and unemployment and lower levels of wealth and personal income.
Millennials graduating from law school have suffered as the economy turned sour, according to the National Association for Law Placement. The employment rate for these graduates sunk to 84.5 percent in 2013, down from the all-time high of 91.9 percent in 2007.
The economic reality is impacting how recent graduates approach their jobs. Shannon Williams, director of legal personnel and diversity at Barnes & Thornburg LLP, said the young associates being hired by the firm are hardworking, driven and very thankful to have the opportunity. They know not all of their classmates are employed so they take their work very seriously, she said.
On top of the pressure to get a job offer, law students have to comply with earlier and earlier deadlines for interviews. Large firms, like Barnes & Thornburg, interview for summer associate and first-year associate positions in August and make offers by mid-September. By the time classes start, students will know whether they will be spending the following summer at a big firm.
Some large firms also are paying more attention to finding the candidate who fits into the office's culture, according to Kenny Tatum, assistant dean for career services at Indiana University Maurer School of Law. They have switched to doing behavioral-type interviews in an effort to find the lawyers who share the same values as the firm, would be comfortable with the clients and with whom the other attorneys at the firm would want to work.
Tatum
Most of the IU Maurer graduates go to small or mid-size firms, Tatum said. Those firms tend to interview later than their bigger counterparts and some wait until after the bar exam results come out before making an offer.
The Barnes attorneys enjoy having the young summer associates and new hires come into the firm, Williams said, because the attorneys learn from them. These millennials typically have a range of experiences, either having volunteered for an organization like Teach for America or worked in the private sector prior to going to law school.
That mirrors a trend appearing at Notre Dame Law School. The students who have been enrolling at the school since the lowest point of the Great Recession are clear as to why they want to be attorneys, said Kevin O'Rear, assistant dean for academic and student affairs. No longer are they choosing law school because they do not know what else to do.
Digital comfort
Larissa Koshatka is a millennial who remembers the stress that comes with having a J.D. but no job. When she graduated from IU Maurer in 2011, she was not able to find work as a lawyer until after she took the bar exam.
Koshatka
Now she is an associate with the commercial litigation practice group at Quarles & Brady LLP in Indianapolis. On occasion, she has faced some skepticism and suspicion from older clients because of her age. She counters that attitude by showing them she can do her job. She concentrates on making sure she is delivering high-quality work and responds quickly to the clients' inquires and concerns.
Indiano said, in his experience, millennial lawyers produce quality work. However, he noted, they do not seem to be as driven as previous generations, and because they tend to email, text and Tweet, they do not know how much can be accomplished in meeting people face-to-face.
Their comfort with technology may be coloring perception. Linden Barber, managing partner of Quarles & Brady's Indianapolis office, said the younger attorneys are highly productive, and they are putting in some hours in nontraditional places. This generation is so comfortable in the digital world that they make use of mobile devices to work from home and the corner coffee shop along with the office.
Barber
Also, younger lawyers like to collaborate. Instead of being dog-eat-dog competitors, Barber said this group believes everyone can succeed together.
That instinct for working together was woven into the layout of the Quarles & Brady office. Pat Algiers, president of Chemistry in Place, has created many bright, open spaces where attorneys and clients can gather. The traditional corner offices have been replaced by collaborative areas, and all the attorneys work from offices of the same size. Also, the so-called "Indy Hub" in their office provides an area where the lawyers and staff can socialize and enjoy something to eat or a cup of coffee.
 Quarles & Brady partner Josh Fleming, left, and associate Larissa Koshatka sit in a space the firm designed for meetings and collaborative or solitary work by its attorneys. (Photo courtesy of  Tricia Shay Photography)
The open spaces show, despite the stereotyping, the millennial generation is rubbing off.
Quarles & Brady attorneys are grabbing their laptops and walking to the common areas to work, Barber said. Even some of the "older lawyers," he said, enjoy the energy that comes from the spaces designed to foster collaboration.•
 
Please enable JavaScript to view this content.