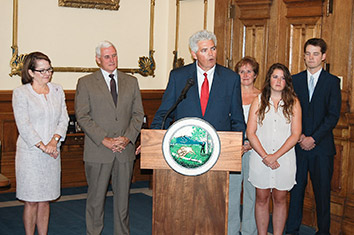 Marion Superior Judge Robert R. Altice Jr. was named to the Indiana Court of Appeals July 17 by Gov. Mike Pence.
Making his first appellate court appointment at a news conference, Pence read from numerous letters of support that commended Altice's legal and judicial talents, community involvement, likeability and good-heartedness.
"That is what this governor is looking for" in an appointment, Pence said. He also noted Altice received the highest approval rating of any Marion Superior judge in the IndyBar's 2012 judicial survey at 96.7 percent.
"I guess third time's the charm," Altice, 54, said of his appointment. He previously had been a finalist selected by the Judicial Nominating Commission in 2012 when Judge Rudolph R. Pyle III was appointed to the Court of Appeals, and earlier that year when Mark Massa was appointed an Indiana Supreme Court justice."I'm honored and humbled to be selected," he said.
A 14-year veteran presiding in the Indianapolis courts with experience on the civil and criminal bench, Altice, a Republican, will succeed Judge Ezra Friedlander who will retire from the COA in August. "I've got big shoes to fill," Altice said of his predecessor, who has served on the court for 22 years and was appointed by Democratic Gov. Evan Bayh.
Altice's "extensive work in the Marion County judicial system and experience presiding over civil and criminal cases make him a uniquely qualified candidate to serve on the Court of Appeals," Pence said. "The Court of Appeals serves an important role in the judicial system for the state of Indiana, and I'm grateful to Judge Altice as he carries his work to a higher judicial court. His varied legal experience in both criminal and civil law will serve him well as he continues to serve the people of Indiana as a fair-minded and measured judge."
Altice accepted the appointment alongside his wife, Kristin; son, John and daughter, Kathleen. "They, of course, have been through this process with me three times," he said of an application, interview and waiting period he called stressful.
Pence commented on the strength of all three finalists submitted for his consideration by the Judicial Nominating Commission, vetted from eight applicants interviewed last month, calling them "outstanding choices." Other finalists were Wabash Superior Judge Christopher M. Goff and Marion County public defender Patricia C. McMath.
Altice also praised the other finalists. He said he got to know Goff during the application process, as did members of his staff who had the opportunity to meet and hear the judge at a recent presentation. He said Goff was impressive.McMath, he said, is a longtime friend who also was a finalist with Altice when Pyle was appointed to the COA. Altice called McMath "very, very brilliant."
Having been through the nominating commission process before, Altice praised Chief Justice Loretta Rush's steering the seven-member panel's review of applicants. Unlike some past experiences, he said all the commission members talked to candidates before the formal interviews at the statehouse.
"That type of time commitment is unbelievable," he said.
Born in Virginia, Altice moved to Missouri, receiving his law degree in 1987 from the University of Missouri-Kansas City. He served as a deputy prosecutor in Kansas City from graduation until 1991, followed by a brief stint in private practice. Altice moved to Indianapolis in 1992 and served in the Marion County prosecutor's office until his election as judge in 2000.
Pence said factors beyond Altice's professional experience, including presiding over more than 250 major felony trials, weighed on his decision. Altice serves on the pro bono district council for Indianapolis and his community involvement includes membership on the Martin Luther King Community Development Corporation board of directors and the Indianapolis Rotary Club.
Altice was joined for the announcement July 17 by friends, family and colleagues. Marion Superior Judges Sheila Carlisle and Michael Keele, Court of Appeals Judges L. Mark Bailey and Terry Crone, and Indiana Supreme Court Justices Steven David, Mark Massa and Chief Justice Loretta Rush were among those who attended.Friedlander is scheduled to retire from the Court of Appeals effective Aug. 31. A formal investiture and robing ceremony for Altice will take place at a later date.
During an interview with the Judicial Nominating Commission last month, Altice highlighted his work expanding the Juvenile Detention Alternatives Initiative among his accomplishments.•
Please enable JavaScript to view this content.