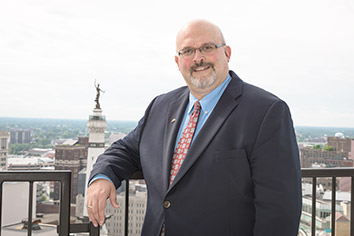 James Dimos' new leadership gig with the American Bar Association eventually will take him away from his adopted Indianapolis home of more than 30 years but, in a way, he'll be returning home.
"We love it here, and we'll find a way to stay connected," the Frost Brown Todd LLC member told Indiana Lawyer as he prepares to take a full-time position as deputy executive director of the Chicago-based ABA.
Having grown up in Lake County, Dimos said he still has lots of family and friends in The Region and in the Windy City. He's planning to telecommute from his Indianapolis home for the first year of his new job while his youngest child finishes high school.
So for now, at least, Dimos won't have to worry too much about circuitous navigation around broken Interstate 65 to his new job. "My great plans I had about leaving home early in the morning and being there at my desk at 8:30 aren't going to happen for a while," he said with a laugh.
For a renowned attorney who said serving in bar organizations has always been sort of a professional hobby, the ABA opportunity feels like a perfect fit.
"I couldn't think of a job that was better suited for my interests at this point of my career," said Dimos, past president of the Indianapolis Bar Association and the Indiana State Bar Association.
"I've enjoyed the practice of law and I've done it for 30 years now in the same place," he said. "It was going to take something very special to get me to change that."
Dimos feels he's always been supported in his bar activities. While he never encountered tension from his firm or clients, he said he personally felt the tension of fitting in his many bar obligations while also serving his clients.
He's transitioning his clients and active cases to other attorneys in his practice groups, which include antitrust, copyright, First Amendment and media, patent, product disparagement, trademark, trade secret and unfair competition issues. He said clients, his firm and bar leaders have been supportive of his choice to accept a top ABA post.
Dimos said the reassignment of clients and cases has proceeded with attention to active matters and who might need to step in to handle those after his departure.
"Jim is a talented lawyer and a wonderful partner with passion for the legal profession," said John Crockett, chairman of Frost Brown Todd. "We will miss him here at Frost Brown Todd but are excited for him and proud of his selection to serve in senior leadership of the ABA."
"All of us in leadership of the Indianapolis Bar Association are extremely proud of our dear friend, Jim Dimos, for being appointed deputy director of the ABA," said IndyBar President John Trimble. "Those of us who know him well know that Jim is a bar association 'junkie.' He eats, sleeps and breathes bar association business.
"He loves lawyers, loves our profession and, better than most, understands the richness of the benefits to be derived from a lifetime of persistent bar association activity. The ABA has chosen the right guy for the job, and we could not be more excited," Trimble said.
The ABA announced Dimos' appointment in a statement issued Aug. 17. Dimos' full-time staff position is effective Aug. 31.
"I am excited by the opportunity to devote all of my energies to the American Bar Association and its members," Dimos said in the statement. "I look forward to working with the talented staff at the association and its dedicated members to serve the legal profession and America's lawyers."
Dimos told IL he's hoping to focus his efforts initially on enhancing communication between the ABA and local and state bar groups, as well as between the ABA's various sections, divisions and forums.
According to the ABA, Dimos will serve as second in charge of ABA staff and represent the executive director as needed. He will be responsible for duties that will include getting the insights of ABA sections, divisions and forums on pending issues and understanding their views.
ABA Executive Director Jack Rives called Dimos "a most welcome addition to the ABA staff. Jim has an extraordinary background for this very senior leadership position on the American Bar Association staff. He's been a bar leader at every level. He's a perfect liaison to state and local bar associations, and his years as a practicing attorney will also be invaluable."
Along with his local and state bar efforts over the years, Dimos served on the ABA's board of governors from 2010-2013, chairing the ABA Finance Committee in 2013. Dimos had been in line to serve as the organization's treasurer in 2017 before his appointment to the staff position.
A graduate of Wabash College, Dimos earned his law degree from Washington University School of Law in 1986. But it was in Indianapolis that his star rose. His career has included representing a significant number of companies listed on the Fortune 100.
He said he's still hoping to stay involved in the Indianapolis community, even though his time in the future is likely to be split between ABA offices in Chicago and Washington.
"I will miss interacting with the lawyers of my firm and the Indiana legal community on a professional basis," Dimos said. "My colleagues throughout my time at FBT and Locke Reynolds are great lawyers and good friends. My opponents and co-counsel have, in almost every instance, been professional and cordial. Many have become friends as well. While I hope to not lose touch with any of them, I will miss the regular give and take of being members of the practicing bar together."•
Please enable JavaScript to view this content.