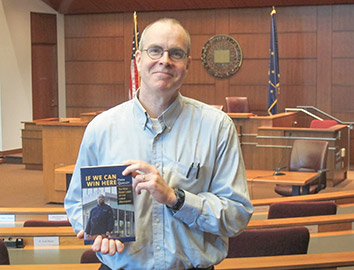 At a mid-August forum, the small crowd of union members, hourly workers and fair-wage supporters who gathered to hear candidates for the Indianapolis City-County Council speak got a reminder of how long the journey to self sufficiency can be.
The candidates in attendance – six Democrats and one Libertarian – said they wanted the minimum wage raised and they told stories about their parents and grandparents working long hours at hard jobs.
Then Teka Campbell, who has worked retail jobs for 14 years, stood up and said she appreciated their understanding of what life is like for low-wage earners. But she wanted to know what they were going to do about it.
Councilman Zach Adamson stepped up to the podium and delivered the reality that local governments in the state are limited. Primarily, in 2011 the Indiana General Assembly passed a law that prevents cities and counties from increasing the minimum wage.
The forum, sponsored by the Raise the Wage Indiana Coalition, was a continuation of the effort in Indianapolis to boost the incomes of workers who hold low-paying jobs. For the past several years since the UNITE HERE organizers came to town, the effort has heralded successes – food service workers at Butler and Marian universities were unionized, and it has lamented setbacks – Hyatt workers were unable to surmount management's opposition.
That fight has been chronicled in a new book by Indiana University Robert H. McKinney School of Law professor Fran Quigley. The book, "If We Can Win Here: The New Front Lines of the Labor Movement," examines how the push for higher wages and better working conditions is playing out in the very red Hoosier state.
Woven through the chapters are stories of workers who cook, clean, park cars and do many other low-wage jobs that enable businesses to function. Quigley is not a dispassionate observer. He and his students at IU McKinney's Health and Human Rights Clinic routinely see clients who struggle with low incomes.
Quigley believes the protests for higher wages and push for unionization have raised awareness and helped others understand the issue. He hopes in five years that the minimum wage will be substantially higher.
Pamela Wright, an employee of the Indianapolis Public Library, attended the forum and was unconvinced by the candidates' view that not much could be done to boost wages. She said she has too much hope and faith to believe things can't change.
"We got where we're at through decisions made by somebody or a group of people," Wright said. "Those decisions can be undone; we can make different decisions."
Legislature not judiciary
The current push in Indianapolis achieved a victory Aug. 17 when the city-county council adopted a resolution that included the Retail Workers' Bill of Rights. Prior to the council meeting, retail workers rallied outside the City County Building with handmade signs and chanted, "Lift retail jobs. Lift our economy. Lift Indianapolis."
Council members passed the resolution by a 15-14 vote, straight down party lines. Afterward, Republican Jeff Miller explained his opposition, saying he applauded the effort but that passing the resolution would not change the situation. His colleague, council-woman Janice McHenry, said although it had merit, the resolution had many flaws. She admonished the retail workers that they needed to sit down and talk to their employers.
None of the Democrats spoke.
In the hallway following the vote, Campbell, a leader in the bill of rights fight, explained the retail workers will have a stronger voice if the council stands behind them when they talk to employers.
"Having just retail workers or community members going to talk to these retailers, they're not interested in what we have to say," Campbell said. "They're interested in what our city leaders have to say. So if our city leaders are shutting us down, then why wouldn't the retailers shut us down?"
Quigley and other supporters of the living wage say the effort will have to focus in the Statehouse and on Capitol Hill rather than in the courts. Laws ushering in at-will employment and right-to-work have chipped away for low-wage earners the ability to improve their workplaces.
In particular, Quigley pointed to the "enormous flaw" in U.S. labor law which gives employers leeway to fire employees who attempt to organize their co-workers. The businesses might have to fork over some back pay to the workers but, as Quigley writes in his book, the law does not provide a disincentive for employers to crush a budding unionization initiative.
Campbell understands the power of government. She believes the bill of rights will add momentum to the larger push for higher wages for retail workers. And she asserted she and her colleagues will actively campaign against the council members who opposed the resolution.
"We'll just be fighting harder," Campbell said, "but one thing — they're not getting rid of us this easily."
Shifting economy
Campbell worked at restaurants and department stores before she joined Kroger three years ago. She is now a front-end manager where she supervises the cashiers, baggers and customer service personnel. She sets the workers' schedules and she counts and deposits the money. Yet, despite being in a union, she is still making the same $8.95 an hour as when she was hired.
She is participating in an economy that has shifted. As Quigley explained in his book, the jobs in manufacturing plants that were unionized and provided good wages plus benefits have disappeared as companies moved production operations overseas. Now, the work available is in the service sector with positions in restaurants, stores and hotels.
Efforts to increase the minimum wage and to unionize workers are different means to the same end, Quigley said. Both are focused on improving the economic situation of service sector workers.
However, he sees unions as offering workers a better proposition. Along with a higher wage, belonging to an organized workforce provides health insurance, retirement and gives workers more protection. In addition, he said, union membership comes with intangible benefits like respect and self-worth.
The failed attempt by Indianapolis hotel workers to unionize showed a greater base of organized service workers needs to be built in the community, Quigley said. The union workers, in turn, can tell their story to their neighbors and get the community to see service jobs and service workers are important. By demonstrating that a better life for workers and a profitable company are not mutually exclusive, an example can be set for other industries to follow, Quigley explained.
Wright has a powerful narrative. She maintains getting a job at the Indianapolis Public Library in 1991 that paid $2 above minimum wage saved her life.
For years, she worked three minimum wage jobs, took care of her four children at home and submitted to an abusive husband. When she got the bigger paycheck, she packed up the kids and left home.
All five crowded into a motel room for three weeks until she found an apartment. They still struggled and even today times get hard, but now there is a little more breathing room in Wright's budget. It allows her to help her children and occasionally enjoy a meal out.
"I've been there and I know how hard it is and I don't want to see anybody go through that," Wright said. "People shouldn't work full time and still have to get food stamps. That's just wrong."•
Please enable JavaScript to view this content.