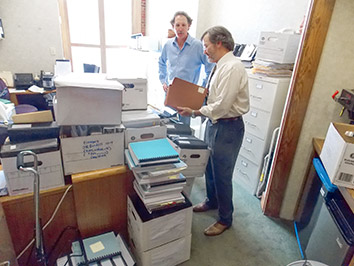 The day 14-year-old Jessica Salyer died in her Francesville home almost 10 years ago, a local Department of Child Services official threatened to launch children in need of services investigations of her three siblings because the parents declined the agency's offer of grief counseling.
"The audacity of that is mind-boggling," said Indianapolis attorney Ron Waicukauski, part of a team that on Oct. 6 won a $31.3 million judgment for the family against DCS officials and an Indiana State Police detective. "The arrogance of it is just appalling."
A federal jury concluded so as well. Indianapolis attorney Rich Waples said the award included $12 million for Roman and Lynnette Finnegan and their three children – Johnathon Abair, Tabitha Abair, and Katelynn Salyer – for conduct by state actors that the jury found shocked the conscience.
Waples paraphrased a clinical psychologist's opinion in this case: "The people empowered to protect against child abuse became the abusers."
He said of DCS' conduct, "It was beyond the pale, and the jury understood that."
Roman Finnegan said he's still bothered by the DCS threat the day his stepdaughter died. "I understand they want to be helpful by offering grief counseling, but if you decline and tell someone, 'No thank you,' that should be the end of it," he said.
But for the northern Indiana family, who buried their daughter on Christmas Eve of 2005, it was just the beginning.
Parents charged
DCS suspicion fell on the Finnegans for their daughter's death in part because there was blood from Jessica's nose and mouth on her body when she died. But emergency responders reported they saw no sign of abuse or neglect, and there were medical explanations for the blood. Experts who later examined Jessica's body saw nothing suspicious in light of her medical condition.
They said a likelier cause was related to the anti-clotting medication Coumadin Jessica was prescribed due to a heart condition she'd had since birth. Nevertheless, the day Jessica died, DCS workers removed the other children from their home and took them to the Pulaski County office in Winamac. They questioned them for up to six hours and refused to allow the Finnegans to see their children after they came to collect them, questioning the parents separately.
The Finnegans ultimately were charged with neglect, and their children were placed in foster care. DCS filed a substantiation in March 2007 saying Jessica died from physical abuse that caused a skull fracture and internal hemorrhages. The agency claimed she had received inadequate medical care and her siblings were in danger.
But the Finnegans continued to plead their innocence, attracting the attention of Seattle lawyer Heather Kirkwood, who works with Innocence Network on cases involving false allegations and convictions of child abuse. Kirkwood made a startling discovery soon after she began looking at records.
Doctored evidence
DCS' case began to crumble after Kirkwood quickly found a prescription error. Jessica's Coumadin dosage had been doubled shortly before her death, and a coroner subsequently ruled that error caused her fatal hemorrhage. Charges against the Finnegans eventually were dropped, and their children were reunited with them after nine months in foster care. The Finnegans' alleged roles in Jessica's death had been the sole cause for their removal.
"Medically, it was the simplest case I have handled," Kirkwood said.
But DCS wasn't deterred. In doubling down on its abuse case, the agency falsified evidence and withheld from its own experts conclusions about the medication mistake.
"I think what was really frustrating about it is we kept asking people to look at (the evidence) we had," Finnegan said. "It's almost like nobody really wanted to listen, and if you did say something in your own defense, you were kind of mocked. … It would have saved a lot of problems if they had looked at the big picture and at least heard us on the big issues."
The Finnegans successfully fought the DCS substantiations against them.
In 2010, Special Judge Patrick Blankenship in Pulaski Circuit Court ordered the Finnegans' names removed from the Child Protection Index. In a damning 71-page order, Blankenship blasted the agency for misstating conditions in the family home and the medical attention Jessica received. DCS also ignored volumes of proof the Finnegans provided in their defense, expert opinions about the cause of death and supporting evidence.
"Because DCS did not consider any of this contrary information in substantiating physical abuse, the substantiation is arbitrary and capricious as a matter of law," Blankenship wrote. "(I)t relied on information DCS knew to be incorrect. … For four years, DCS has unreasonably delayed and unlawfully withheld findings consistent with the medical evidence, causing irreparable and continuing harm to the family."
Jessica's skull fracture cited by DCS, Blankenship wrote, had been caused by her autopsy.
Among the most egregious problems plaintiffs' attorneys noted with the case were brazen alterations of documents. For instance, a post-mortem report submitted to a DCS fatality review team said Jessica's injuries were consistent with a fall, but it was altered by adding the word "not" before the conclusion.
Appeal undecided
DCS Director Mary Beth Bonaventura declined through a spokesman to comment about this case. The state has not yet determined whether it will appeal or seek to reduce the jury's verdict. DCS initially referred comments to the Office of Indiana Attorney General Greg Zoeller.
Bryan Corbin, a spokesman for the AG's office, said the case was inherently complicated and jurors had to listen to difficult evidence.
"Here, the state's position was that the state defendants who investigated the child's death acted reasonably under the circumstances, based on the information available to them at the time, and consistent with the state's duty to protect children and enforce laws for public safety. The award, while large, is $70 million less than the total that the plaintiffs' lawyers suing the state had asked for in their final arguments. This type of award is based on claims under federal civil rights statutes and therefore is not limited by the tort claim cap under state law."
In total, the jury awarded Roman Finnegan $8.975 million; Lynnette Finnegan $7.725 million; Tabitha $5.25 million; Katelynn $5.2 million and Johnathon $4.2 million. The jury awarded compensatory damages on 22 violations of First, Fourth and 14th Amendment violations involving the Finnegans and their children. In nearly each of those, the jury found former Pulaski County DCS Director Laurel Myers most liable.
Jurors awarded lesser damages against Regina McAninch, a former DCS investigator and caseworker; Reba James, a regional DCS director under former director James Payne who is now listed on DCS' website as deputy director of permanency and practice support; pediatrician Dr. Antoinette Laskey, who Blankenship concluded drafted a report with multiple errors based solely on information provided by DCS; and Jennifer McDonald, an Indiana State Police detective.
Corbin noted the jury rejected all claims for punitive damages and cleared two of six defendants represented by the state – Payne and case manager Tracy Salyers. The trial was conducted by Judge Rudy Lozano in the U.S. District Court for the Northern District of Indiana, South Bend. The case is Roman Finnegan, et al. v. Laurel Myers, et al., 3:08-CV-503.
Moving forward
Finnegan said the jury verdict provides some closure for a family that's struggled since Jessica's death. Those hardships will continue until judgments are final, and the family continues to wait out a process that's outcome is uncertain. Finnegan's children are grown now with children of their own. "They've grown up through this, really, but they're doing well," he said.
"We felt vindicated when the girls were allowed to come home, and we felt some vindication when the charges were dropped," he said. "We've had little victories here and there, but I think this was a big one. We weren't the people we were portrayed to be at all."
In July 2014, a medical review panel examining the record of Jessica's care ruled Dr. Joseph H. Bartush's prescription error was malpractice. The case settled for the maximum $250,000 against the practitioner's insurer, and a claim is pending for damages in excess of that amount from the Indiana Patient's Compensation Fund, Waicukauski said. He's confident in the jury's verdict and proud of the work by his team that included Kirkwood, Waples and Winamac attorney Kevin Tankersley.
"In my opinion, there's nothing more important that we do as plaintiffs' lawyers than opposing official abuse of power like that which occurred in this case," Waicukauski said. "After 42 years as a lawyer, I've never felt better about a professional accomplishment."•
Please enable JavaScript to view this content.