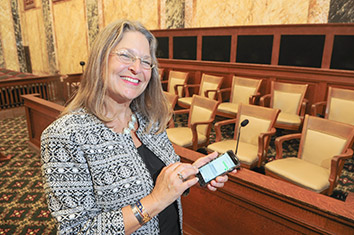 Allen Superior Judge Frances Gull concedes she is not very tech savvy. In fact, she called herself "a dinosaur" in terms of understanding and using technology. She only recently traded her flip phone for an iPhone.
However, Gull understands people, especially those who are called for jury duty. They are busy, they don't want to serve, and they did not volunteer to be there.
"I'm plucking people out of their lives and plunging them into something they've never experienced," Gull said, adding members of the jury pool are often very scared, nervous and wondering how long the process will take.
For more than 10 years, Gull has spearheaded efforts in Allen County to make the jury process easier and more convenient. She made jury duty less burdensome by incorporating technological advances that help potential jurors feel more comfortable.
Her work has drawn attention inside and outside of Indiana. In November, the National Center for State Courts will recognize Gull with the 2015 G. Thomas Munsterman Award for Jury Innovation. The award is given to states, local courts, organizations and individuals who have made significant improvements or innovations in jury procedures, operations and practices.
"To us this is a major deal because they only give one of these out once a year in the country and we got it," said Jeff Leffers, director of court operations in Allen County. "Judge Gull definitely deserves this."
The foray into greater use of technology began in 2003 when Allen County hired Judicial Systems Inc., based in Tyler, Texas. Initially, the company was selected because it had software that could scan paper juror questionnaires into the computer to make an electronic file.
Since then, the courts have welcomed Judicial Systems as it brought in upgraded and new technology. Now local residents can fill out their questionnaires either on a computer or on their mobile phones.
The latest advance, mJuror, enables jurors to send and receive email or text messages. If an individual has a question about serving on a jury, he or she can send a simple text using everyday language and the computer will provide an answer that sounds like it came from a human being.
Gull pointed out the juror information needs to be accessible online because so many people, particularly the younger generations, have become accustom to email and computers. Yet, she also realized the courts could not completely stop doing things the old way because some potential jurors prefer pen, paper and human contact. Residents summoned for jury duty still have the option of either filling out the questionnaire via touch-tone phone or requesting that a hardcopy be mailed to them.
Tapped to revamp
Allen County took a closer look at its juries after the Indiana Supreme Court ruled the county's jury selection process was discriminating against minorities. In 2002, the justices considered a second petition for post-conviction relief in Zolo Agona Azania v. State of Indiana and found the county's jury system to be flawed because it reduced the probability that African-Americans would serve.
After that decision, Gull was tapped by her colleagues to revamp the way Allen County identified and chose potential jurors. The local courts switched from using voter rolls to assembling the jury pool from the records at the Bureau of Motor Vehicles and the Indiana Department of Revenue.
Gull remembered before the change in the selection process, she would look into the jury box and see people that looked like her. They were mostly white and middle-aged. Now the box is more diverse with different ethnic groups, races, ages and cultures present.
"It has made it much more inclusive," Gull said of the county's new method to find jurors.
To make sure the jury selection process was random and viable, Allen County courts asked the National Center for State Courts to do an audit. G. Thomas Munsterman, the individual for whom the award is named, journeyed to Fort Wayne and spent a week evaluating the new system.
Texting questions
Around the same time, Gull and the local courts were also bringing in technology for jury management.
Judicial Systems President Gary Dower has a long history of working with Allen County and now sees it as having very progressive courts. So when he was ready to test mJuror, which uses natural language processing, his first call was to the courthouse in Fort Wayne.
The judicial staff in Allen County put the texting technology through its paces. They pretended to be jurors by texting and emailing questions such as "Where do I park?" The system responded with clear answers and could even interpret shorthand questions such as "Where Park?" and abbreviations such as "How R you?"
After a couple of tweaks, the new option was made available to jurors in Allen County in 2014. Dower said the computer system's responses are so lifelike that people think they are actually communicating with another person. After getting an answer to their text, the jurors will often send back a "thank you" or even an apology for texting at such a late hour.
Gull injected her knowledge of people into the testing period and advised the system needed to be able to handle the inappropriate question. Now, if a mischievous juror asks, "What are you wearing?" the computer will politely respond with something like, "That's not important. What can I help you with?"
All the technology used to manage Allen County's juries allows people to file their questionnaires and ask questions at times that are convenient for them, Gull said. No longer do they have to go to the courthouse between 8 a.m. and 4:30 p.m. to get help.
Making the process easier has improved the overall attitude of jurors, she continued. They feel the court is respecting their time and when they do come to the courthouse, they have a better experience.
Leffers credited Gull with guiding the changes which has made the jury process simpler and more accessible for the residents called to serve. Improving the system will increase participation and make a jury summons less of a bother, he said.
Gull maintained all her colleagues in the Allen County courts deserve the credit for the work that has led to the Munsterman award. She said she is humbled to be the recipient of the national recognition and is overwhelmed at the trust her colleagues had when they asked her to improve the jury selection and management process.
"I'm just a little old trial court judge in Allen County," Gull said. "I'm just trying to make the process better for jurors."•
Please enable JavaScript to view this content.