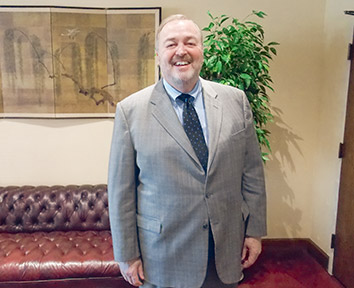 In James Hehner's office hangs a picture of his father's law school graduating class from the early 1950s. Among the 50 or so faces are one woman and one African-American.
"That's changed," Hehner said. "I'm certainly glad that it has but we have more distance to go."
The Indianapolis trial attorney and former college campus police officer will be working to erase some of that distance when he settles into the president's position for the Defense Trial Counsel of Indiana in January. His agenda for 2016 includes continuing the organization's push to bring more diversity to the membership.
"I see us as an organization that values everybody, welcomes all people and I want to continue to focus on that and emphasize that," Hehner said.
Undoubtedly, he encountered different kinds of people and honed his welcoming skills during his childhood spent bumping around the Midwest. His father, an attorney for an insurance company, was often transferred. The family lived in Cincinnati, St. Louis, Minneapolis and Indianapolis.
Hehner went to high school in Indianapolis and has considered the Circle City his home ever since. After high school, he obtained degrees from Indiana University Kelley School of Business and then Indiana University Robert H. McKinney School of Law.
He decided to follow his father into law while still a junior in high school, but he envisioned a career in the FBI or another federal law enforcement agency. As an undergraduate, Hehner enrolled in a special program at IU that sent students with a strong interest in law enforcement to the Indiana police academy.
From there, Hehner worked as a campus police officer during his last years of college in Bloomington and throughout most of law school in Indianapolis. He liked the work, but when he clerked for a litigation attorney he realized he would rather try cases so he changed his career plans.
Hehner started practicing in 1983 and has belonged to DTCI pretty much since that time. He views the organization as not only providing education to its members but also giving them a chance to get to know each other, which helps courtroom adversaries to be civil.
"I like the idea of civility for everybody," Hehner said. "I think when you know somebody and you put a face with a name, it's harder to be uncivil."
Q: Things can get pretty heated during litigation. How easy is it to be civil in a courtroom?
Hehner: We could agree to disagree all day long and have differences of opinion, but that doesn't mean one person's right and the other person's wrong. I believe, too, that even both sides of the case are trying to seek the same thing, which is to try to value the case and see if we can't come to a resolution that is at least partway pleasing to everybody. I don't think our differences are as big as we sometimes think they are.
Q: You've been in the courtroom for more than 30 years. Do you see any changes coming that will require DTCI to shift in some way?
Hehner: Not particularly. I think that practicing law and being a good lawyer is much the same today as it's been 10, 20 or 30 years. It takes skill; it takes the ability to learn from other lawyers, to learn how to try cases, to learn how to settle cases fairly, to learn how to economically and quickly gather the information that's necessary and to get a case resolved on behalf of our clients and the adversary's client.
Q: You've said that the only thing that motivates you more than winning is the idea of losing. Are there clear winners and losers in civil disputes?
Hehner: Not really. I have come home from many trials and told my wife that the jury ruled against us but we viewed it as a win because the amount the jury awarded was less than what we thought they were going to award. I felt like we had a successful outcome but I still lost the case.
Q: On your list of priorities for your upcoming term as DTCI president is diversity. How do you define diversity?
Hehner: I think diversity equals everything. It could be race, religion, creed, sexual orientation, gender, everything. I think it's something that everybody's thinking about more nowadays, as they should.
Q: That's right. Bar associations, law firms, and law schools all want to see more diversity. How can workplaces and organizations bring in more people of different backgrounds?
Hehner: I think it's a matter of talking about it, emphasizing it, making sure that everybody knows it's something they should think about and emphasize. Discussion is always the first step toward trying to resolve anything that you want to resolve.
Q: In addition to promoting diversity, you also want to bring younger attorneys into DTCI. Are you noticing that new attorneys are not joining like they once did?
Hehner: Today there are a lot of organizations to join and a lot of competition for membership. I'd like to see us provide value to people that practice in our area of the law and help figure out ways to make them want to use those membership dollars on our organization.
Q: You've also noted that charitable work is among your priorities. What are your plans to promote activities like the recent joint volunteer effort at Gleaners Food Bank by members of DTCI and the Indiana Trial Lawyers Association?
Hehner: I'd like to see our organization think about civic things we can do in the community. There are all kinds of things – blood drives, canned good drive, clothing drives. I'd like to see not only our organization but all (organizations) take a hand in some sort of civic responsibility.
Q: Your term starts in January. Given your background, do you have any plans to use your police skills while president?
Hehner: It's been a long time. I doubt it.•
Please enable JavaScript to view this content.