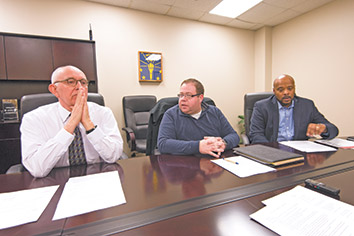 In joining the push for Indiana to enact hate crime legislation, Marion County Prosecutor Terry Curry did not speak in hypotheticals or abstract terms.
Instead he pointed to the criminal charges his office filed in October against an Indianapolis man for allegedly threatening a neighbor who is gay. The defendant, John Southgate, has been charged with one count of intimidation, accused of telling his neighbor he would kill him. This came after nearly two years in which authorities said Southgate yelled slurs, harassed and repeatedly threatened violence until the victim was not only scared to leave his house but even to sit on his front porch.
If Indiana had a hate crime statute, the punishment for the defendant could be enhanced to fit the nature of the illegal act, Curry said.
The Marion County Prosecutor's Office is part of a coalition of religious and civic organizations seeking to have hate crime provisions amended into the Indiana Code. Coalition members say Indiana needs to have a specific statute to address bias-motivated acts against individuals because of such things as their religion, race or sexual orientation.
Currently, Indiana is one of only five states in the country without a hate crime law.
Like Curry, other coalition members point to incidents in Indiana and around the country where hate crime statutes would apply. While conceding such laws might not prevent violence against particular people, they contend the provisions send a message to potential victims that society considers bias acts to be more serious.
"We know that we're not going to change everyone," said Tony Mason, president and CEO of the Indianapolis Urban League. "This law is not going to change how everyone feels about race, but I think it's important just for the overall equal protection of everyone."
The coalition plans to launch an effort in the Indiana General Assembly during the 2016 session, according to coalition member and director of government affairs for the Indianapolis Jewish Community Relations Council David Sklar. Members started talking to legislators before the session began and hope to get a committee hearing where they can publicly make their arguments for hate crime legislation.
Sens. Greg Taylor, Earline Rogers and Susan Glick have all introduced bias crime legislation. Bills by Taylor and Rogers, both Democrats, include sexual orientation and gender identity. The measure from Glick, a Republican, is more general, allowing for a sentencing enhancement for offenders who commit a crime against an individual "due to certain characteristics" of the victim.
Societal problems
Although the Indiana Public Defender Council sees a danger in enacting hate crime legislation, the organization will not actively oppose any bill addressing the issue, according to Executive Director Larry Landis.
The IPDC maintains designating an act as a hate crime moves criminal law to also consider the motivation rather than focusing solely on the act itself and the intent. Discrimination is terrible, Landis said, but injecting race and gender into the disposition of a crime does not help.
"Not all societal problems can be solved by criminalizing the act," Landis said.
Coalition member Rev. Clarinda Crawford of Congress Street United Methodist Church in Lafayette believes a hate crime bill is an effective way to fight hate, but there are potential dangers. She noted offenders could get longer sentences at a time when the number of incarcerated minorities is prompting states and Congress to take a look at lengthy prison terms.
"I think bias crime legislation has to be very careful in how it gets applied," Crawford said. "There are very gray areas in what is a bias crime and what is not."
Tangled in RFRA
The coalition is proposing the hate crime provision be added as a sentencing aggravator to Indiana Code 35-38-1-7.1. Curry said the group felt addressing bias-motivated crimes with a sentence enhancement was better than creating a stand-alone hate crime law.
Language for the provision comes from Wisconsin's hate crime statute that was upheld in the landmark case Wisconsin v. Mitchell, 508 U.S. 47 (1993). Also included are provisions from the Matthew Shepard James Byrd, Jr. Hate Crimes Prevention Act of 2009, which expanded the federal hate crime statute to cover acts motivated by gender, sexual orientation, gender identity or disability.
Acknowledging their offering could get consumed by the continued debate over Indiana's controversial Religious Freedom Restoration Act, coalition members assert the hate crime legislation is a separate issue and something they began formulating even before the last legislative session.
"The Legislature can debate whether a florist should be required to provide services to a gay wedding," Curry said, explaining hate crimes are a fundamentally different issue because victims are targeted because of their race, religion or sexual orientation. "I'm sure I'm naïve but it should be an easy thing for the Legislature to say this is unacceptable behavior and we are going to address it accordingly."
Sending a message
Bell
Indiana University Maurer School of Law professor Jeannine Bell dismissed the oft-cited argument that hate crime legislation violates constitutional guarantees on free speech. The issue was settled, she said, in Wisconsin v. Mitchell where the Supreme Court of the United States ruled sentence enhancements for bias-motivated crimes did not infringe on the First Amendment.
Also countering criticism that such laws are aimed at protected particular groups, she emphasized that these measures protect everyone. Bell noted everyone has a race, ethnicity and sexual orientation so anyone could be the victim of a hate crime.
"I would say a statute should be on the books because you want prosecutors in Indiana to have all the resources that prosecutors in other jurisdictions have," she said.
Landis disputed that the provision would give prosecutors a new tool against hate crimes. The push for legislation is more symbolic than substantive, he said, because the sentencing statute already allows the courts to consider other aggravators besides those listed in the law. Prosecutors have the ability now to make a hate crime argument.
However, Landis echoed supporters in noting that a hate crime against one person usually sends a threatening message to others who share the victim's race, national origin, sexual orientation or religion. If the legislation sends the message that recognizes groups should not be targeted, that may be a good enough reason for amending the code, he said.
To Curry, the message is very important. In addition to encouraging prosecutors to use the aggravator where appropriate and providing a clear definition of a hate crime for the courts to consider, the new provision would send a message that society sees crimes based on the nature of the victim to be more serious.
In Terre Haute, Peter Ciancone, executive director of The WILL Center, which provides assistance to disabled adults and children, is adding his support to hate crime legislation. Bias-motivated crimes are more dangerous and irrational than crimes of passion, so society needs to ensure these acts are given special attention, he said.
"This isn't just feel-good legislation," Ciancone said. "This is an opportunity to assure the larger community that we stand up for folks who don't have the legal apparatus and ability to stand up for themselves."
The coalition's proposal also calls for mandating law enforcement agencies to report their hate crime statistics to the Federal Bureau of Investigation and providing training to public safety officers on identifying and responding to hate crimes.
Requiring data be reported will provide a complete picture of the situation in Indiana, Sklar said. "Then I think over time we can have conversations about are there other things we need to be doing on a community level or policy level to address bias crimes generally."•
Please enable JavaScript to view this content.