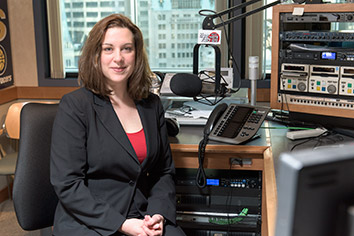 From her desk, Elizabeth Ellis watched the attorneys in her office work and realized as many other paralegals have – I can do that.
Ellis was a paralegal at Emmis Communications Corp. in Indianapolis, working closely with the company's corporate counsel and general counsel. She enjoyed her job and loved the company but "I can do that" kept nagging at her.
Then one day while at home sitting on the couch with her husband, she talked about wanting to stay at Emmis forever. But she also felt she could do more and she needed to try. With that, her husband went to the computer and immediately began searching law school websites.
Ellis remembers him telling her, "If you have that tremendous nervous excitement, that is a sign you are doing the right thing."
Paralegals who have become lawyers who spoke to Indiana Lawyer echo Ellis in their reasons for switching careers. They found the work as a paralegal to be challenging and enjoyed assisting the attorneys, but law school was always in their thoughts.
For some, working as a paralegal was a way to make money to pay tuition. For others, it offered a front-row view of the legal profession. They said their time as a paralegal provided invaluable experience, and they have much respect for the paralegals who now assist them.
McDaniel
"I realize how important they are, more than some people do, and I value their assistance in what I am doing," said Bridget McDaniel, associate at Krieg DeVault LLP. "I very much enjoy working with paralegals."
McDaniel briefly thought about continuing as a paralegal when she was at Williams Barrett & Wilkowski LLP in Greenwood, but law school had always been her goal. She needed money to cover the cost of her undergraduate education and purposefully sought out work at a law firm because she wanted to be an attorney.
Ellis had a more difficult time leaving her desk to study the law. She liked being a part of the media company and considered staying in her position while completing her J.D. at night. She finally made the decision she could not do her best if she had to juggle being a mother, employee and law student, so she resigned in 2005.
Still, tending to her 2-year-old daughter and handling class assignments turned out to be a real challenge. She realized as a law student there was always more reading, more research, more preparation she could do, but she did not have the luxury of time. She had to set limits and learn work to efficiently, sometimes getting creative by reading cases while her little girl sat alongside reading her own books.
Sheldon
Amanda Sheldon is in the process of getting her law degree. She had to take time off from her undergraduate studies and became uncertain she could complete a bachelor's degree let alone go to law school. However, family and friends always told her when she was growing up that she should be an attorney. She said she then realized her indecisiveness over whether she could get a J.D. was really an excuse rather than a legitimate concern.
A month before her classes started at Indiana University Robert H. McKinney School of Law, Sheldon got a job at Hensley Legal Group P.C. Like McDaniel and Ellis, she has no formal training to be a paralegal and does not hold a certificate. She has learned how to be a paralegal on the job and that hands-on training has proven to be invaluable in her legal studies.
Courtney David Mills, associate at Riley Bennett & Egloff LLP, said the transition from paralegal to attorney was seamles and that other lawyers, including opposing counsel, were welcoming. (IL photo/Eric Learned)
Sheldon and other paralegals-turned-attorneys said their previous work assisting attorneys gave them an advantage. They already knew the terminology and were able to understand legal concepts and identify key issues more quickly in the cases they studied. They also credited their attorney-bosses with mentoring them by making time to explain the law and allowing them to take on more responsibility.
The desire for more responsibility — specifically to be able to sign the documents he drafted as a paralegal — fueled Courtney David Mills' decision to go to law school. He earned a paralegal certificate with the idea he would be able to see up close what attorneys do and then decide whether to get a J.D.
Mills had assumed the paralegal field was a stepping stone to something else, but he quickly realized it is a career of its own. The work is very similar to that of attorney, with duties that can include trial work, helping prepare appellate briefs and working with clients. By the time he changed titles at Riley Bennett & Egloff LLP from paralegal to associate, he did not think of himself as taking a step up but rather as taking a step sideways.
"I was one of the people who knew what I was getting into," Mills said of becoming an attorney. "I went in feet first and everything else, and I have absolutely no regrets."
Ten years after she resigned and four years after she became an attorney, Ellis was offered the position of corporate counsel at Emmis. She described her return as coming home and noted her previous work there as a paralegal has helped her to understand the business's needs. While the work is not brand new, she brings a different perspective and new skills.
"Every day is different," Ellis said. "Every day is a new set of interesting challenges. I look forward to coming to work here."•
 
Please enable JavaScript to view this content.