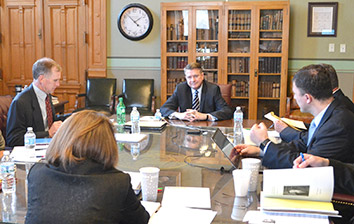 Nine judges, four lawyers in private practice, a state lawmaker and a state attorney are semifinalists to replace Justice Brent Dickson on the Indiana Supreme Court. Thirteen men and two women from every region in the state will return for a second round of interviews next month.
The Judicial Nominating Commission selected 15 people as semifinalists from a field of 29 applicants on Feb. 19 after three days of interviews. They are:
• Judge James R. Ahler, Jasper Superior Court, Rensselaer
• Judge Vicki L. Carmichael, Clark Circuit Court 4, New Albany
• Magistrate Judge Paul R. Cherry, U.S. District Court, Northern District of Indiana, Hammond
• Judge Darrin M. Dolehanty, Wayne Superior Court 3, Richmond
• Judge Thomas J. Felts, Allen Circuit Court, Fort Wayne
• Thomas M. Fisher, Indiana solicitor general, Indianapolis
• Judge Frances C. Gull, Allen Superior Court, Fort Wayne
• Judge Steven L. Hostetler, St. Joseph Superior Court, South Bend
• Judge Matthew C. Kincaid, Boone Superior Court 1, Lebanon
• Mark A. Lienhoop; Newby Lewis Kaminski & Jones LLP, LaPorte
• Judge Steven R. Nation, Hamilton Superior Court 1, Noblesville
• Peter J. Rusthoven, Barnes & Thornburg LLP, Indianapolis
• Geoffrey G. Slaughter, Taft Stettinius & Hollister LLP, Indianapolis
• Rep. Thomas W. Washburne, Old National Bancorp, Evansville
• Thomas E. Wheeler II, Frost Brown Todd LLC, Indianapolis
Dickson, Indiana's second-longest-serving justice on record, will retire April 29.
Here are highlights from the semifinalists' interviews.
Judge James R. Ahler said his work on the Public Defender Commission gave him insight into the needs of indigent clients and said the state should examine options to the current county-by-county system that's been under assault by lawsuits filed around the state.
Ahler highlighted his mix of experience – more than eight years as a trial court judge hearing a variety of cases preceded by a diverse practice with an emphasis on business law, and clerking for two judges on the 7th Circuit Court of Appeals. "I think I understand courts, and I understand lawyers and judges from big cities down to our smallest of counties."
Judge Vicki L. Carmichael until recently oversaw the busiest court in the state based on weighted caseload, Chief Justice Loretta Rush noted. Carmichael said the courts have a role to play in examining the allocation of resources, from public defender services to possibly sharing magistrates and judicial officers on a regional basis.
Carmichael also said she would focus on the needs of children and families. "The guardian ad litem/CASA program is very near and dear to my heart," she said.
Magistrate Judge Paul R. Cherry thought he would continue his role as a federal magistrate judge for the rest of his life, but he said he considers the opportunity to be appointed to the Indiana Supreme Court a grand way to expand his more than 27 years on the state and federal bench. "I think it's the right thing for my career at this point," he said.
The DeKalb County native said he would bring a "deep well of experience" not just from his years on the bench but also as a private practitioner and prosecutor before that.
Judge Darrin M. Dolehanty's work advocating for representation for juvenile offenders was praised by Rush, but he said it was she who deserved credit for making it happen. "The long and short of it is, it's the right thing to do," he said. "This makes perfect sense."
Dolehanty said he's grateful to serve on a strategic planning committee for the court. Asked about the most important attribute in a justice, he said patience. "With patience, all the other issues can be resolved," he said.
Judge Thomas J. Felts said the mentorship of a judge early in his career taught him lessons that he now tries to impart to young attorneys and judges, and he stressed his connections in the Legislature as an asset he would bring to the court.
Felts said he believed lawyers would step up to fill the pro bono needs of unrepresented litigants, but noted there may be a time in the future when the court may have to take steps to encourage more volunteer legal assistance. "You never say never," he said.
Indiana Solicitor General Thomas M. Fisher is a familiar face arguing cases for the state before appellate courts, and Rush commended the quality of his advocacy. Fisher said he would welcome the ability to read both sides of a case and apply the law. "It's a much better way for me to think about the law."
Having argued before the U.S. Supreme Court three times in state cases, Fisher was asked how he prepares. "I cloister myself in the office, lock the door and ignore phone calls," he said. "It's a very intense process."
Judge Frances C. Gull was recognized by Rush as a statewide leader in judicial reform and problem-solving courts. Given the opportunity to serve on the Supreme Court, Gull said she would hope to build on those efforts. She said she would work toward "making sure every citizen in state of Indiana has access to problem-solving courts" such as drug and veteran courts.
She also said public defenders are underpaid and she would reach out to law school students to get them interested in pro bono and public service work.
Judge Steven L. Hostetler said his nearly three years on the bench preceded by 15 years as a practicing lawyer representing businesses working through insolvency and bankruptcy give him a unique perspective that includes agricultural issues and "all kinds of economic issues facing businesses in our state."
Hostetler enjoys mentoring young lawyers and new lawyers and said "it's very important we do that – more mature lawyers try to mentor young lawyers, especially those trying to get out and hang a shingle."
Judge Matthew C. Kincaid, the son of a long-serving Boone County judge, said his desire to enter the legal profession was informed by discussions around the home in his youth about matters that came before the court. "I was just always instilled with a respect for lawyers and a respect for the law that made it a natural conclusion for me to study law," he said.
With 13 years' experience on the bench after private practice, he said the time to apply was right. "I'm not too old, and I'm not too young," he said.
Mark A. Lienhoop won praise for what one commission member called an encyclopedic grasp of case law. The trial lawyer said his overall philosophy is clients' cases belong to them more than to him. He said some lawyers "don't want to be the jockey, they want to be the horse, and it bothers me where I see lawyers go to trial when they shouldn't."
That said, he has tried plenty of trials to juries, and he said he'd bring a sharp legal mind, a trial lawyer's perspective and administrative experience culled from 18 years as his firm's managing partner. "I've worked 60 hours a week for 32 years and I don't plan on working any less," Lienhoop said. He added he would move to Indianapolis if appointed to the court.
Judge Steven R. Nation said he's always tried to build consensus and treat those who appear before him with respect. He said he also has administrative experience that would benefit the court. "When people are there in front of the court, they must feel you are fair and listen to them and give them an opportunity to speak," he said.
He said it's as important that people in towns such as Cicero and Atlanta have access to the same level of public services as people in Carmel or Fishers.
Barnes & Thornburgh LLP partner Peter Rusthoven, center, sits in the interview chair before the commission on Feb. 17. Rusthoven is among 15 applicants who will be interviewed again next month. (Photo courtesy Indiana Courts)
Peter J. Rusthoven was asked whether his extensive high-profile experience in federal court and in the administration of President Ronald Reagan might make appointment to the Supreme Court less of an achievement. "I don't view this as being stuck at the state level, I view this as being where I want to be," Rusthoven said.
"Working at the state level on this court would be more rewarding for me." He also said his administrative experience would be useful on the court.
Geoffrey G. Slaughter told the commission his work as president of the Indiana Bar Foundation has illuminated the need to extend civil representation and legal assistance to unrepresented litigants and those in need.
Chairing the Judicial Nominating Commission, Indiana Chief Justice Loretta Rush reviews an application as she interviews a candidate seeking to replace retiring Justice Brent Dickson. (Photo courtesy Indiana Courts)
"I bring the practitioner's perspective," he said. "I like to think I would bring to the court experience in some substantive areas of law in which I've had some relevant experience, mostly in the business realm," he said.
Rep. Thomas W. Washburne was asked about his unique credentials as a state representative and corporate counsel. "I think being in the General Assembly is an interesting experience for a lawyer because you find yourself being a lawyer to a lot of people," he said. "When you're an in-house lawyer, you're dealing first hand with the impacts decisions have on people."
He would hope people would say of his service that he was "fair, honest, well-reasoned, and cared deeply about the country."
Thomas E. Wheeler II stressed his 30 years as a trial lawyer and his connections with the Legislature and current and former governors. The former chairman of the Indiana Election Commission, whose decision that stripped the office from former Secretary of State Charlie White was affirmed by the high court, noted the political nature of the case.
He said the bipartisan committee handled the case collegially. "We were able to work together, and that's what needed to happen," Wheeler said.•
Please enable JavaScript to view this content.