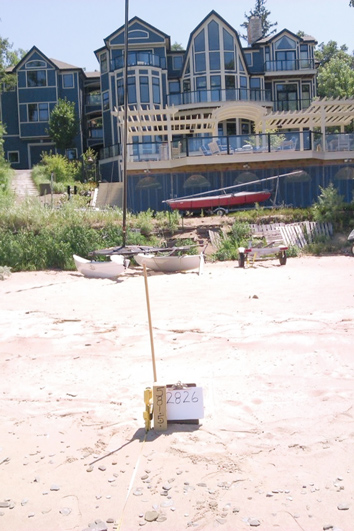 Can you stroll along Indiana's sandy shore of Lake Michigan? Not without keeping your feet in the water, if some lakefront landowners get their way.
"I would say there is no right to public access to the dry beach above the water's edge," said David L. Powers, a Bay City, Michigan, attorney who represents the Great Lakes private-property rights group Save Our Shoreline. "It would be up to the adjoining landowner to control that trespass if he so desired."
Save Our Shoreline is among numerous amici and intervenors that have filed briefs in Don Gunderson, et al. v. State of Indiana, et al., 46A03-1508-PL-01116. Long Beach landowners Don and Bobbie Gunderson appealed summary judgment against their claim that their property extends to the water of Lake Michigan. Public-interest groups have joined the state in support of the ruling against the Gundersons, but they also argue LaPorte Superior Judge Richard Stalbrink's ruling shortchanged public access.
"At statehood in 1816, Indiana received the bed of Lake Michigan to hold in trust for the public," said attorney Jeffrey B. Hyman of the Conservation Law Center in Bloomington. Hyman represents public-interest intervenors Alliance for the Great Lakes and Save the Dunes, and said the lake bed extends well inland from the water. "We're asking the state to continue to recognize that boundary."
An exact line in the sand separating public and private land has never been drawn, and parties in this litigation expect the Indiana Supreme Court ultimately will decide.
Hyman and others who've joined the case in favor of preserving public beach access say the line should be the ordinary high water mark of Lake Michigan. Stalbrink, though, in a decision that pleased neither side, ordered the line to be set according to 312 Ind. Admin. Code 1-1-26(2) at an elevation of 581.5 feet above sea level. That measurement was established in 1985 by the U.S. Army Corps of Engineers, and the Department of Natural Resources has since measured and placed stakes marking that level at various points on the lakeshore.
Michael V. Knight, a partner at Barnes & Thornburg LLP in South Bend who represents the Gundersons, said administrative code "is incompetent to create a property boundary."
Knight argues the Gundersons and other plaintiffs' deeds indicate their northern property line is Lake Michigan, and he estimates there are about 150 such properties in Long Beach, more than 130 of which are privately owned. "We have a deed that signifies our property, and we have private property rights the same as anyone else's house or backyard," Knight said.
Opponents counter that deeds cannot convey land held in public trust without an act of the Legislature ceding the property.
The state's brief in the case isn't due until April 20. Bryan Corbin, spokesman for Attorney General Greg Zoeller, said the brief will set forth "the State of Indiana's legal position is that the State holds the lake bed in public trust at least up to the ordinary high water mark of 581.5 feet … regardless of whether it is covered by water at any particular time."
The controversy has divided Long Beach, a town of about 1,100 that sits nearly two miles from the Michigan border, say Kurt R. Earnst, a lawyer at Braje Nelson & Janes LLP in Michigan City, and Chicago attorney Patricia Sharkey. They represent the Long Beach Community Alliance, which supports public access and intervened alongside the state. Both Earnst and Sharkey have their own stakes in Long Beach, owning property near the lake.
"We've got neighbor against neighbor over what in most places you wouldn't even think about," said Earnst, who also serves as a Long Beach volunteer firefighter. "It's palpable," he said, even though he and Sharkey believe only a handful of lakefront owners seek to exclude the public. Earnst said residents who believe in public access put up their own money for the 400-member alliance to join the case "because they believe in what they're doing."
The property rights fight "has created a lot of tension we've now been living with for years," Sharkey said. "People want to come down and walk on the beach, and they're worried – am I walking on somebody's property? … It's just so different from how it used to feel."
Sharkey said the line set by the trial court ruling didn't improve matters, because marking the public portion of the beach according to Indiana administrative code is a poor solution. "We believe it will be under water at some places," she said, noting Lake Michigan moves and the level can be determined accurately only with sophisticated measuring devices. "We think the judge thought it was easy" to cite the elevation in the administrative code. "For the public, it's not easy."
She said the ordinary high water mark is a better standard because it typically is construed as where permanent fixed land features such as vegetation appear. While the Department of Natural Resources has authority to establish regulations through the administrative code, she said, "They do not have the authority to establish the line between public and private property, and they do not have the authority to diminish the public trust."
Knight, though, said the ordinary high water mark is undefined, and he argues the public trust concept has been misapplied through common law, citing in court briefs precedent dating to the Roman Empire. The public has a right to navigable waters and the land beneath, he argues, but has no right to come ashore on private property without the owner's consent.
"The property has not historically been treated as having a public encumbrance on it," Knight said. He and private-property advocates in the case characterize any line south of the water of Lake Michigan as a taking by the state.
"This is a statewide issue," Knight said, arguing this case could implicate private-property rights from shores of lakes to banks of rivers and streams.
In arguing in favor of private property rights, Powers notes Indiana's steel plants along Lake Michigan, for instance, aren't subject to public access.
"I believe that the only logical resolution is for the court to find the boundary at the water's edge when freed up from disturbing causes," Powers said. "Nobody knows where the ordinary high water mark is; they're just going to have opinions. We all know where the water's edge is."
Indiana has the least shoreline of any Great Lakes state, but its beaches are some of the widest, which also complicates the public/private dividing line. Hyman noted Stalbrink's order addressed the cherished nature of public access to the state's small share of Lake Michigan's shore and that denying it would be a travesty. But Hyman said who owns the beach remains unsettled, and not just in Indiana.
"For Indiana, I think this is very big. It's a case of first impression, and I think it's also important for other states in the Great Lakes region because a lot of those states still have a lack of clarity and certainty about the public trust as it applies to the Great Lakes lakeshores in general," he said.
The Court of Appeals is expected to set oral arguments in the case this summer, as briefing is not yet complete. Meanwhile, attorneys in the case said the lead plaintiffs, the Gundersons, sold their Long Beach property to a development company during the pendency of the litigation. Knight declined to comment about the sale.•
 
Please enable JavaScript to view this content.