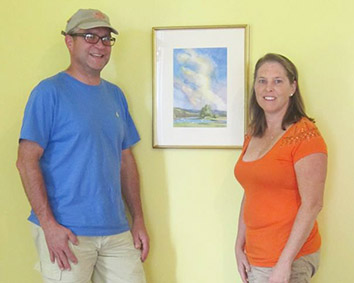 Attorney Tim Shelly said artists and visitors to T.C. Steele's boyhood home in Waveland often have a reaction that strikes him as odd when they find out he's hosting them free of charge.
"They almost feel like, 'What's the hook? It can't be free,'" said Shelly, a partner with the Elkhart firm Warrick & Boyn LLP. "There's kind of this cynicism. It's just my wife's and my way of trying to give back a little."
Tim and Meg Shelly's restoration of the house in west-central Indiana also gives back to Steele descendants, including Shelly, providing a gathering place for reunions and events.
Best known as a resident of Brown County and a leading American impressionist painter of the late 1800s to early 1900s, Theodore Clement Steele spent years of his youth at the home in Montgomery County in the 1850s and 1860s. He received formal art training at the Waveland Academy and was teaching art by the age of 12, Shelly said.
The boyhood home, though, had fallen victim to decades of neglect by its 150th birthday.
"It was to the point where we were actively seeking someone to take it on at a very modest price," said Marsh Davis, president of Indiana Landmarks. The foundation had held the property for years after an earlier local effort to preserve the home stalled. Hopes were dim because there were few prospective buyers willing to take on a big project like this in a small, struggling town.
It happened that Shelly was past chairman of the Indiana Landmarks board in 2013, and over cocktails, "Tim said more or less, 'I'll buy it," Davis recalled. "It was very serendipitous."
Shelly acquired the home when it was in grave disrepair.
The Shellys restored the home as a gathering place and a retreat for artists, such as photographers from Goshen.
"Preservation has always been my hobby, and my wife would say it's an addiction I have," Shelly said, referring to the Steele house as a lost puppy for which Indiana Landmarks could find no owner. "I committed without her knowing. … She's a very beautiful and understanding lady."
A dollar or two
The T.C. Steele Boyhood Home has hosted numerous groups of artists and events since the preservation work was completed in March 2015. Among them, the Indiana Plein Air Painters Association had a "paint out" based at the home. Artists took to nearby natural settings such as Turkey Run and Shades state parks or the covered bridges of Parke County, captured them on canvas, then reconvened with their completed works. Another such event is planned this fall.
IPAPA President Bill Wissel noted some of the 400 or so residents of Waveland didn't initially approve of the restoration of the old house, believing it would impede possible rerouting of a state road they thought would bring more people and more commerce to town.
But Shelly had an idea. "He made sure any of his family that were going into Waveland went to the local businesses and paid for stuff in town with $2 bills and dollar coins," and he encouraged guests to do the same, Wissel said. Merchants would know "it came from the crazy people at the Steele house."
Shelly shrugs off the novelty of the funny money as just a friendly gesture meant as a show of goodwill. "It's just kind of a way we can send a quiet, polite, but meaningful message," he said. "We go around town now and hear, 'Hey, you're the ones doing the $2 bills!'"
But the Shellys passed around much more than that, estimating about $85,000 has been invested in bringing the Steele house back to life. Tim Shelly said some rental properties he's taken on as historic preservation efforts help defray some of the expenses of maintaining a retreat for artists and family, as has his career in corporateand commercial law and his wife's career as a teacher at Concord High School.
"We've got two boys out of the house and now out of college, and we've got a little bit of financial capabilities once we're not cutting checks to various educational institutions," he said. "We just ask people to turn the heat off or turn the air conditioner off when they leave.
"I'd love to see it used 365 days a year."
Family legacy
Shelly's mother is a Steele. His grandfather's grandfather was the brother of T.C. Steele's grandfather, he explained, making him a second cousin twice removed. Shelly said he's grateful for a Yale-educated mathematician cousin on the Steele side of the family to help figure out such things.
Growing up in the 1960s and 1970s, he said his family and cousins, aunts and uncles on the Steele side were very close, but that began to slip away as families scattered. "My mother was very concerned about how are we going to keep the family together," Shelly said. "We thought (the house) might be a good fit for that."
Steele descendants have used the house for reunions and plan to do so again this summer. Shelly said the restoration has been the most fun of any he's done. Wissel and Davis said the house couldn't have found a better home.
"It's not so much the house itself as much as it is Tim," Wissel said. He said Shelly has generously provided instructors to come to the house and lead retreats, catered to his guests and invited artists to his home in Elkhart — another historic property once owned by famed musical instrument maker CG Conn.
"Tim has just been very gracious," he said.
Davis said Shelly's work on the Steele house reflects his efforts with Historic Landmarks, where Shelly remains a member of the board of directors. "He did a great job with the rehabilitation and the fact that he's opened it up to so many people, the whole thing is typical of Tim's energy and his ability to get things done. And he's very, very generous as far as his time and talent and treasure," Davis said.
"The fact that we found a totally special situation" to adopt a so-called lost puppy, he said, "will never happen again."•
Please enable JavaScript to view this content.