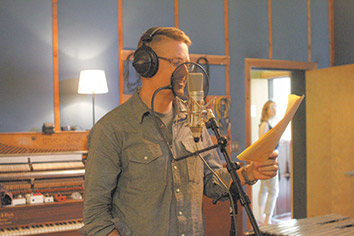 Craig Helmreich says he couldn't have planned his midlife crisis any better.
Helmreich, a partner at Scopelitis Garvin Light Hanson and Feary P.C., was a little "freaked out" about turning 40, so he decided to plan his midlife crisis. He used connections he made in the music industry when he was younger to create a studio album full of songs he's written and performed called "Blood on the Table." He's having a release party May 13 at the Hi-Fi in Indianapolis and still can't believe what he was able to accomplish.
"Everyone has dreams, but I don't know how many people have a chance to live it out to this extent," Helmreich said. "The whole process has been kind of crazy."
Helmreich remembers raiding his parents' record collection and listening to the Beatles and the Doobie Brothers. He played in cover bands in high school and won his school's battle of the bands competition with "Brown Eyed Girl." He once tried to make an album in his dorm room in college, but it didn't work out.
Helmreich was able to work with a lot of recording professionals on this album thanks to videotaping concerts for a number of artists. That's how he met Marc Ford, who used to be lead guitarist for the Black Crowes, and his son Elijah Ford. He met musician John Vanderslice after one of Vanderslice's shows and connected with other musicians and professionals through them.
The first song Helmreich wrote for the album was "Lucky Rider," a song inspired by one of his favorite songs from Butch Walker. He originally thought about doing a cover album featuring songs from Walker and others, but when he started playing those songs he realized something.
"I thought, 'You're never going to improve on this song'" Helmreich said. "But playing the basic chords wasn't very hard, so I thought, 'Why not do something in the same vein, but is original?"
Singer Elijah Ford, recording manager John Vanderslice, attorney Craig Helmreich and singer Marc Ford after completing recording.
 (Photo submitted)
When he played the song for his musician friends, they loved it and encouraged his album idea. They even said they would help if he came out to California.
"They said we're in for a whole week. We'd love to help you live this dream. And they didn't want anything for it."
So Helmreich needed more songs, and the more he wrote, the easier it got.
"I tried to write from my perspective," Helmreich said. "The second one took four hours; the last eight came in four weeks."
A 10-year-old Craig Helmreich is pictured here with his first guitar. Helmreich, an Indianapolis attorney, made his first album with help from some professional friends recently in San Francisco as part of a planned midlife crisis. 
(Photo submitted)
He said it wasn't too hard working around his law practice because he's always playing guitar in his spare time anyway. It didn't take that much more time.
Helmreich wasn't supposed to write that many songs for his album. When the time came to record, Helmreich told Vanderslice he had 10 songs to record. Vanderslice replied, "Oh man, we better get started."
He came up with the name for his album while recording. Helmreich said he and his friends agreed they did not want to use auto-tune and wanted the natural voices and instruments to stand out. Vanderslice said you need to "leave a little blood on the table. It might be the exact thing to make this recipe perfect." And the album name was born.
Helmreich served his clients while recording by staying on Eastern Time even though he was on the West Coast.
"While recording I got up at 4 a.m. Pacific Standard Time, 7 a.m. Eastern, worked for a few hours before we were in the studio each morning at 10 a.m. Pacific, checked messages and replied to emails at lunch and at the end of the day.  By staying on Eastern Time while out west, I was able to serve my clients and live my dream," he said.
Helmreich said it was amazing working with professionals who gave him critiques on his work and took the music to another level. He said he was also lucky to have Bernie Grundman master his album, which has been released in vinyl as well as digitally. Grundman has mastered records for Michael Jackson and Prince, among others.
"I've had people buy the record just because he mastered it," Helmreich said.
Helmreich said he's gotten a great response from the album so far, which is available on his website, itsjustcraig.com. It's been even more gratifying, he said, because he didn't write the album to sell copies or make money.
"I wrote it for an audience of one, not pandering to anybody," Helmreich said. "It was for the energy and love of it, and I think that's what people are gravitating towards. I've gotten random emails from people who tell me how much they love a song. I had someone take a selfie with me recently. It's a position I never imagined myself in and it's because I was in the right place at the right time for the right reasons."
Greg Feary, president of Scopelitis, said he and the firm were happy to see Helmreich pursue his passions and dreams.
"We support our lawyers getting lots of different life experiences," Feary said. "I know he had fun doing it and it's refreshing to take a moment out. It was a good side venture and I know it was his life's passion."
Vanderslice said Helmreich is a natural artist.
"He just makes decisions so purely and intuitively. I'm so impressed with him, the quality of the songs and the amazing people he surrounds himself with. It's pretty unreal."
Elijah Ford said he never hesitated when Helmreich asked him to be a part of the album, and was excited at the opportunity to give back to someone who had helped out his band.
"He helped us out in more ways than I could count when we were touring Holy Ghost in 2014 — the least I could do was help him make a record. I only heard a few demos before I flew out, but I could tell we could make something to be proud of, and we certainly did."
Ford said he's glad the album turned out well for Helmreich.
"It sounded like an album off the floor, so I got to watch Craig realize his dream was coming true every time we went into the control room," he said.  
Marc Ford said Helmreich was very trusting of the decisions he and the professionals made, and he just liked spending time with his friend.
"I enjoyed the time hanging out. Even more enjoyable when it's friends and family making music together," Marc Ford said.•
Please enable JavaScript to view this content.