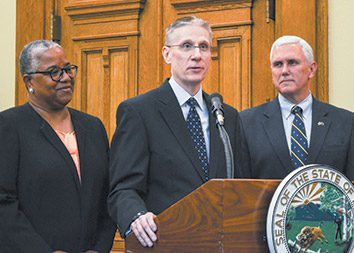 Geoffrey Slaughter was hungry on the early afternoon of May 9, as Gov. Mike Pence announced he would be the 109th justice of the Indiana Supreme Court.
"I didn't have much of a breakfast," Slaughter confessed, because his stomach had been in knots. He hadn't yet learned whether Pence would select him or one of the other two finalists, St. Joseph Superior Judge Steven L. Hostetler or Boone Superior Judge Matthew C. Kincaid.
Pence named Slaughter after a decision he said was difficult because of the quality of the finalists, but Pence said his selection marked "a good day for the law in Indiana." After the announcement, as Slaughter's fellow justices, guests and the press gaggle dispersed from the governor's office, the new justice made his rounds. He met with Chief Justice Loretta Rush, colleagues and court staff he described as gracious and hospitable, finally departing the Statehouse sometime after 3 p.m. with his wife, lawyer Julie Ann Slaughter.
"By that time, I was starving," Slaughter said with a laugh. Despite his slender appearance, he said, "People who know me very well will say I have a ravenous appetite."
People who know Slaughter well also say he's imminently qualified to succeed Justice Brent Dickson, who retired last month. Slaughter has litigated scores of cases before the Supreme Court. He "is a bright and gifted lawyer and has been a tremendous asset and partner" at Taft Stettinius & Hollister LLP, said Indianapolis partner-in-charge Robert J. Hicks. "While he will be dearly missed, we are proud and happy for him, as well as the state of Indiana. We are confident he will do a great job as the next justice on the Indiana Supreme Court."
While praising Hostetler and Kincaid, Pence said, "the opportunity to appoint someone of Geoff Slaughter's intellect and demeanor and experience … it's a great privilege to me, it's very humbling."
Slaughter, though, said he's facing a couple of learning curves. "As the new kid on the block, I want to make sure I'm able to fill in where needed in order to perform the court's business," he said, noting he'll defer to Rush and other justices to determine where those needs may lie.
Another learning curve: "I've never had to shut down a law practice before." Slaughter said cases he's involved with will be handed off to other attorneys in the firm and his transition to the court could take several weeks. "I don't have a date certain yet," he said. "I suspect the chief would like me to start last week."
Such transition times are typical. Rush, for instance, was appointed to the court in September 2012 but didn't take her oath until November of that year. Likewise, former Justice Ted Boehm was appointed by Gov. Evan Bayh in June 1996 and joined the court that August. (Boehm retired from the court in 2010 and was succeeded by Justice Steven David.)
Indiana Supreme Court Justice-appointee Geoffrey Slaughter answers questions from reporters May 9 after he was chosen by Gov. Mike Pence to succeed retired Justice Brent Dickson. 
 (Photo courtesy of Indiana Courts)
"Like Geoff, I was practicing at a large law firm (Baker & Daniels, now Faegre Baker Daniels) … and it was pretty easy to transition," said Boehm, the last justice to ascend to the bench directly from a law firm. He explained he had a handful of cases, but they were big ones with other attorneys from the firm already working on them. Handing them off didn't require entirely bringing people up to speed. He said those are the kinds of cases a litigator of Slaughter's stature would be handling.
Boehm said he was impressed with Slaughter when he appeared before the court representing the attorney general's office in the 1990s. The court benefits from someone with a fresh litigator's perspective, he said. That's particularly true of someone stepping into the shoes of Dickson, who also came from a law firm to the court.
"There were no wrong answers," Boehm said of the finalists, "but I think Geoff is an excellent pick." Slaughter, Boehm said, "brings to the court more or less the same background I had. … The court should have people from diverse legal practices, because everything ends up there in one way or another. It's useful to the court to have somebody with (big law firm) background on it. Really, the current court doesn't."
While Slaughter is flexible regarding the areas where he may focus his energies outside of hearing cases, he said he hopes to continue the efforts he championed as president of the Indiana Bar Foundation. "That's a particular interest of mine," he said, "making legal services available to those less fortunate."
The foundation's board said it was gratified by Slaughter's selection. "We know Geoff's intellect, civility and respect for the rule of law well having worked with him for the past several years as members of the executive committee of the Indiana Bar Foundation," the group said in a statement.
"Geoff's leadership as President of the Foundation this year has continued to advance the mission of the organization and has ensured that the Foundation is equipped to continue serving the public and the Indiana bench and bar with quality programs in civil legal aid and civic education."
Slaughter acknowledged to reporters after his selection that he almost didn't apply for the vacancy on the court, only reconsidering after colleagues encouraged him. Slaughter was a finalist for the opening filled by Rush in 2012 after Justice Frank Sullivan retired.
Slaughter was chosen from an initial field of 29 lawyers and judges who applied for the position. He said during his selection ceremony the court has "rightly been recognized as a smart, hard-working and collegial court, and I pledge to do all I can to ensure that my service on the court only reinforces those qualities."
Slaughter also used part of his brief remarks in the governor's office to pay tribute to Dickson, who he called "an exemplary public servant who leaves huge shoes to fill. … I'm not replacing Justice Dickson — nobody can do that — I'm merely succeeding him and I'll do my best to try to live up to the values of professionalism and civility for which he's so well-known."
Like Dickson, Slaughter is a Lake County native, continuing a majority of the court with ties to the northwest Indiana county. He joins Rush and Justice Robert Rucker as justices with roots there. Slaughter was born in Gary and graduated from Crown Point High School. He said some Crown Point Bulldog classmates he hadn't heard from in decades supplied some of the more than 1,000 congratulatory emails he received after his appointment.
"It's been dizzying," he said.•
Please enable JavaScript to view this content.