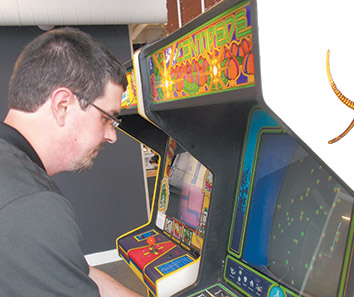 In his small firm of four attorneys, Mark Reichel purposefully set his desk in the reception area.
Walk through the front door and there the lawyer sits, amid a gallery of paintings by local artists and a Lego sculpture he created as a replica of his office building. The unusual placement is a reflection of his law office's casual, collaborative and what some clients call "cool" personality.
Reichel is the visionary behind Reichel Stohry LLP, a boutique intellectual property law firm located in the Stutz Business & Art Center in downtown Indianapolis. He likes the neighborhood of artists and entrepreneurs that inhabit the other offices and work spaces in the building, so he keeps his desk front and not-quite-center to enable him to easily have a conversation with the clients and neighbors who pop in for a brief chat.
The relaxed vibe of the firm, underscored by the hodgepodge of furnishings and attorneys attired most days in blue jeans and polo shirts, is especially attractive to garage inventors, startup owners and small-business clients. Reichel and his law partners — Brad Stohry and Michael Head at the Indianapolis office and Natalie Dean who works from her home in Texas — enjoy helping innovators get their products to market.
In fact, their firm's registered tagline encourages inventiveness by asking "What's your idea?"
The quartet of attorneys, all graduates of Indiana University Robert H. McKinney School of Law, each has skills and expertise that complement the others'. Reichel focuses on patents while Stohry handles copyright and trademarks. Head brings the expertise in business law to serve small- and medium-sized companies, and Dean covers transactions and agreements.
In the firm's space inside the Stutz building, Stohry and Head have small private offices, but Reichel wanted to be in the open. Calling himself a "patent guy at heart," he sits behind his computer screen on his desk and taps out the protection for his clients' ideas.
Mark Reichel, founding partner of Reichel Stohry, likes practicing amid the artists and entrepreneurs in the Stutz Business and Arts Center. He created this Lego model of the building displayed in the law firm's office.
 (IL Photo/Marilyn Odendahl)
Explaining his attraction to patent law, Reichel said, "I like the creativity both from the client's viewpoint but also if I'm drafting a patent application from scratch, I can be creative in how I describe things, how I phrase things to try and benefit that particular client."
Passion, energy and elixirs
Reichel Stohry has a mix of clients including corporate and international ones, but they spend a lot of time nurturing startups and potential startups.
When an individual arrives with an invention or idea, the attorneys offer a chair at the large square conference table next to the row of classic video arcade games and start collaborating. They never dismiss the innovation outright, but the lawyers do talk to the individual about the process and the costs as well as the investment of time and sweat the inventor will have to put in to make the product successful.
Head fosters connections to inventors by maintaining close ties to the entrepreneurial community. He meets possible clients and introduces them to the firm by making presentations, participating in workshops and even judging innovation competitions.
"I find in working with entrepreneurs their passion, their energy is contagious," Head said. "I guess I'm a vampire because I derive my energy from theirs."
Inside the door of the firm's refrigerator are several bottles of Wilks & Wilson Bloody Mary Mix with Vodka, a product developed and marketed by clients Gregory Wilson and Zachari Wilks. Their company, Wilks & Wilson, makes an array of "fine elixirs" that are based on cocktail mixes used during the pre-Prohibition era.
Also located in the Stutz building, Wilks & Wilson has relied on Reichel Stohry for intellectual property work since 2012. The company had a big firm incorporate their business but hired the law office down the hall in order to get their products' logos trademarked.
A big incentive to use the smaller firm was price. "Being a startup ourselves, we had to be very sensitive to cost," Wilson said.
Also, the businessmen liked having the option of popping in and going to Reichel's desk for a "curbside collaboration," as Wilson called it. They can ask a question and get quick advice before deciding to push ahead with a larger billable project.
Protecting the company's brand is important, Wilson said, since the elixir recipes, having been around for at least 100 years, are not patentable. Already a handful of competitors have entered the market, so preventing the Wilks & Wilson brand from being usurped is vital to the startup's survival.
The company's products soon will be distributed in Italy, but it has no plans to switch its business to a larger law firm. Indeed, going overseas has raised the issue of whether they need international protections for their trademarks, so the business partners have turned to Stohry to help figure out what can be done as well as the risks of doing nothing.
Reichel Stohry attorneys (from left) Michael Head, Mark Reichel and Brad Stohry provide intellectual property assistance to startups, small businesses and corporate clients. They are standing next to an antique car on display inside the Stutz Business and Arts Center where their firm is located.  
 (IL Photo/Marilyn Odendahl)
'Saw it could be done'
The firm that is now Reichel Stohry began as a solo venture in Reichel's home in September 2011.
He is unsure when the initial spark for hanging out his own shingle was ignited. In law school he enrolled in the dual-degree program and graduated with a J.D. and MBA. Then while working at Ice Miller LLP, the idea of starting his own firm took over. He made a plan, calculated how long his family could go without his income, and then submitted his resignation.
Reichel emphasized his decision to leave big law had nothing to do with Ice Miller. His experience was invaluable, he said, with mentors who helped him develop his skills as an IP attorney.
Almost immediately, he was busy. In January 2012, he moved into the Stutz building and a few months later hired Dawn Delk as a legal assistant. She remains with the firm.
Back at Ice Miller, Stohry was watching his former colleague. When Reichel was still with the firm, he often talked to Stohry about opening a law office but, recalling those conversations, Stohry said he thought his friend was crazy.
He, too, holds great regard for Ice Miller, but seeing Reichel's practice grow made an impression.
"Basically I saw that he was doing well," Stohry said. "I saw that it could be done."
The attorneys come to the office and work hard but they do not have to worry about making up any time they spend away from their desks tending to other things. They leave at a reasonable hour so they can enjoy meaningful time with their families, giving them a work-life balance that Reichel credits with lowering the stress level and improving his health.
Dean has two children, and both Head and Stohry are welcoming new babies. The attorneys like the flexibility the small firm gives them. When their children get sick or day care plans fall through, they can adjust their schedules and stay home. Head called the flexibility a blessing that allows him to work and still watch his youngster grow up.
Talking of his own family, Reichel shared the same sentiment.
"Honestly, time goes by very fast, very quickly and my son went from being an infant to being a teenager too quickly. I don't want to miss out on those additional years of him growing into an adult and going out on his own," he said. "To me, that's important."•
Please enable JavaScript to view this content.