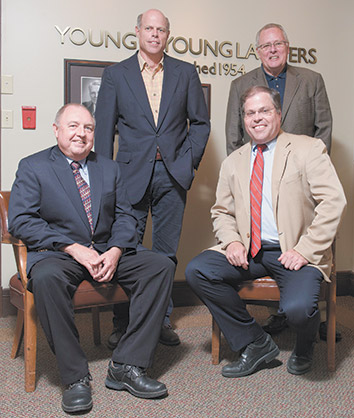 Serving in the Indiana Trial Lawyers Association is more than a professional interest for the Indianapolis personal injury firm of Young & Young. It's in the blood of the sons that carry on the tradition of one of the ITLA's 10 founding members.
John Young, who became president of ITLA in May, is the fourth in the Young family and the fifth at the firm to serve as president since the organization started in 1956. Howard Young, John Young's father, helped establish ITLA, then known as the National Association of Claimant's Compensation Attorneys of Indiana Inc. John, Tom and Richard Andrew Young, who goes by Drew, have followed in Howard Young's footsteps by becoming active members and presidents of the association. Tom Young was president in 1979; Drew Young served as president in 1986. Tom Young retired in 1998.
Jim Young is another son who works at the firm and is active in the association, but has not served as president.
But you don't have to have the Young name at the firm in order to become president. Partner Fred Crow has been a part of the firm's ITLA tradition, serving as president in 2007 and in other capacities as well.
The organization was founded to advocate for the rights of all clients to a fair trial and equal rights under the United States Constitution, and the Youngs and Crow take that commitment seriously.
For the Young brothers, it's their father who convinced them to follow in his footsteps professionally by showing his sons every day how the law could serve everyone. The brothers were taking notes.
"He lived it," Drew Young said of his father. "He showed us how good it is to help people, even if it is sometimes tough."
Howard Young introduced the family to the legal arena, Jim Young said, and his sons could never go back.
"He was around some outstanding human beings, people who showed us to care for people. He told us people need their voice heard and he was right. It was not only good living, it was fun."
Jim Young said that his father may have made it look too easy at times, however, and he didn't realize that becoming a lawyer takes a lot of work.
"He took me everywhere, I carried his bags," Jim Young said. "It looked fun. Then I started in law school and that was a different experience."
Howard Young also heavily influenced the family and the firm's commitment to ITLA. It's never been a question of whether to join the association, it's been how far to jump in. The answer has been all the way.
"We're about equal treatment for the little guy, and sometimes that can be very difficult," Drew Young said. "We have 1,100 (members) across state to make sure they're not trodden on and give them a recourse if they are."
The Youngs' contributions to ITLA cannot be overstated, said Micki Wilson, senior policy adviser and former executive director of the ITLA. From the beginning with Howard Young until the present day, the Young family and firm has served the association well.
"Howard looked like central casting's perfect choice for a kindly grandfather," Wilson said, comparing him to lawyers in the movies. "But I don't know of too many that were as tough and committed as a lawyer as he was."
Wilson said the firm Young & Young will take any action to help their clients and gain justice.
"There's no impossible task for them, they just do the things that need to be done," she said.
Current ITLA Executive Director Jason Bell said Young & Young continues to lead the way today for the next generation and making them understand the importance of the association.
"They're fighting for open access to cases, and making sure rights are not trampled on," Bell said.
Wilson said Young & Young's quality of work is known throughout the state.
"They combine tradition with a modern sensibility," Wilson said. "They're doing nothing new, but they're doing it right. They're demanding a fair shake for their clients, and that's something to be admired."
The benefits of ITLA membership for the law firm have been numerous. There are many resources shared between members, John Young said. Also, the camaraderie between members is something special that doesn't happen in a lot of professional relationships.
Drew Young agreed.
"I have friends all over the state and it's been nice with ITLA, because lawyers seem to live life at a high rate of speed, and with the organization, you have a lot of friends like that," he said.
"It's lawyers teaching lawyers to help each other grow," John Young said. "We've garnered a high caliber of people and had many, many volunteers give hundreds of hours to the organization."
The Youngs' influence on law in Indianapolis and the state won't be over with this generation, as several have children who are also in or are planning on going to law school. Like their father before them, the brothers also did not pressure their children go into law, but they too saw the example passed down to them and wanted to follow. Howard Young's father was also a lawyer.
"We're going to possibly have 150 years of influence on law in Indianapolis," Drew Young said. "That's pretty good for one family."•
Please enable JavaScript to view this content.