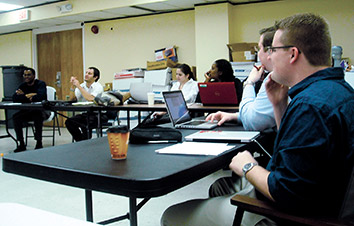 Valparaiso Law School is hardly the first to feel the pain of falling student applications, but as the subject of a recent profile in the New York Times, its troubles may be the most well-known.
In February, the northwest Indiana institution announced it was going to reduce its faculty and class sizes in response to fewer lawyers finding jobs and fewer students wanting to get a J.D. Valparaiso offered buyouts to all tenured faculty members.
The harsh spotlight was on Valparaiso again when The Gray Lady published a long article June 17 about the law school's plight. The newspaper found alumni who were heavily in debt and interviewed professors who were rethinking the decisions to accept less-qualified students to keep enrollment steady when applications dropped.
All the problems of legal education and upheavals in the legal profession were examined from inside Valparaiso Law School.
Speaking recently to Indiana Lawyer, Dean Andrea Lyon, who will soon begin her third year at Valparaiso's helm, was focused on the future. She said the worst is over for the school and she wants to look forward rather than second-guess past decisions. She noted remaining faculty was willing to roll up their sleeves to do the work that needs to be done.
Still, she acknowledged the past school year was very stressful with the most difficult part coming from the decision to cut employees. Ten tenured faculty members accepted the buyout and the school has given termination contracts to three junior tenure-track professors who will leave after the 2016-2017 academic year. Also, seven staff members were laid off.
Reducing personnel along with cutting other expenditures everywhere possible, the law school is slashing its annual budget by $4 million, which is roughly a third. Teaching loads for the remaining faculty will increase by one to two additional courses per semester. Also, the size of the incoming class this fall will number about 75 students compared to 130 in 2015 and 174 in 2014.
Valparaiso Law School has had to shrink faculty and class sizes in response to a difficult job market for lawyers. (Photo courtesy of Valparaiso Law School)
According to Lyon, Valparaiso will likely even out at accepting a class of 100 which, she said, will be about the right size for the school. However, she said while the school will be more selective and pay attention to the predictors of success, it will continue to take a chance on students who show great promise.
In addition, she said, the school will continue to recruit minority students to keep its student body diverse.
"It's been very hard," Lyon said of the changes at the school. "I know it's for the good of the school. I know we have to get smaller in response to the market. I know if we don't do these things we might not have a law school. I know these things intellectually, but it's still hard."
Not the only one
Paul Caron, Pepperdine University School of Law professor and writer of the popular TaxProf Blog, is surprised Valparaiso is getting so much attention. He noted other schools were equally slow to respond to the changes in the market and many chose the same course of lowering admission standards to keep class sizes the same.
Caron
Valparaiso is taking the right steps by accepting a smaller number of students, Caron said. But other problems may be more difficult to overcome, namely the law school's geography.
Not only is it operating in a state that has two very strong national institutions, Notre Dame Law School and Indiana University Maurer School of Law, along with a robust regional institution, Indiana University Robert H. McKinney School of Law, but Valparaiso is also in a part of the country where the economy is lagging and not able to absorb many more lawyers.
With the state's market dominated by IU Maurer, IU McKinney and Notre Dame, Caron said, convincing an Indiana student to choose Valparaiso would be difficult.
Retired Indiana Chief Justice Randall Shepard, who led the American Bar Association's Task Force on the Future of Legal Education in 2013, noted the law school has made a "special contribution" in terms of accepting Latino and African-American students and giving them an opportunity. Other law schools are interested in diversity but, he said, Valparaiso has made a greater effort to bring in minorities than the school gets credit for.
When applications started declining, former Dean Ivan Bodensteiner saw an opportunity to accept more minority students into the law school. In fact, he said the percentage of minority students at Valparaiso increased substantially with the class that entered in 2013.
The path into law school and a career as a lawyer seems to clearly favor those from privileged backgrounds, he said. But as fewer of these students applied to law school, he saw the potential to make a legal education available to students who otherwise might not have been admitted.
He said some Valparaiso graduates who did not have strong LSAT scores have had amazing success and become good attorneys. Still he questioned whether the law school did enough to address the needs of some students and help them overcome the barriers.
'This place is amazing'
While many law schools are experiencing trouble, predictions of institutions closing have not come true. Caron thinks no university wants to be the first to close its law school but he believes eventually it will happen.
"I find it incomprehensible that we'll have 200 law schools in business five years from now," he said.
Valparaiso's fate is ultimately in the hands of the university, he said. The administration will determine what it is willing to sustain.
Bodensteiner
In terms of how well the law school and the university get along, Bodensteiner was noncommittal. The law school's relationship with the university varied over the years as the administrations changed, he said. It is not a terrible relationship, he said, like other law schools there is always the tension over how much autonomy the law school should have.
Bodensteiner first joined the Valparaiso faculty in 1976 and three times led the law school as dean, the last time from March 2013 through June 2014 when Lyon arrived. He had not been thinking about retirement but when the buyout offer came, he felt it made more sense for him to leave than one of the younger faculty members.
Asked whether he was worried Valparaiso would eventually have to close, he replied, "Do I worry about it? No. Do I think it could happen? Sure. Is it likely? I don't think so."
Then he added, "I think from my perspective, the sad part of it all is the manner in which this has affected the students," noting they have student loans to pay and have not been able to find work. "What is more important to me than whether Valparaiso will survive is whether the students who attended law school will survive."
While conceding the bottom could fall out again, Lyon is confident of the law school's future. She thinks in the coming years Valparaiso will be talking about higher bar passage rates and better jobs numbers. Already the school is paying for and requiring its students to take a bar exam review course. Also, 32 percent of the Class of 2016 had J.D. required or J.D. advantage jobs at graduation, up from the two previous classes.
"I've been a criminal defense lawyer my whole life. I know how to stand up even when things look a little tough," she said. "That's what I'm doing. This place is amazing and it deserves to be here. My job is to make is possible for this school to succeed. I'm going to do that."•
 
Please enable JavaScript to view this content.