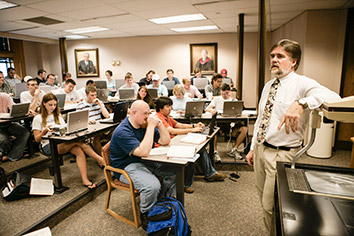 Maybe it's because of all that time he has spent in a kitchen, but Charles Gardner Geyh does not seem afraid of the heat.
The Indiana University Maurer School of Law professor has watched and studied the judiciary for nearly three decades. As a law clerk, working in Congress and as a legal scholar, he has thought and written about judges, how they do their jobs, the biases they bring to the bench as well as when and how the public reacts to their rulings.
So now as the debate over whether judges should be elected moves from hot to scalding, Geyh, an academic who likes to cook and has a weakness for whimsical neckties, is preparing to step in and propose a way to turn down the temperature. He sees the potential for a "default position" where judges are given the room they need to make decisions and the public has some ability to remove them from the bench.
Judges, like all lawyers, learn to take the law seriously from their first day in law school, he said. While they may make policy, they have a special expertise that comes from having studied and practiced law. The public needs that expertise.
"For me, the default position ought to be that judges have the latitude to do the wrong thing thinking that it's the right thing," said Geyh (pronounced Jay).
He has been noodling with this idea for a while. In fact, it is part of the evolution of his thinking over the course of his professional career, but his decision to serve these thoughts to the general public rather than just the ivory tower crowd was sparked by a once-in-a-lifetime honor.
Geyh has been chosen as one of just 33 professors from universities from around the country for the prestigious 2016 Andrew Carnegie Fellows Program. He is believed to be the first from IU Maurer to receive the recognition.
With the six-figure grant from the Carnegie Corp., he plans to take a year sabbatical from teaching to research and write a book tentatively titled, "Lies, Damn Lies and Judicial Elections: Transcending the Shrill Public Policy Debate over Judicial Selection in America." He will examine the current state of affairs and lay out his middle-path solution through an age-old writing technique — storytelling.
The Iowa Supreme Court justices who lost their seats after ruling in favor of same-sex marriage and Alabama Justice Roy Moore, who was booted from the bench for installing a religious monument on state property, will be among the stories told.
"People who lean back, brush the potato chips off their belly and just sort of yell about judges, I'm not going to reach them and that's just life," Geyh said. "But I think there are a lot of people who care about government and public policy who don't think very much about this or, if they do, they think about it in one-dimensional ways, and I want to target them."
Evolving ideas
Geyh grew up in Wisconsin and received his law degree from the University of Wisconsin Law School in 1983. After clerking for late Judge Thomas Clark of the 11th Circuit Court of Appeals, he joined the Washington, D.C., firm of Covington & Burling LLP. He left private practice the week his first daughter was born to become counsel to the U.S. House of Representatives Committee on the Judiciary.
He joined the IU Maurer faculty in 1997 and has since become a favored professor. Three times he has received the Trustees' Teaching Award, twice the Leon Wallace Teaching Award and he is said to be on the bucket list of professors whose classes the law students most want to take.
Cristina Costa, associate at Taft Stettinius & Hollister LLP, served as Geyh's research assistant one summer and took his civil procedure and advanced civil procedure classes. She conceded that while her grades might indicate otherwise, she has become a nerd on the subject matter.
"He made civil procedure fun at 8 o'clock on a weekday," Costa said. "(He was) very animated and very engaging, and he always had a good anecdote."
Along the way, his ideas on the judiciary were simmering.
His interest in judges and the work they do took root during his time working for the House Judiciary Committee from 1989 to 1991. He saw like everyone else, judges are sometimes motivated by self-interests, but largely he has found them to be public-spirited and committed to public service.
As the view of the bench has become more polarized with one side arguing electing judges will politicize the court and the opposing side countering judges have to be held accountable for their decisions, Geyh points out the law can be ambiguous and the answers to tough questions are not clear. Judges' personal biases may color their rulings but they are in the best position to assess the facts and the law.
"We need to give them some independence to give us their best answer even though their best answer will sometimes be influenced by their ideology," he said.
Still he noted when judges disregard the law and are seen as "going rouge," they need to be held to answer for their actions through judicial discipline procedures and occasionally through elections.
Geyh maintains judges should be given breathing room but acknowledges the public should also have some opportunity to have their say.
He held up the selection process for the Indiana appellate judiciary as mirroring his default position. Judges for the Indiana Supreme Court, Court of Appeals and Tax Court are nominated by a committee, appointed by the governor and then subject to periodic retention elections.
"(The) ultimate objective is to provide people with justice," he said, "and we try to do that by having judges who are independent enough to do the right thing but not so independent to do the wrong thing willfully."
Songs and seven-course meals
His insights are thought-provoking and his passion for his work is obvious, but Geyh does not fit the stereotype of a stuffy professor. He indulges in his love for cooking by fixing a seven-course meal as part of an annual charity auction at the law school, and he has brought out his guitar and sang original compositions created especially for retiring faculty.
IU Maurer professor Daniel Conkle described Geyh's songs as "musical roasts."
Anita Foss, associate at McGuireWoods LLP in North Carolina, was a research assistant for Geyh for two years and collaborated with him on a law review article. The process for a book chapter or article started with "spitballing a little bit in his office" and then time spent exploring, pulling sources, finding documents and checking grammar.
"He's incredibly brilliant and incredibly talented but also self-depreciating," she said. "He is very interesting and the kind of professor you want to work with as a student and research assistant."
Conkle said his colleague is humble and very humorous but Geyh's persona cannot mask his academic achievements.
"He is extremely highly regarded," Conkle said. "He is an outstanding teacher as well as a scholar."
Geyh credits his family and his relationship with food with not only grounding him but also coloring the way he communicates. He has cooked since his junior year in college and with his two daughters, he wrote and illustrated a "preposterous" cookbook.
Scratching out the history of the recipes and changing them to "accommodate the weird preference of my kids," Geyh learned to write in an accessible style that he believes will be useful in the Carnegie book. Yet he did not pen the cookbook to bolster his academic credentials. He was inspired by the fatherly desire that once his daughters were adults and out on their own, they would be able to recreate the meals from their childhood
Asked if he hadn't pursued a career in the law would he have spent his working life in a kitchen, Geyh didn't hesitate. "Some people say that would probably be best for the profession," he quipped.•
Please enable JavaScript to view this content.