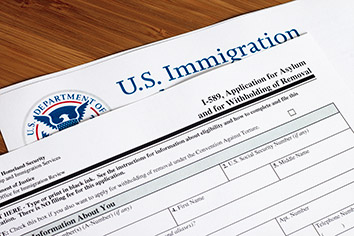 A Chinese national living in Indiana persuaded the 7th Circuit Court of Appeals he was wrongly denied asylum for his claim that he was severely beaten and left hospitalized for months after he vocally opposed state agents enforcing the country's one-child policy.
"It's a very positive sign and a great relief to him and his family," said Joshua Bardavid, a New York City attorney who won a reversal and remand of Chun Sui Yuan's asylum denial June 28. "I think this is a really important case because of the REAL ID Act," Bardavid said, which among other things allows immigration judges and the Board of Immigration Appeals to reject an asylum request for any inconsistencies in the record.
Bardavid said the ruling opens a window for Yuan to avoid deportation he fears would result in further persecution. Bardavid said the 7th Circuit opinion in Yuan's case reinforces that even with restrictions on asylum enacted with the REAL ID Act of 2005, immigration judges must continue to consider the totality of the circumstances and evidence in an asylum seeker's claim. Critics of the act contend it gives immigration authorities broad discretion to reject even legitimate asylum bids for reasons from inconsistent statements to a witness's demeanor.
Yuan declined to comment about his case through Bardavid, who said his client was uncomfortable disclosing any information beyond that in the public record.
Forbidden love
The record in the 7th Circuit's ruling Chun Sui Yuan v. Loretta Lynch, 15-2834, recounts Yuan's narrative before he arrived in the United States illegally in 2005 and applied for asylum in 2006. Now 36, Yuan said that in 2003, his 19-year-old girlfriend had become pregnant. She was too young to marry under the law, and Chinese government officials forced her to have an abortion, according to his narrative. After she skipped a follow-up exam months later, agents came looking for her at Yuan's home, and he refused to tell them where she was.
"Yuan allegedly refused to tell the agents where to find his girlfriend because he opposed the government's family planning controls and was upset about the forced abortion," Judge Michael S. Kanne wrote. "Yuan said that he yelled and cursed at the agents, who warned that he would 'suffer serious consequences' if he did not bring his girlfriend to them within a month." About a month later, Yuan said some of the same men came to his parents' grocery store and attacked him with knives and other weapons.
Yuan, his brother and parents all say he spent two months in the hospital and it took eight months for him to recover before he left China. The parents' letter corroborating the attack Yuan described even names the alleged attacker as the director of a local birth control center. Immigration judges cited a lack of corroborating evidence, but Bardavid noted that in regimes such as China where international mail often is inspected by the state, people are often reluctant to sign sworn statements in cases alleging government persecution.
Details hinder relief
Immigration authorities who rejected Yuan's asylum bid ruled he was not credible and focused on inconsistencies between the record and his testimony on things such as the scope of his injuries and treatment, how he got to the hospital, and the whereabouts of his brother, among other things. Kanne wrote those inconsistencies "are either so easily explained or so trivial as to call into doubt the board's decision."
Indianapolis immigration attorney Abigail Seif handles asylum cases regularly as part of her practice at Epstein Cohen Seif & Porter LLP. She said the ruling in Yuan's case is consistent with other 7th Circuit rulings such as Tandia v Gonzales, 487 F.3d 1048 (2007), which reversed an adverse credibility determination because it rested on a few minor inconsistencies that did not undermine the witness's testimony. 
"I think the 7th Circuit does a very good job when they accept jurisdiction and review the evidence presented in asylum/withholding cases. They are extremely thorough in their review and many times are very upset with the denials that have been issued," Seif said. "I think we see good reversals, like this case."
'Terrible conditions'
Lewis & Kappes immigration practice chair Steven Tuchman said grants of asylum are difficult for a number of reasons. Asylum seekers often represent themselves or have poor counsel. Many asylum bids are dubious or last-ditch attempts to stay in the country, he said. Department of Justice statistics show that for fiscal year 2015, 45,770 asylum requests were received nationwide but just 8,246 were granted. Since 2011, only about one of every five asylum requests is granted.
But then there are cases like Yuan's. "It almost reads to me like the 7th Circuit thought the BIA was having a bad hair day," Tuchman said. "They were too nitpicky, and the 7th Circuit wasn't going to go along.
"Immigration judges work under terrible conditions," he said, with cases backlogged for years, staffing issues and high rates of turnover, among other things. Tuchman suggested their broad discretion means the outcome of cases may depend on a judge's temperament. "Sometimes they look for the flimsiest things to say no on, as opposed to other ones who sit there and are patient as hell and look for something to be able to hang their hats on."
Laying down the law
Seif noted outspoken Circuit Judge Richard Posner has chastised immigration judges and panels in several cases in recent years. For instance, in Stanojkova v. Holder, 645 F.3d 943 (7th Cir. 2011), the court reversed denial of asylum to a Macedonian couple who fled in 2002 after they were attacked in their home by paramilitary forces for the husband's refusal to join the Macedonian army, which at the time was fighting ethnic Albanians.
Posner criticized immigration authorities in that case who found that the couple had not been persecuted, but their testimony was credible. He wrote they "resorted to the kind of warped logic that mars so many opinions of immigration judges and members of the Board of Immigration Appeals."
Tuchman agreed Yuan's decision continues a string of cases in which the 7th Circuit, even in cases in which Posner isn't on the panel, has found fault with immigration authorities' refusal to look at the totality of circumstances in denying asylum. "I was surprised not to see Judge Posner's name on that opinion somewhere," he said.
Another one-child case
Posner also excoriated a panel in another case involving China's one-child policy. In Chen v. Holder, 715 F.3d 207 (7th Cir. 2013), Qiu Yun Chen, a Chinese citizen and mother of two children, had been denied asylum on the basis that she likely would be forcibly sterilized if deported to her home nation of China. Posner rejected immigration authorities' ruling that she had no well-grounded fear, noting her evidence included a 2007 document on a Fujian Province website stating sterilization would be mandatory for violators of the one-child policy, and no exceptions applied to someone of her circumstances.
He pointed out that under federal rules, the immigration judges could have verified the authenticity of a document on a government web page by simply visiting the site. "We don't agree that all the information available on the Internet is 'voodoo,'" Posner wrote. "The combination of the Board's inaccurate representation of the report on which it so heavily relied, disregard of other evidence, and erratic treatment of the documents submitted by the petitioner deprives the Board's order denying asylum of a rational foundation."
As with many asylum seekers, Bardavid said in Yuan's case, the Circuit Court victory is gratifying but fleeting. Yuan will head back to the same system, hoping for a better outcome. "Whatever it is, it's not going to be a quick resolution. … We're 10 years on now, and his case is being sent back. Without exaggeration, it could be another 10 years."•
Please enable JavaScript to view this content.