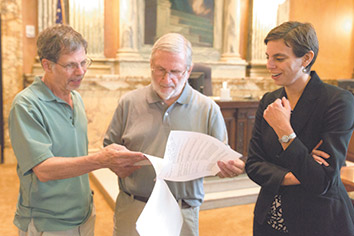 A lawyer practicing on Monument Circle in Indianapolis was a central figure in a campaign of domestic terrorism a little more than a century ago that led to a sensational federal trial.
Attorney John "J.J." McNamara pleaded guilty in 1912 to bombing the office of the Los Angeles Times, killing 21 people. McNamara had been secretary-treasurer of the Indianapolis-based International Association of Bridge and Structural Iron Workers. After he pleaded guilty, suspicion for about 100 other dynamite blasts that had struck anti-union targets around the country fell on iron workers, 38 of whom were convicted in federal court in Indianapolis.
Doria Lynch enthuses in retelling the details of a story not commonly known: how a cache of some 60 pounds of dynamite was found under the union's headquarters on the Circle; how the proceedings in the conspiracy trial continued even on Christmas Day; how children of sequestered jurors spent the holiday playing with their presents in the hallway outside the courtroom now occupied by District Judge William T. Lawrence.
"This became front-page news across the country," she said of the trial.
Lynch, special projects manager for the U.S. District Court for the Southern District of Indiana, is preserving that story and others for an hour-long documentary on the federal courts in Indiana. The film's release will coincide with the institution's bicentennial next year.
"Court history is not something people necessarily flock to," she said, noting the intent of the project is to produce a compelling, entertaining and informative program for a broad audience. It will be offered to air on public television and made available to teachers as the centerpiece of lesson plans for eighth-grade history classes.
Barker
"The court really does have a fascinating and distinctive history, and in the day to day of work, we do kind of lose track of that," said Southern District Senior Judge Sarah Evans Barker.
In tracing the court's history, the documentary will feature two other landmark cases in addition to the L.A. Times dynamite conspiracy. Also featured is the 1970s Indianapolis school desegregation case and a matter from the Civil War, Ex parte Milligan, establishing that military tribunals have no constitutional authority over civilians while civil courts continue to function.
"These two especially, and maybe all three, are resonating issues," Indiana University history professor emeritus James H. Madison said of the cases that will be featured. "Right to the present day, there are challenges of war and justice, and who's in charge of the rule of law" regarding prisoners of war and enemy combatants. He said there's also evidence Indianapolis' schools are more segregated than ever.
"We're a long way from having moved away from these issues," he said.
These jurors heard the sensational Los Angeles Times bombing conspiracy trial in 1912 in Indianapolis. After the newspaper office was bombed, killing 21, an Indianapolis-based iron workers union was implicated in a campaign of dynamite blasts around the U.S., and 38 men were convicted.
 (IL Photo/Eric Learned)
Madison, who appears frequently in Indiana history documentaries, has agreed to appear in the court documentary, and he said this one feels special. "Every time I dip my brain into these kinds of cases, I come away impressed with the rule of law," he said. "Our tendency is to take it for granted, and the deep, deep impact it has always had in 200 years of Indiana history and American history. … It's exceedingly complex, and a lot of Hoosiers, a lot of Americans, don't really have much of an understanding of what it is, how important it is."
Bloomington-based Gudaitis Production will begin filming the documentary in August.
"The idea of doing a project combining Indiana history, U.S. history and court cases that took place at those times in an Indiana court makes it compelling," said filmmaker Alan Backler. Along with colleagues David Gudaitis and Larry Laswell, the documentarians consulted with Lynch recently in Lawrence's courtroom, where some of the dynamite conspiracy trial scenes will be re-enacted.
Laswell said the cases "all relate to major themes in U.S. history, from the Civil War to the labor movement to integration of schools — issues students should be dealing with."
"I always find it interesting when it's a learning experience for me," Gudaitis said. "I think through these cases, we can give the public and students an idea of what the federal courts do."
The Historical Society for the U.S. District Court for the Southern District of Indiana has donated $15,000 of the $50,700 budget to produce the film and develop materials for teachers. The balance will come from lawyers, law firms and others who donate as sponsors. Society treasurer and Krieg DeVault LLP partner C. Daniel Motsinger said efforts are under way to solicit donations. Firms that donate can receive title sponsor status or supporting credits in the documentary.
Motsinger said the production will have great value for the legal community that also can be a legacy piece for the court. "Legal education has a civics aspect to it, and this would certainly fill that need and niche as well," he said.
Barker said she's certain a large portion of the public has little idea of the work of the federal courts and how it impacts their lives. "In some ways, it's all right that we labor away in obscurity," she said. But she said the dearth of knowledge about the courts is part of a broader decline in civic education. "That's left a gap and a void that has to be filled in other ways, one of which may be in our effort here."
For Lynch, who also serves as the court historian and provides tours of the Birch Bayh Federal Building and U.S. Courthouse in Indianapolis, the project also draws from an earlier pursuit. She took a documentary filmmaking course as an undergraduate, but she never pursued a subject until about a year ago, when she began thinking about using the medium to tell the court's story.
She relied on input from the historical society to determine which cases to highlight. The recent Tim Durham trial was a candidate, for instance, but the three cases selected were deemed to better reflect the court's jurisdiction and the kinds of controversies resolved in the federal courts.
"It's been great fun to work with professional filmmakers to supply them with some of the content and background information and steer where the film is going," she said. The crew will hire professional actors and costumers, and the script will highlight fiery speeches made in some of the cases. "This is intended to really capture people."
Madison said it's fitting the court would choose to tell some of its most remarkable stories to mark 200 years since first hearing cases in the historic courthouse in Corydon.
"Lawyers are nothing more than historians in disguise," Madison said. "Sooner or later, they all become historians in one way or another. Combining law and history, combining courts present and past is a no-brainer. … We need to do it more, we need to do it better — historians, lawyers and the general public — we need to understand how connected it all is."•
 
Please enable JavaScript to view this content.